Learn how to make the most fun faux cactus ever using socks! These are perfect for those castaways without a match. You'll love your quirky garden!
Skills Required: Beginner. You're going to do some painting and then some hand sewing. So you'll need to know the basics of how to tie a knot and finish a hand sewing projects.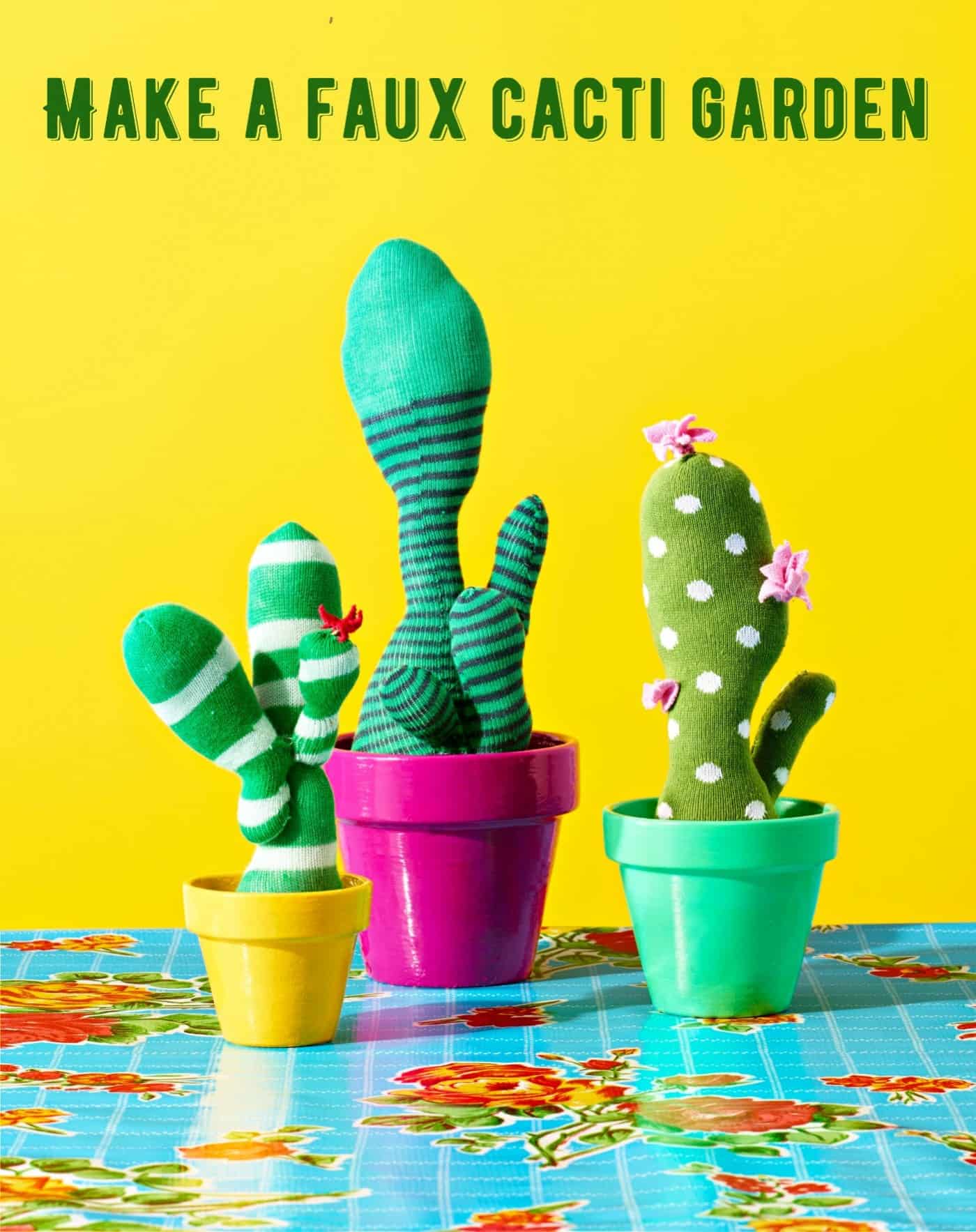 Not everyone has a green thumb. I've been known to forget to water plants . . . many a good flower and shrub have died under my care.
Thankfully there are plants like cacti and succulents that you don't have to water very often – though sometimes any watering responsibility at all is too much.
This cacti garden is for those times that you want to decorate with "plants" but don't want the work.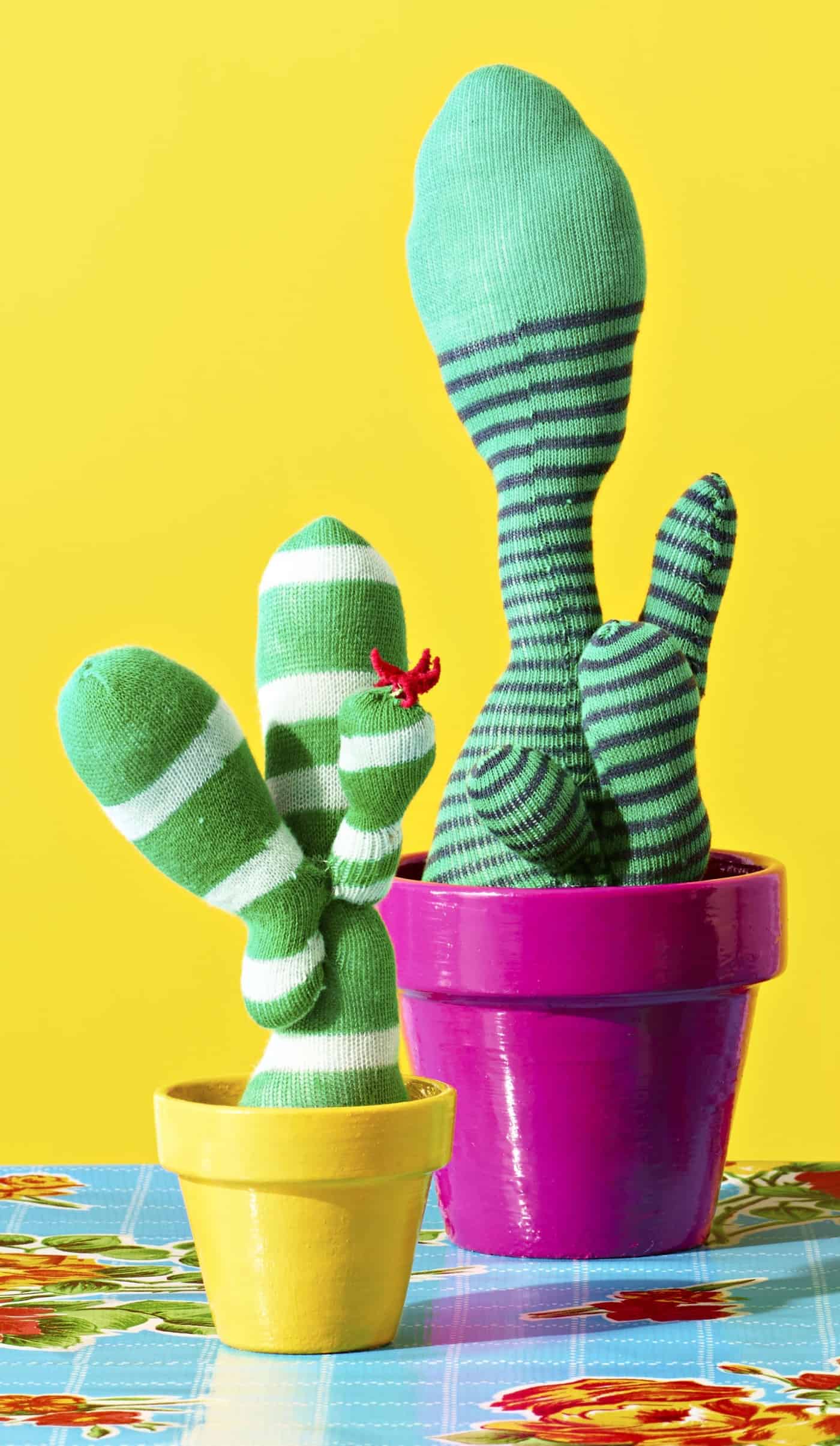 You can choose to use your sewing machine to make them, or really strong fabric glue (I recommend the sewing machine if you have one).
I think my favorite part of this cactus tutorial is that you can do it with a sock. Yep – grab one of those socks that you've never been able to find the match and get to crafting.
Wouldn't these quirky cacti look awesome on a windowsill? Here's how to make them!
DIY Faux Cactus
Gather These Supplies
Acrylic paint and paintbrush
Terra cotta pots
Green socks (or any old socks)
Sewing needle and embroidery thread (or strong fabric glue like Magna-Tac)
Small dowel (optional)
Contrasting fabric (optional)
Paint your pot a fun color; let dry.
Turn the sock inside out. Cut a wavy oval along the folded edge of the foot.
Sew the cut side closed using a tight whipstitch, at least ¼ inch from the edge; leave the bottom inch open. (If using glue, be sure it fully dries before the next step.)
Turn the sock right-side out and fill with stuffing. For a taller cactus, push the dowel into the center to hold it upright. Stitch the bottom closed.
Create a few small "arms" the same way, then stitch them to the trunk. To add flowers, cut a small star shape from contrasting fabric and stitch it onto the cactus. Place it in the pot. If it doesn't fit snugly, add stuffing around the sides.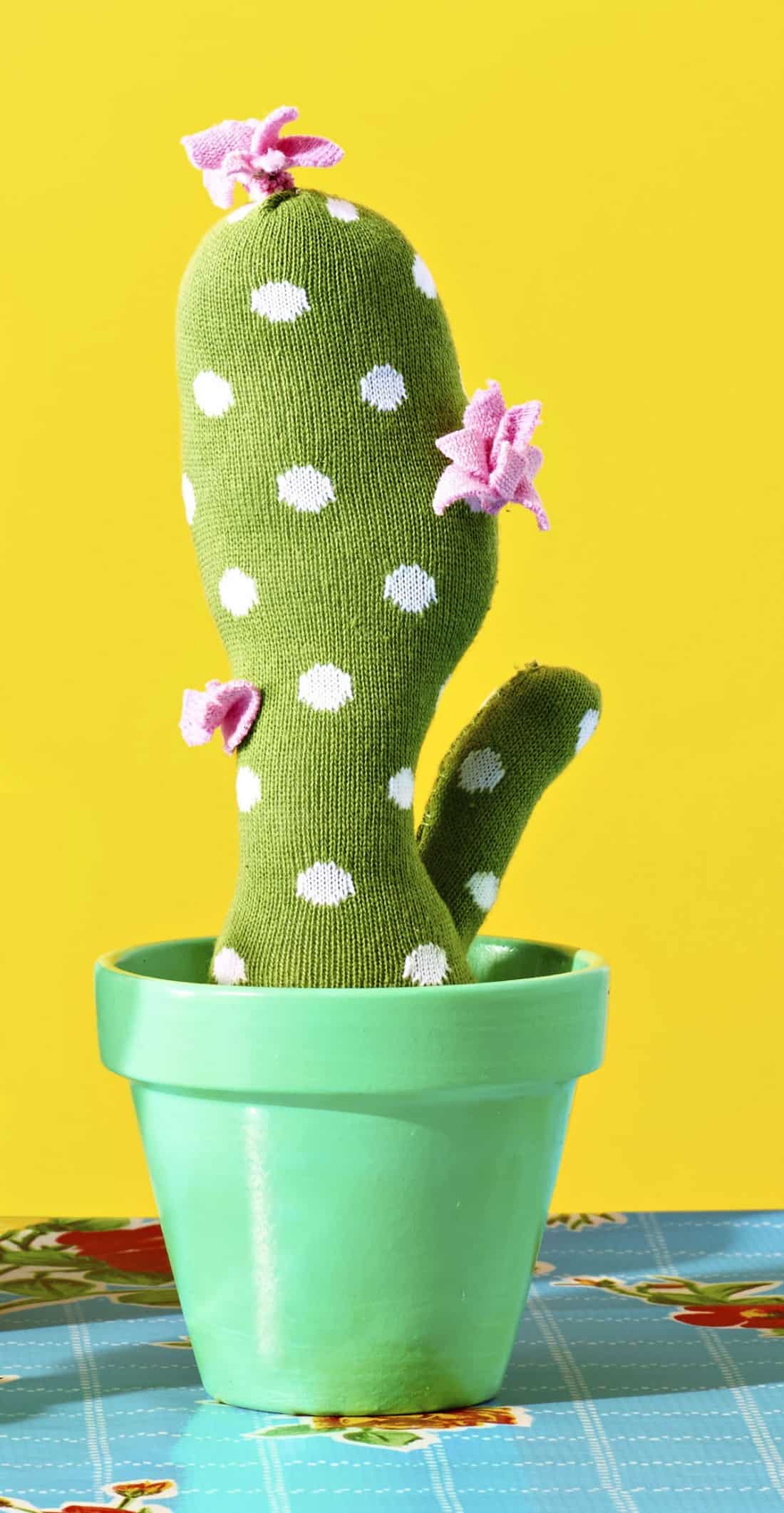 All crafts and photos courtesy of FamilyFun Magazine; visit them for even more creative goodness.