Learn how to make a mini cheesecake recipes that is perfect for parties or weddings! These bite size desserts are so delicious and easy.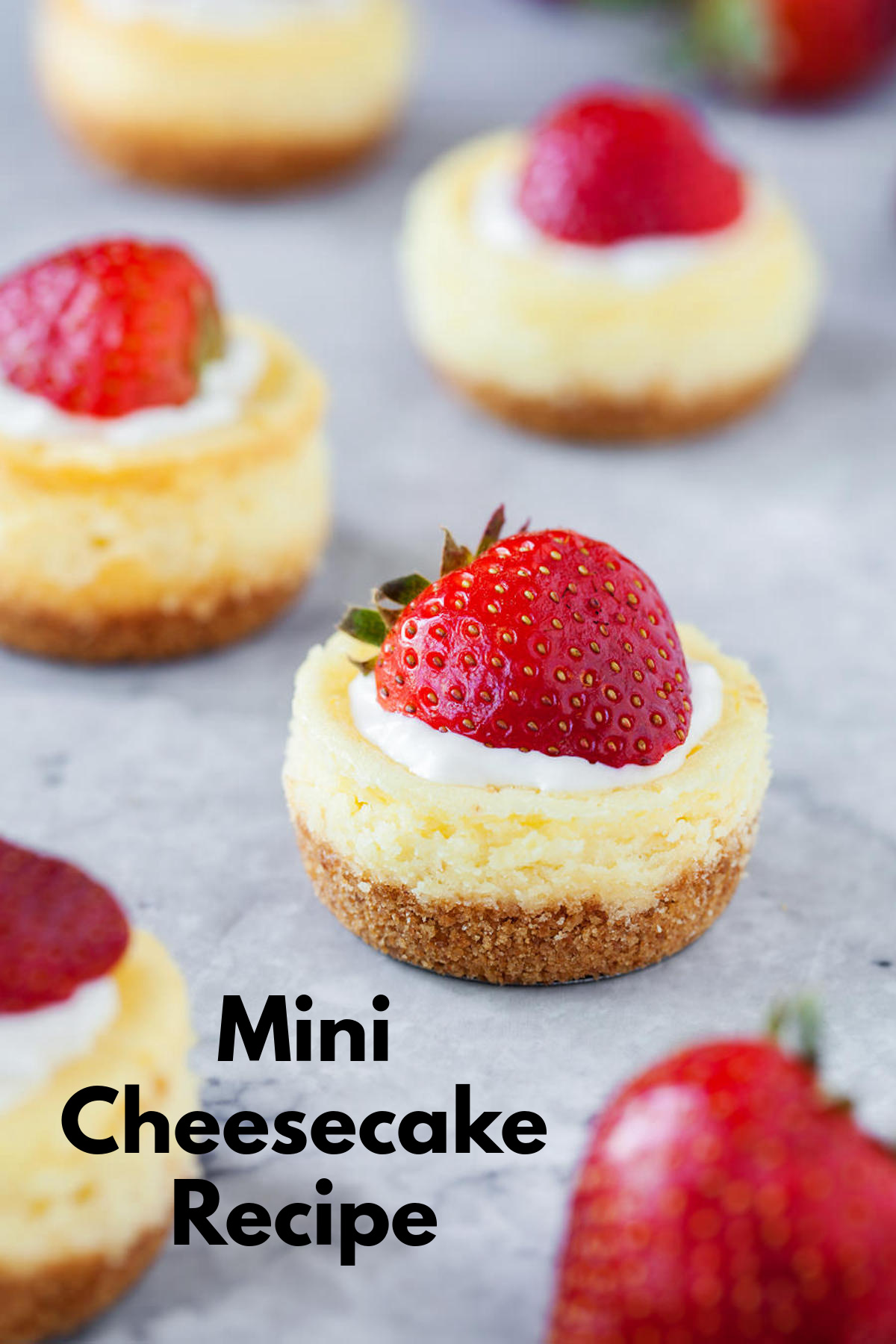 My husband and I do enjoy the occasional cheesecake. It's one of those desserts we rarely have so when we do, it's a celebration. And I'll be honest, it's truthfully one of my favorite desserts.
As summer is in full bloom, sometimes I'm just looking for a little sweetness to settle the sweet tooth. I don't want an entire piece of cheesecake, but that would be too much. I like small summer dessert recipes . . . bite sized!
Small Dessert Recipes
Bite size desserts are perfect if you are practicing portion control OR having a party. We recently had a family picnic and small desserts were a hit.
I can picture these at any kind of celebration – baby shower, wedding, graduation, birthday, Easter. Before we dive into the recipe, I want to share a few FAQs.
What is the size pan for mini cheesecake?
These pans measure approximately 13″ x 8.25″ x 1.75″, or around there. They have 12 cavities that measure approximately 1.5″ deep with 2″ diameter. You can use them with or without liners (they have removable bottoms).
How do you know when mini cheesecakes are done?
Make sure the middles don't look too wet – and give the pan a slight jiggle (wear an oven mitt). It should jiggle just a little bit or not at all. If there is noticeable movement, leave in for a few more minutes and check again.
Can I do a no bake version?
Yes! Just use a no bake cheesecake recipe, and fill the cavities with the filling. You'll then put it in the fridge, as that is how the no bake recipe is set.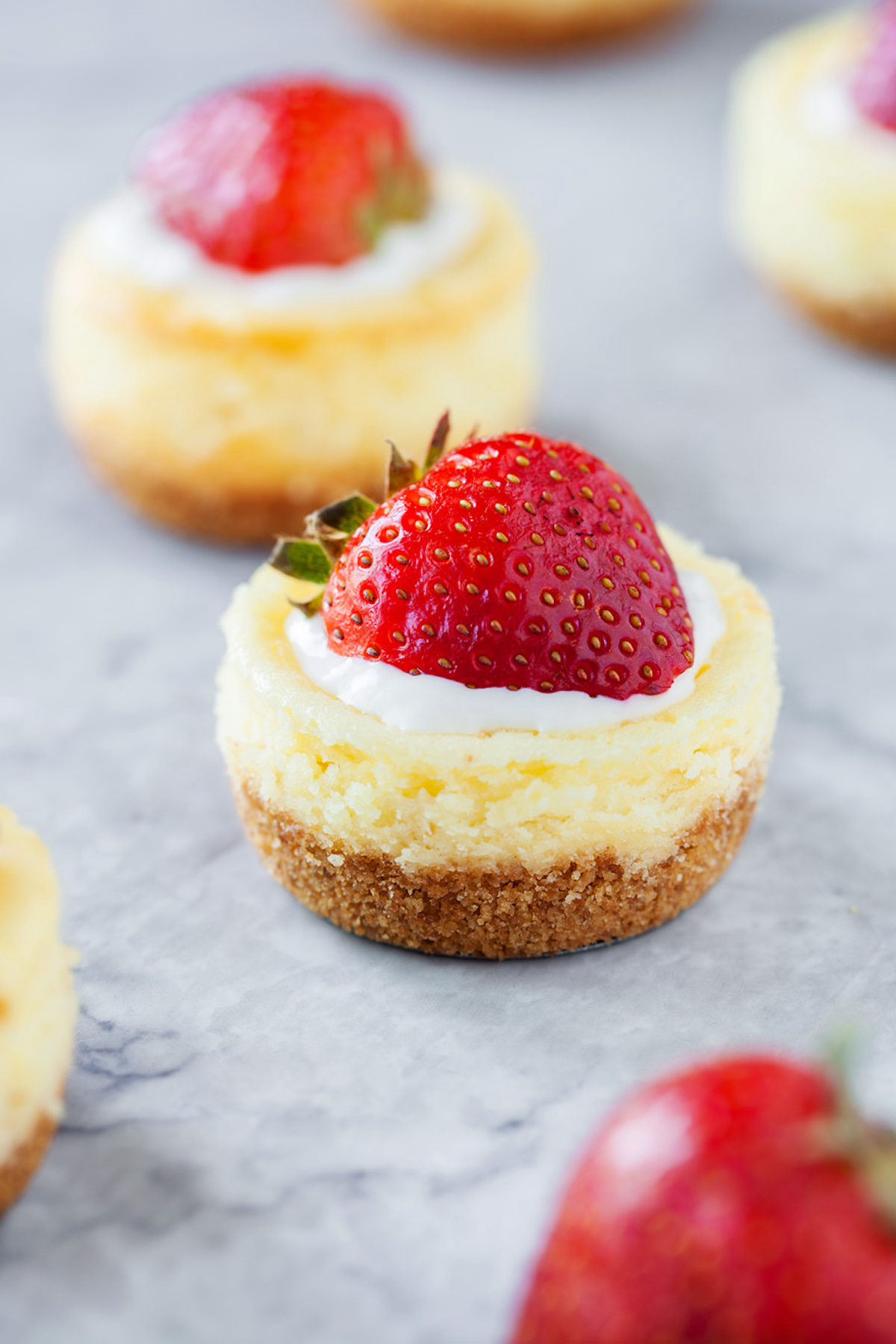 Is a mini cheesecake pan the same as a mini cupcake pan?
No, because the mini cheesecake pan has removable bottoms to enable easy release of the dessert (you can push them out). Having said that, the sizes of both types of pans are about the same (and the cavities).
How do you keep mini cheesecakes from sinking?
Don't put them in the fridge immediately. You'll want to follow the instructions to let them cool at room temperature first. They will sink just a little bit like a larger cake – that's normal.
How long do mini cheesecakes last in the fridge?
You can keep them in the fridge for up to five days. You'll want to put your bite sized desserts in an airtight container with a cover so that they stay fresh.
Note that you can also do the same and store in the freezer for up to a month.
---
Are you ready to get the recipe? Learn how to make these delicious mini desserts below!
Mini Cheesecake
You'll need:
1 1/2 8-ounce packages soft cream cheese
1/2 cup granulated sugar
2 eggs
1/2 teaspoon vanilla
1 cup graham cracker crumbs (you can also use crumbled vanilla wafers)
3 1/2 T butter, melted
Fruit for topping (optional)
12 T whipped cream (1 per dessert)
Let the cream cheese soften to room temperature. Add the cream cheese, eggs, vanilla, and sugar to a large mixing bowl. Blend and set aside.
Crush up the graham crackers. The easiest way to do this (in my humble opinion) is to put in a plastic bag and roll with a rolling pin or hit with a glass (be careful!). Mix the crumbs together with the butter.
Line a cupcake pan with foil liners (or use spray and no liners) and place a spoonful of your wafer or graham cracker crumbs on the bottom of each. Press down into the pan.
Pour the cheesecake mixture evenly on top of each mini crust (until it's about 3/4 full). Bake at 350 degrees for about 30 – 32 minutes.
Let stand to cool for 15 – 20 minutes minimum. As they cool, the mixture will set completely. Then place them in the fridge and refrigerate for about one hour.
Once removed, slice strawberries or other fruits and place on top with whipped cream (all the good stuff) and indulge! I only made a dozen and they did not last long at all. What's not to love?
Yummy topping, creamy homemade cheesecake and the best part . . . you don't have to share!
Yield: 12 people
Mini Cheesecakes
Want to make a small dessert that's going to be a hit? This mini cheesecake recipe is perfect - easy to make, and they won't last long!
Ingredients
12 oz cream cheese, 1.5 packages
1/2 cup granulated sugar
2 egg(s)
1/2 teaspoon vanilla extract
1 cup graham cracker crumbs
3 1/2 T butter, melted
12 strawberries
12 T whipped cream
Instructions
Preheat oven to 350F.
Add the cream cheese, eggs, vanilla and sugar in a large mixing bowl. Blend and set aside.
Crush the graham crackers and mix with the melted butter.
Press the crumbs into the pan, dividing equally between each cavity.
Pour the cheesecake mixture right on top of the crumbs, until it's 3/4 full.
Bake for about 30-32 minutes.
Let stand to cool for 15-20 minutes, then refrigerate about one hour.
Add fruit, whipped cream (1 T per cake), and anything else you like before serving.
Nutrition Information:
Yield:
12
Serving Size:
1 serving
Amount Per Serving:
Calories:

217
Total Fat:

15g
Saturated Fat:

9g
Trans Fat:

0g
Unsaturated Fat:

5g
Cholesterol:

71mg
Sodium:

160mg
Carbohydrates:

17g
Fiber:

1g
Sugar:

12g
Protein:

4g
---
Now that you've made this mini cheesecake recipe, you're ready to try these other tasty desserts like these funfetti mini cakes: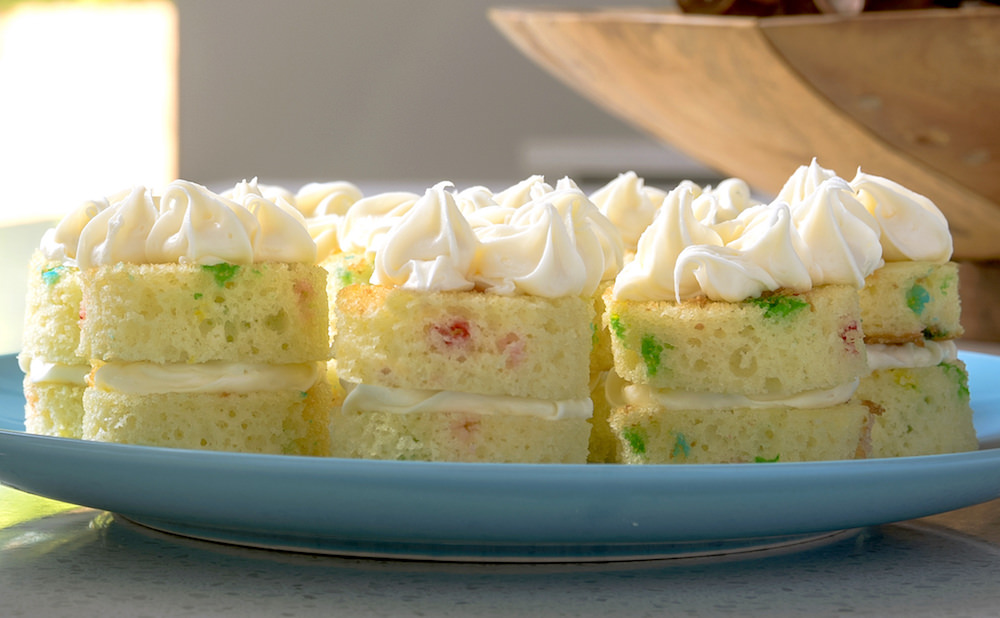 Photography by Patty from The PKP Way