This DIY nativity set with wood peg dolls is budget friendly and not too kitschy. If you love modern, this set is for you!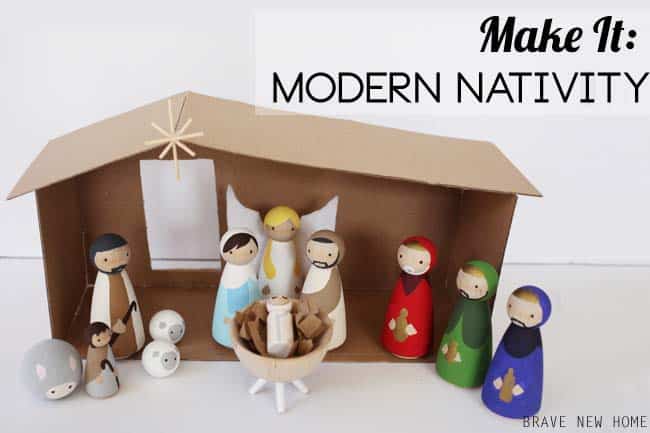 Hi there!  Jennifer from Brave New Home here to share what will likely be my last holiday project of the season – a modern DIY nativity scene.
I've been wanting a nativity set for years but they're pricey and I was having trouble finding one that wasn't too kitschy. What better reason to DIY than saving money and nailing your own style?
Wooden DIY Nativity Set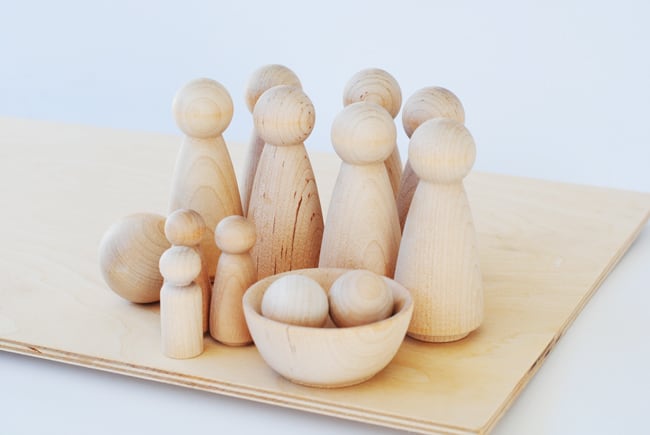 For this modern DIY nativity, you will need seven 3″ wooden dolls, one  2″ wooden doll, one  1 1/8″ wooden doll, one 1.5″ wooden ball, two 1″ balls, one small wooden bowl, cardboard, chopsticks, toothpicks, acrylic paints, felt, a brown paper bag and a hot glue gun.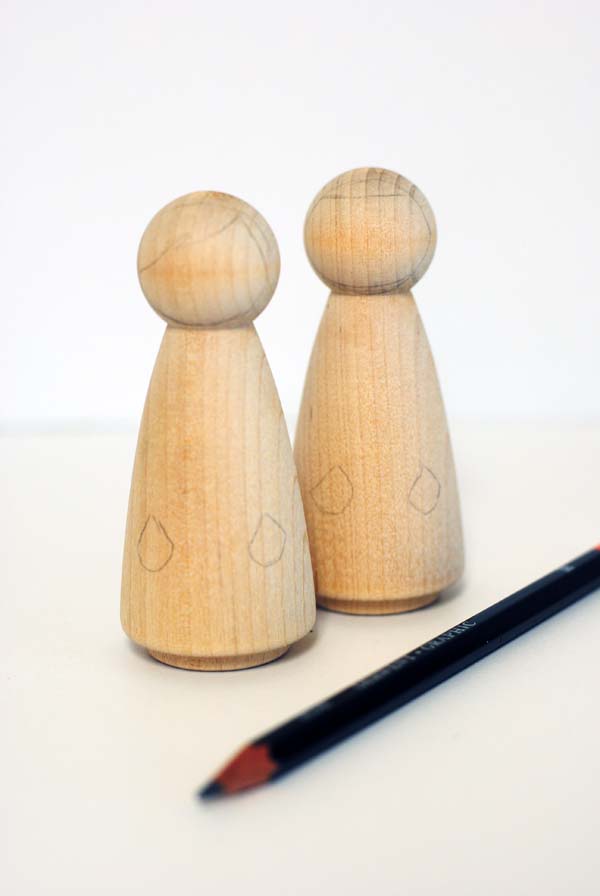 I started by sketching where I wanted to paint on each doll. I wanted to leave some of the wood exposed so it was important to plan my painting ahead of time.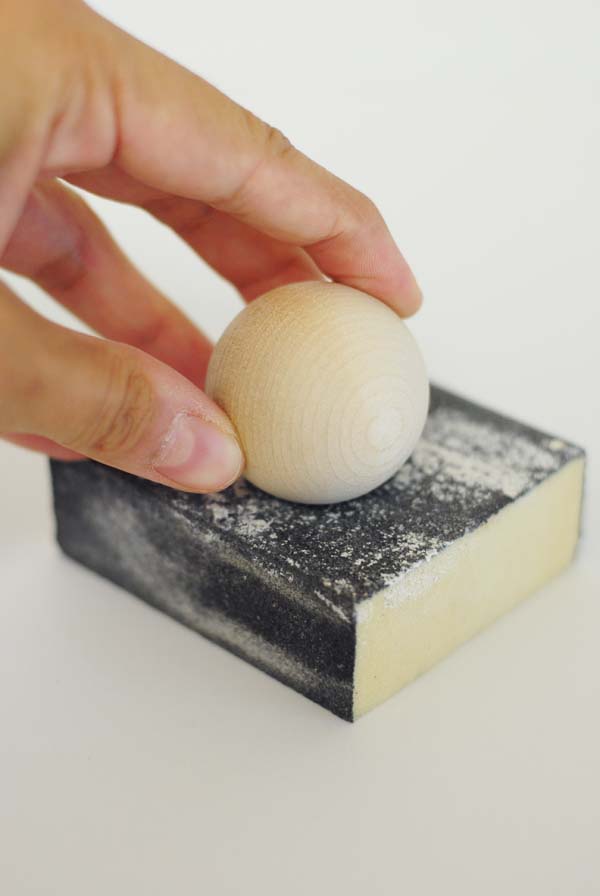 I sanded down the bottoms of the wooden balls a bit so they wouldn't roll around.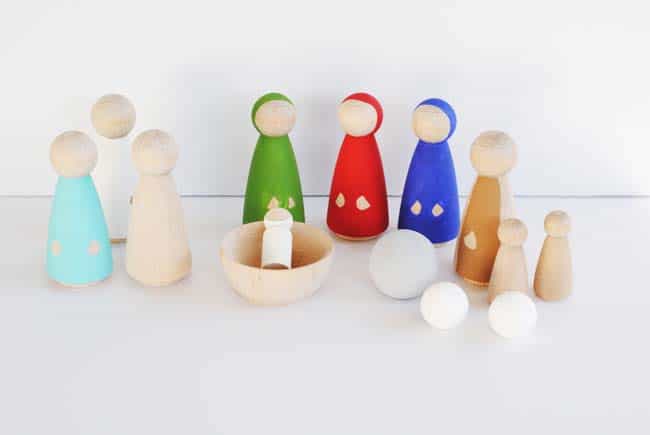 Then I got to painting. The key is to paint in layers. Do a layer, let it dry, then come back and paint the next layer.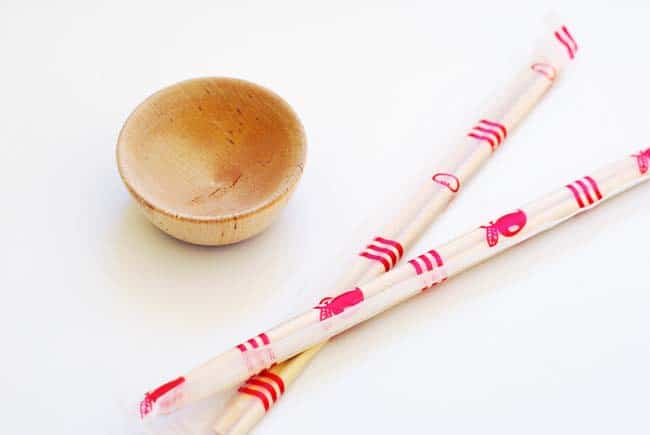 For the bassinet, I took my wooden bowl and cut the tips off two pairs of chopsticks. I wanted the bassinet to have the look of a MCM bullet planter for a more modern feel.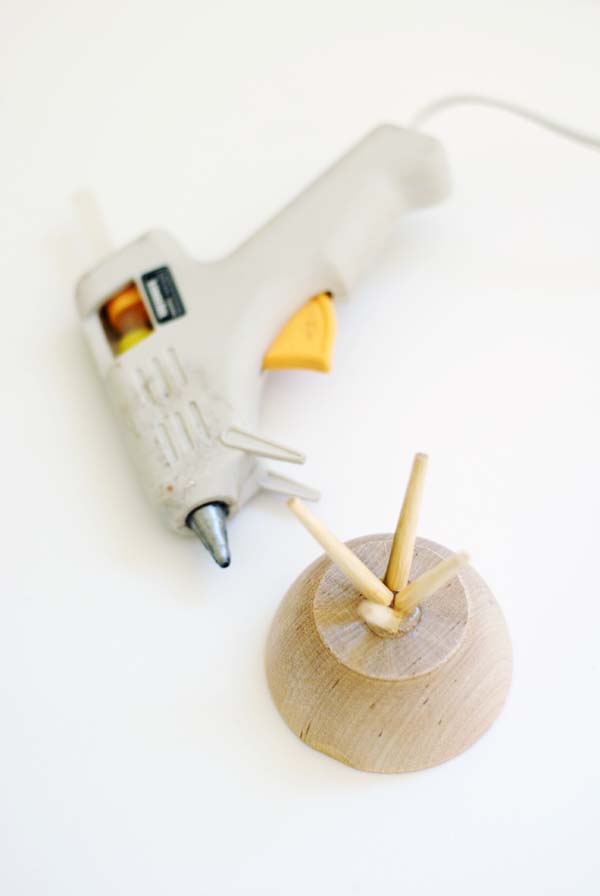 Then I hot glued the chopsticks parts to the bottom of my bowl and painted them white.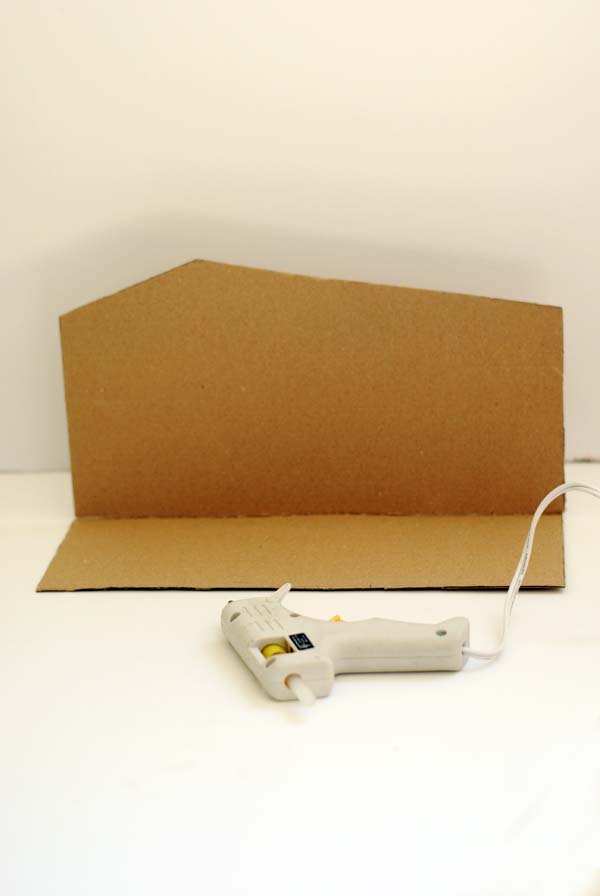 Then I made a manger from cardboard. I had originally planned to make one out of wood but I wanted to build a prototype out of cardboard first. I liked the way the cardboard looked so much that I may just use the wood I bought for a different project.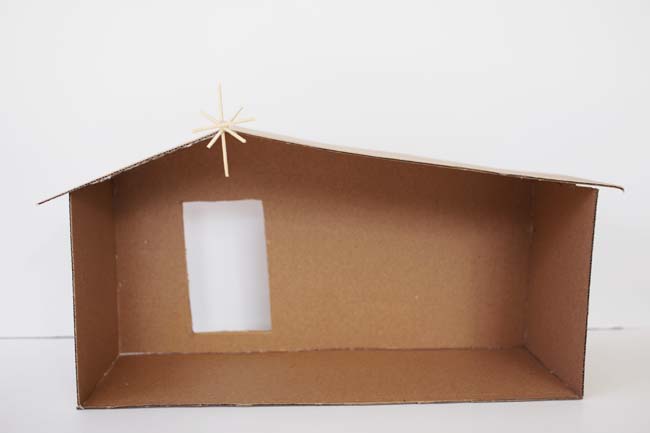 After I got glued the cardboard together, I took a knife and cut out a window.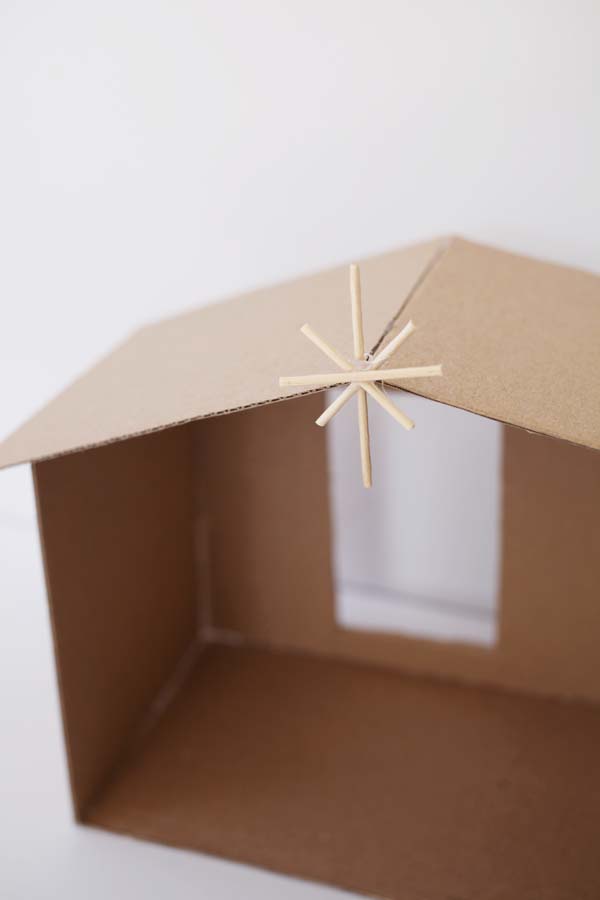 Then I took a few toothpicks, cut them down to size with scissors and hot glued them together for a star pattern. That got hot glued to the cardboard as well.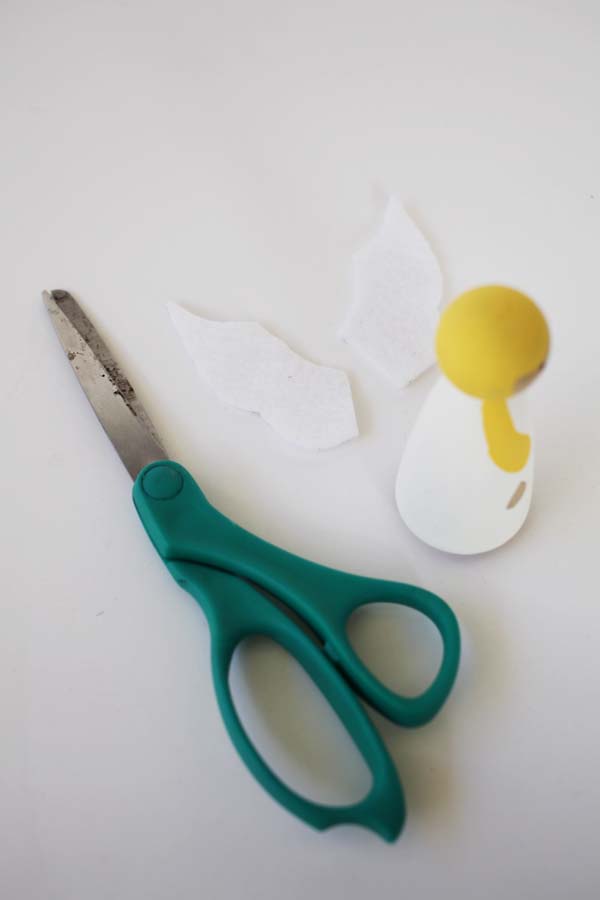 For the angel's wing, I cut a pair out of white felt then hot glued them to her back.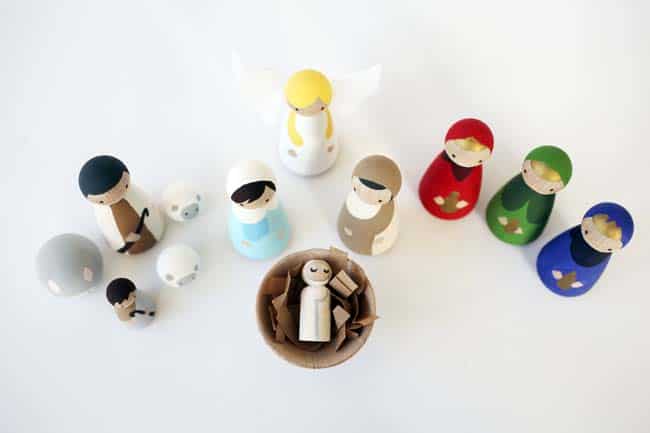 For the bedding inside the bassinet, I cut little rectangles from a brown paper bag and crumpled them up.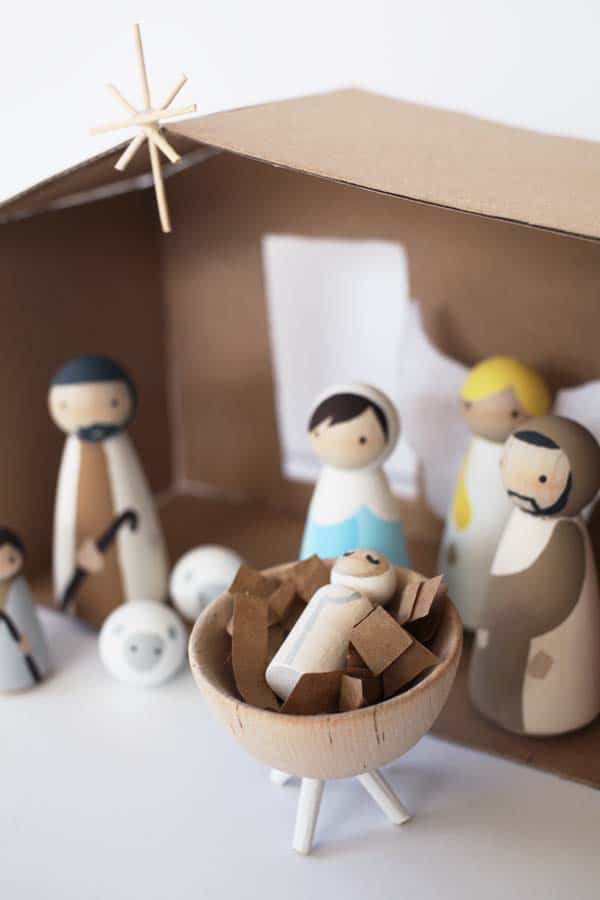 This is a great craft to do with older kids.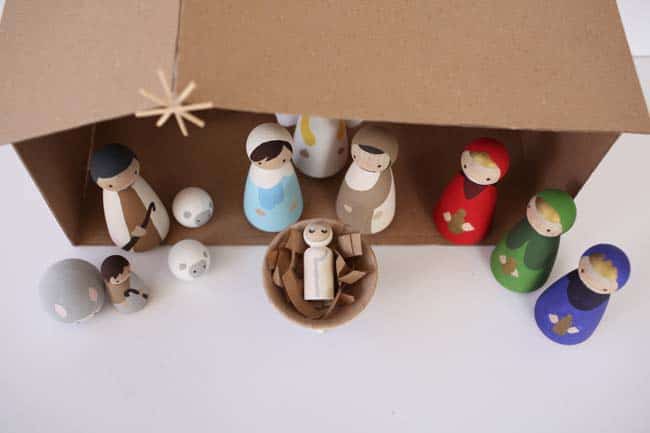 Or it can be given as a gift since the pieces are pretty kid-friendly.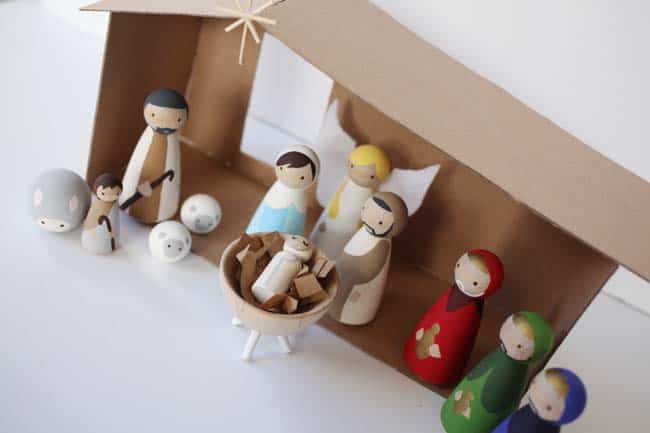 These wooden doll pieces will be easy to store and I won't have to worry about them breaking like many other holiday decorations.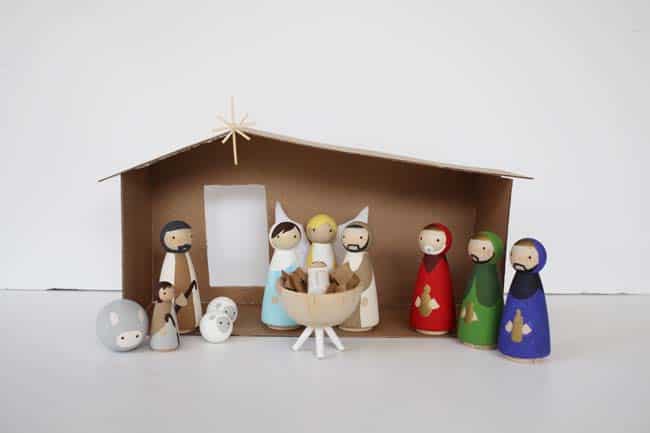 If you wanted to go make a more elaborate DIY nativity scene, you could embellish the manger by adding a roof and decorating the inside as a barn. Or you could add more animals. It's really up to you!