These Christmas tree brownies are easy to make from scratch! Fudge-y, thick, and delicious, they are the perfect holiday dessert or edible gift idea.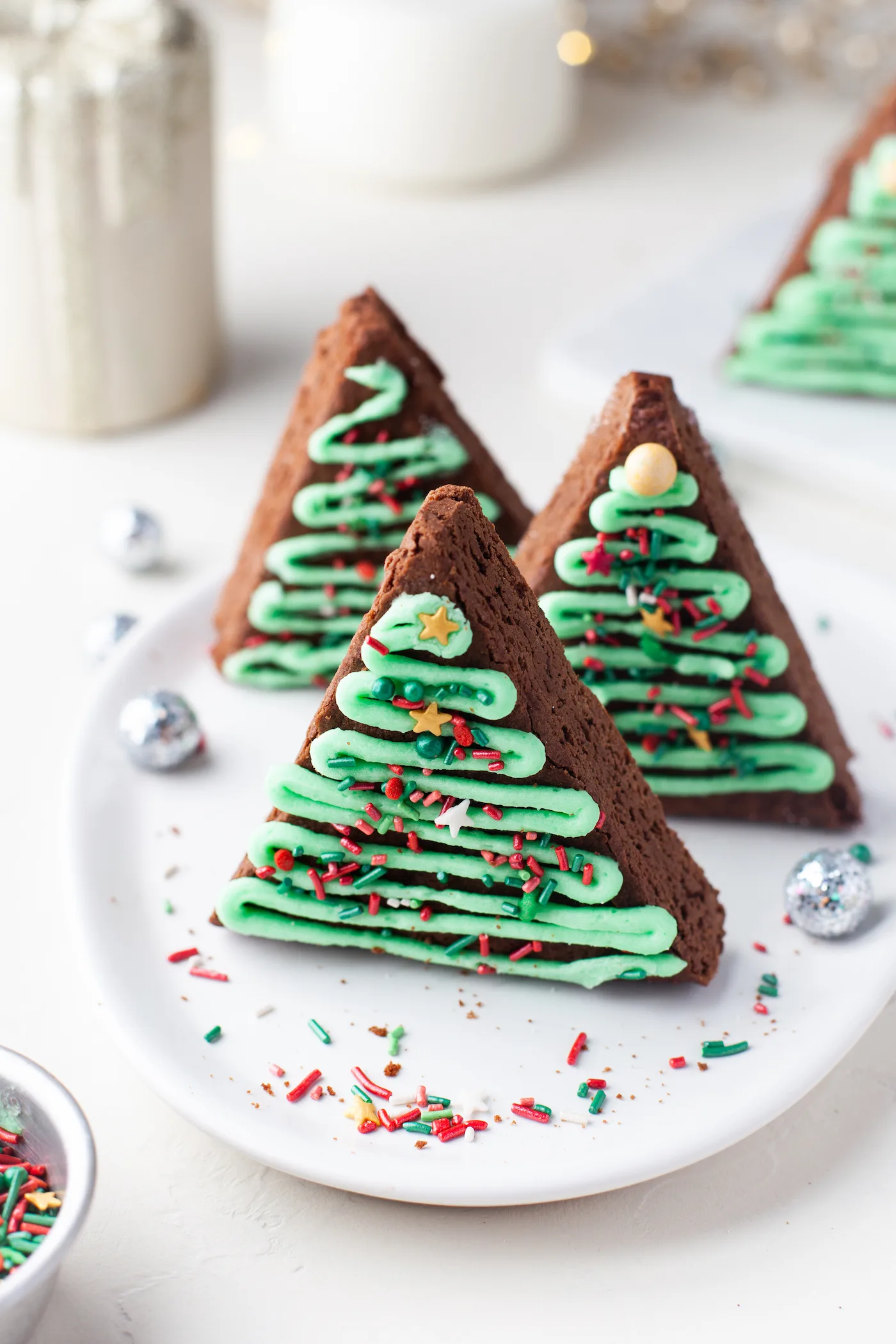 I'm all about cute Christmas desserts around here. You know what I'm talking about. Cupcakes that look like wreaths . . . cookies that look like Santa.
If you're going to be baking anyway, you might as well make it fun, right? Plus it really thrills everyone – the kids, neighbors, or anyone else you might want to give an edible gift.
We've got a bunch of fun ideas that we've done recently including Christmas tree cupcakes, Grinch cookies, and even red and green whoopie pies.
It was time to take the next step and make a Christmas dessert recipe with brownies. 'Cause we all love chocolate like crazy around here.
And I present to you (drum roll please): Christmas tree brownies.
Everyone has their own idea of what makes a brownie perfect, but let me give you a classic, fudgy, and utterly delicious recipe. With some tasty icing on top!
This recipes strikes the perfect balance between fudgy and cakey. It's moist and dense, but not too heavy.
It's a deep, intense chocolate experience. They are sweet but not too sweet, allowing the true, bold chocolate flavor to shine. There's a hint of vanilla as well! You're absolutely going to love these.
Plus – they're cute.
Tips for Making the Best Brownies
Before you dive into this recipe, I've got some tips for you on making the best (and tastiest) brownies. If you're interested, check them out. Otherwise scroll to the bottom.
Use Quality Ingredients
Use fresh ingredients for the best flavor and texture. You'll for sure want to get fresh eggs, good quality butter, and pure vanilla extract (instead of imitation).
You should choose high-quality chocolate chips and cocoa powder for the best flavor. If you like dark chocolate, chips with at least 60% cocoa content is recommended.
Measure Precisely
Flour is often the main dry ingredient in brownies. Measure using the scoop-and-level method, as adding too much flour can result in dry baked goods.
Bring Cold Ingredients to Room Temp
Bring ingredients like butter, eggs, and milk to room temperature before mixing. They will incorporate better, resulting in smoother batter and softer brownies. They don't need to be warm; slightly cool to room temp is fine.
Avoid Overmixing
Mix the batter just until ingredients are combined, or the dry disappears into the wet. Overmixing can result in tough baked goods.
Choose the Right Pan
Use a light-colored metal or glass baking pan. Dark-colored pans can cause the brownies to bake unevenly or become too crisp on the edges.
Test for Doneness
They should be slightly underbaked when you remove them from the oven. A toothpick inserted into the center should come out with a few moist crumbs clinging to it.
Allow to Cool in the Pan
Allow the brownies to cool completely in the pan on a wire rack. This helps them set and develop their texture.
Remember, practicing and experimenting will help you perfect your baking skills over time. Have fun and enjoy the process of creating delicious baked goods! Here's what you're going to need for these Christmas tree brownies.
Ingredients
10 Tablespoons butter
3/4 cup of semi sweet chocolate chips (or chips of your choice)
2 Tablespoons of unsweetened cocoa
1 cup of brown sugar
3 small eggs
1/2 teaspoon of vanilla extract
1 cup of all-purpose flour
1 pinch of salt
1/2 teaspoon of baking powder
Candy canes or pretzels for the "trunks" (optional)
Icing
1 cup of powdered sugar
4 Tablespoons of butter
1 Tablespoon milk at room temperature (you can add 1/2 to 1 Tablespoon extra if you want it a bit softer)
Green food coloring
Christmas sprinkles
Additional Thoughts on This Recipe
When preparing the icing, it's important that the texture of the butter is not too soft. It has to be soft enough that if you press it gently, it squishes a bit. It should not be too hard or too soft.
You can use the smaller edges of the brownies when you cut them, and have the edges as small trees to compliment your bigger ones.
If you want to use candy canes for the tree trunks, cut them approximately 1.5 inches.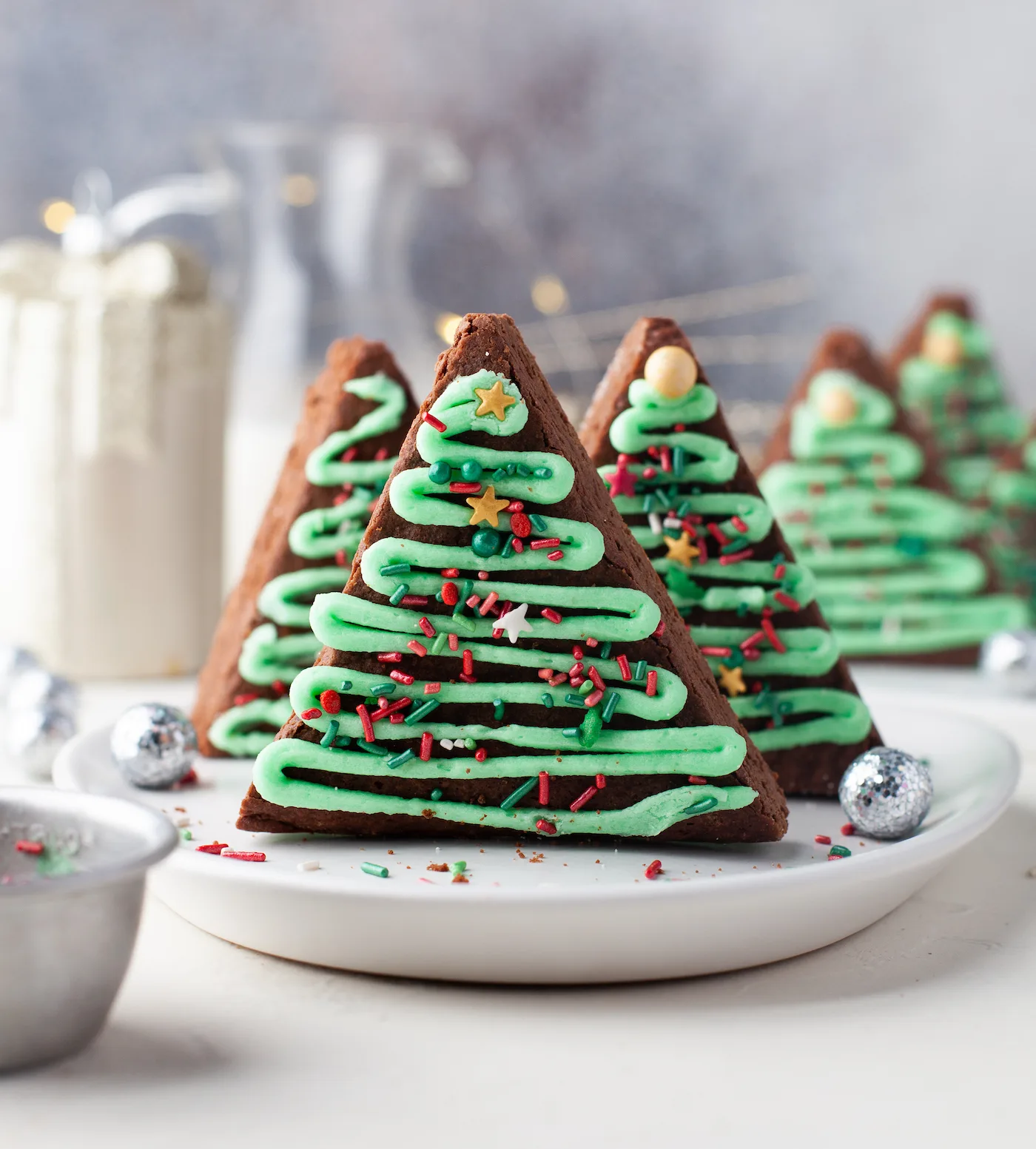 Store brownies for 3-5 days in the fridge (since you have dairy in the icing). Make sure they're in an airtight container or wrapped tightly in plastic wrap or aluminum foil
In the freezer, these can last for about 3 months. Wrap them tightly in plastic wrap and then place them in a ziplock bag or an airtight container.
Get the printable recipes for these delicious brownies below:
Yield: 12 brownies
Christmas Tree Brownies
Transform your holiday dessert table with festive brownie Christmas trees! These are rich, chocolatey, and the whole family will love decorating them.
Ingredients
Brownies
10 T butter
3/4 cup semi sweet chocolate chips
2 Tablespoons unsweetened cocoa
1 cup of brown sugar
3 small eggs
1/2 teaspoon vanilla extract
1 cup all-purpose flour
1 pinch of salt
1/2 teaspoon baking powder
Icing
1 cup powdered sugar
4 Tablespoons butter
1 Tablespoon milk at room temperature
Green food coloring
Christmas sprinkles
Instructions
Brownies
Preheat the oven to 350 degrees. Grease and flour an 8-inch square pan.
In a saucepan, melt the butter. Add the chocolate chips and cocoa powder. Mix until combined and the chocolate is perfectly melted, then remove from heat.
In a standing mixer, mix the eggs until they are light and fluffy. Add the sugar little by little, and beat until the eggs are lighter in color.
Add the cooled chocolate mixture into the bowl with the sugar and eggs. Add the vanilla. Mix until combined.
Sift the flour into the mixture and mix until combined. Do NOT over mix. You can also mix it manually instead of using the standing mixer.
Pour the batter into your lined baking pan and spread around until the entire bottom of the pan is filled.
Bake in the oven for 20 - 25 minutes or until the texture does not bounce, and it doesn't look shiny anymore. Allow the brownies to cool for 10 minutes before removing from the pan.
Remove the brownies from the pan and allow to cool completely. Make a grid on top for cutting into triangles as shown.
Once you have a grid, cut the brownies. There should be three rows, 4 large triangles per row, so they are even, and you will have some edges that can work for smaller trees. You will make 12 large brownie trees.
If you are using candy canes, unwrap each one and 1.5 inch long pieces. Press the sharper ends of the candy cane into the bottom of each brownie tree.
Buttercream Frosting
Prepare your buttercream frosting by beating the butter with a hand mixer, until light and fluffy.
Add the powdered sugar little by little until fully combined. Add the milk and mix until combined.
Add several drops of food coloring until the frosting is the green you desire.
Decorate the Brownies
Get a piping bag ready with the tip of your choice. Place the green frosting into the piping bag.
Starting at the top of the tree, gently squeeze your piping bag to make a zigzag from the top to bottom of the brownie.
Add your favorite Christmas sprinkles on top of the buttercream frosting and let set before serving.
Notes
To make the frosting flavored, you can add a teaspoon of peppermint extract or vanilla extract when you mix in the powdered sugar and milk.
Nutrition Information:
Yield:
12
Serving Size:
1 brownie
Amount Per Serving:
Calories:

322
Total Fat:

18g
Saturated Fat:

11g
Trans Fat:

1g
Unsaturated Fat:

6g
Cholesterol:

71mg
Sodium:

158mg
Carbohydrates:

40g
Fiber:

1g
Sugar:

30g
Protein:

3g
---
If you enjoyed these brownie Christmas trees, let me know in the comments. I'd also love for you to check out these other posts: