These Christmas wreath cupcakes are easy to make from scratch. Features a rich, vanilla cupcake with buttercream icing and a wreath on top! They are the perfect holiday dessert or edible gift idea.
When the holidays roll around I am all about the cute desserts. You know what I'm talking about.
Brownies that look like Christmas trees, Santa strawberries, snowman marshmallows, pretzel treats, and so much more. Honestly it's what I live for. Cute baked goods.
I don't allow myself to squeal or use glitter except for two times a year – Halloween and Christmas.
During those times I'm allowed to go buck wild, and you can imagine that there was a lot of squealing that happened during the making of these Christmas wreath cupcakes.
I had leftover sugar crystals and pearls from other projects like my Santa cookies, so I decided it was time to use them to make a Christmas themed baked goodie.
These wreath cupcakes ended up being the perfect recipe! And they are SO FUN to make.
The recipe is a moist and fluffy vanilla cupcake with a rich buttercream frosting with a slight hint of almond. The flavors balance perfectly.
If you prefer a chocolate cupcake you can use the recipe from our Christmas tree cupcakes. But I really encourage you to try the vanilla! These are delicious.
These are SO easy to make! You can gift them, bring them to a classroom, or take them to a Christmas party. They really work for anything.
Tips for Making Delicious Cupcakes
Before we dive into the recipe, I wanted to give you some tips. Are you looking to make the tastiest cupcakes ever? I've got some tips for you. Here's what I always make sure to pay attention to.
Use Quality Ingredients
Use high-quality, fresh ingredients for the best cupcake flavor and texture. You'll for sure want to get fresh eggs, good quality butter, and pure vanilla extract (instead of imitation).
Measure Precisely
Flour is the main dry ingredient in these cupcakes. Measure using the scoop-and-level method, as adding too much flour can result in dry cupcakes.
Bring Cold Ingredients to Room Temp
Bring ingredients like butter, eggs, and milk to room temperature before mixing. They will incorporate better, resulting in smoother batter and fluffier cupcakes. They don't need to be warm; slightly cool to room temp is fine.
Avoid Overmixing
Mix the batter just until ingredients are combined, or the dry disappears into the wet. Overmixing can result in dense cupcakes that are too firm.
Don't Overfill the Liners
Fill cupcake liners about two-thirds full with batter. This prevents overflow and allows room for the cupcakes to rise.
Watch While Baking
Follow the suggested baking time, but also keep a close eye on your cupcakes. They're done when a toothpick inserted into the center comes out clean or with a few moist crumbs attached.
Transfer Immediately After Baking
Transfer the cupcakes to a wire cooling rack immediately after taking them out of the oven. This prevents condensation from forming on the bottom, which can make the cupcakes soggy.
Cool Before Frosting
Ensure the cupcakes are completely cool before frosting. Warm cupcakes can cause the frosting to melt or slide off when applied.
Remember, practicing and experimenting will help you perfect your cupcake baking skills over time. Have fun and enjoy the process of creating delicious baked goods! Here's what you're going to need for this recipe.
Cupcakes
Oil – 1/4 cup (56 ml) (canola or any other flavorless oil)
Sugar – 3/4 cup (150 grams)
Vanilla extract – 1 1/2 tsp
All-purpose flour – 1 1/4 cups (150 grams)
Baking powder – 1 1/2 tsp
Salt – 1/4 tsp
Milk – 3/4 cup (168 ml)
Egg – 1
Frosting
Unsalted Butter – 1 cup (226 grams)
Powdered Sugar – 3 cups (340 grams)
Almond extract – 1 tsp
Fresh cream – 2 Tbsp or more if required
Green gel food color
Silver and golden sugar balls
Tips and Thoughts for This Recipe
I prefer using gel food color because a small quantity of it will give you a bright shade. If you use liquid or powder food color, you might have to use quite a bit of it of it to get the perfect shade.
This would make your frosting taste weird. Also, liquid food colors (if used in excess) can change the consistency of the frosting.
Start off slow with the color – adding a few drops – then keep adding until you get the shade you desire.
You can beat an extra Tablespoon of fresh cream into the frosting if it's too thick.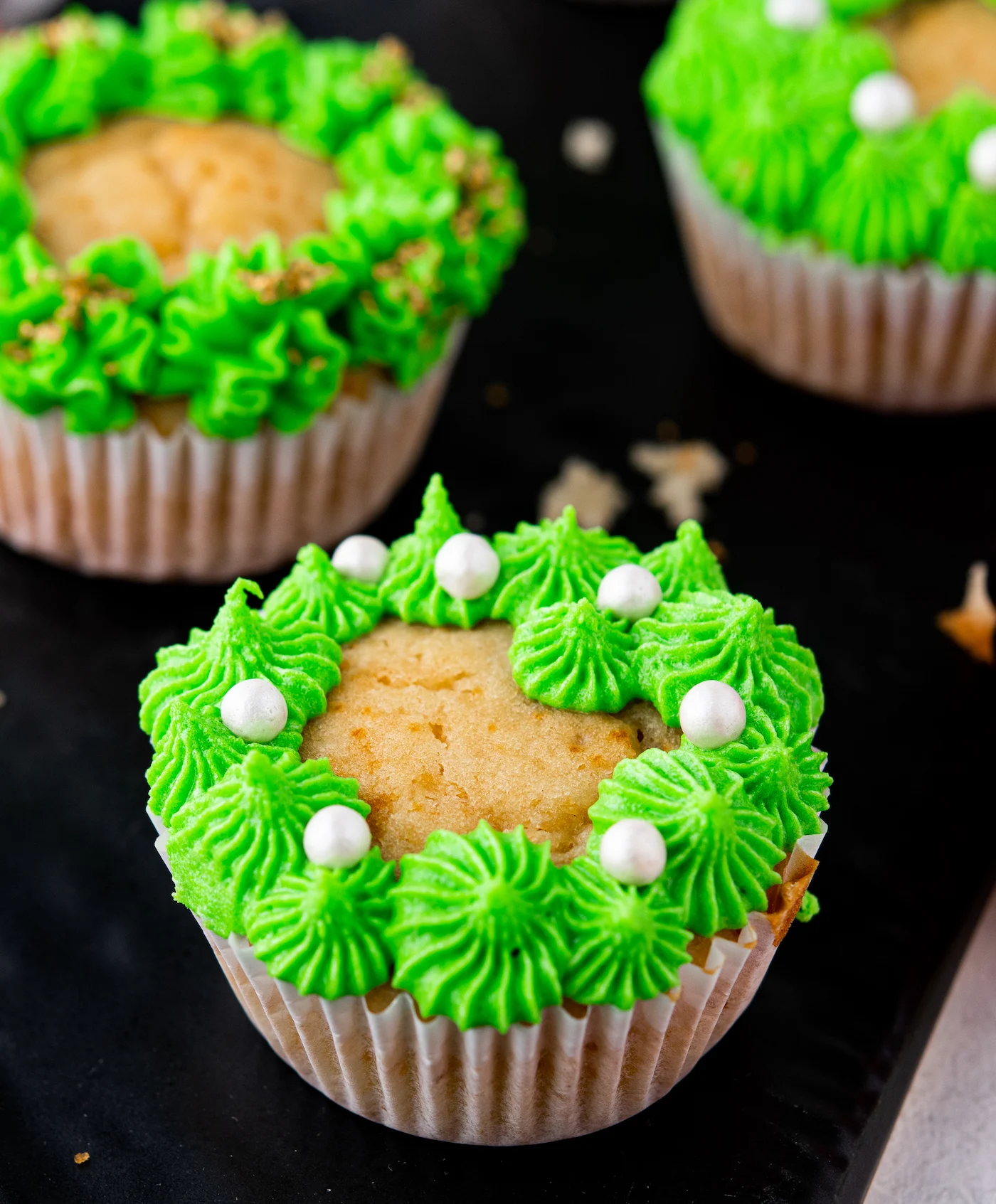 These will stay fresh for 2-3 days when stored in an airtight container in the refrigerator. You can also store the extra frosting in the fridge for 4-5 days; allow it to come to room temperature before using it again.
You can also freeze them for up to three months. Store in a rigid container, then bring out and let rise to room temperature after freezing.
Get the printable recipe for these tasty cupcakes below:
Yield: 12 cupcakes
Christmas Wreath Cupcakes
These cute wreath Christmas cupcakes are fun for the whole family to decorate!
Ingredients
Cupcakes
1/4 cup canola oil
3/4 cup granulated sugar
1 1/2 teaspoons vanilla extract
1 1/4 cups all-purpose flour
1 1/2 teaspoons baking powder
1/4 teaspoons salt
3/4 cup milk
1 egg
Frosting
1 cup unsalted butter
3 cups powdered sugar
1 teaspoon almond extract
2 Tablespoons fresh cream (or more if required)
Green gel food color
Silver and golden sugar confetti
Instructions
Make the Cupcakes
Preheat the oven to 350 F / 180 C and line your baking tray with cupcake liners; set aside.
Add flour, baking powder, and salt to a bowl and mix well. Set aside.
In a bowl, add oil, sugar, and vanilla extract. Use the hand mixer to whisk the ingredients until the mixture is combined.
Add the egg to the oil mixture and mix well. Add in the milk as well and give it a good stir.
Slowly add the dry ingredients to the batter until just incorporated. It's okay if there are a few lumps.
Scoop out the batter using an ice cream scoop, and fill the liners until 2/3 full.
Bake in a preheated oven for 20-24 minutes or till a toothpick inserted in the middle comes out clean.
Let the cupcakes cool for 5 minutes in the baking tray before transferring them to a wire rack to cool completely while you prepare the frosting.
Make the Frosting
In a bowl of a stand mixer or hand mixer, cream the butter until it's light and creamy.
Add almond extract, fresh cream, and powdered sugar (in batches) and beat until you get a smooth and fluffy consistency (5-6 min).
Tint the frosting with green gel food color and mix well.
Put the frosting in two individual piping bags. Frost your cupcakes only near the edges leaving the center of the cupcake empty. Sprinkle with the Christmas sprinkles of your choice.
Notes
I used a French star tip and a Closed star frosting tip to make my wreaths.
Nutrition Information:
Yield:
12
Serving Size:
1 cupcake
Amount Per Serving:
Calories:

405
Total Fat:

22g
Saturated Fat:

11g
Trans Fat:

0g
Unsaturated Fat:

10g
Cholesterol:

60mg
Sodium:

122mg
Carbohydrates:

51g
Fiber:

0g
Sugar:

41g
Protein:

3g
---
If you enjoyed these delicious baked goods I hope you'll let me know in the comments! Please also check out these other Christmas desserts:
Christmas Rice Krispie Treats • Christmas Popcorn • Christmas Tree Cupcakes • Christmas Whoopie Pies • Gingerbread Cupcakes • Grinch Cookies • Grinch Cupcakes • Hot Cocoa Cupcakes