This is the ultimate nilla wafer banana pudding! This easy and delicious dessert uses basic ingredients, but is far from basic-tasting. It is sure to be a hit for your next gathering!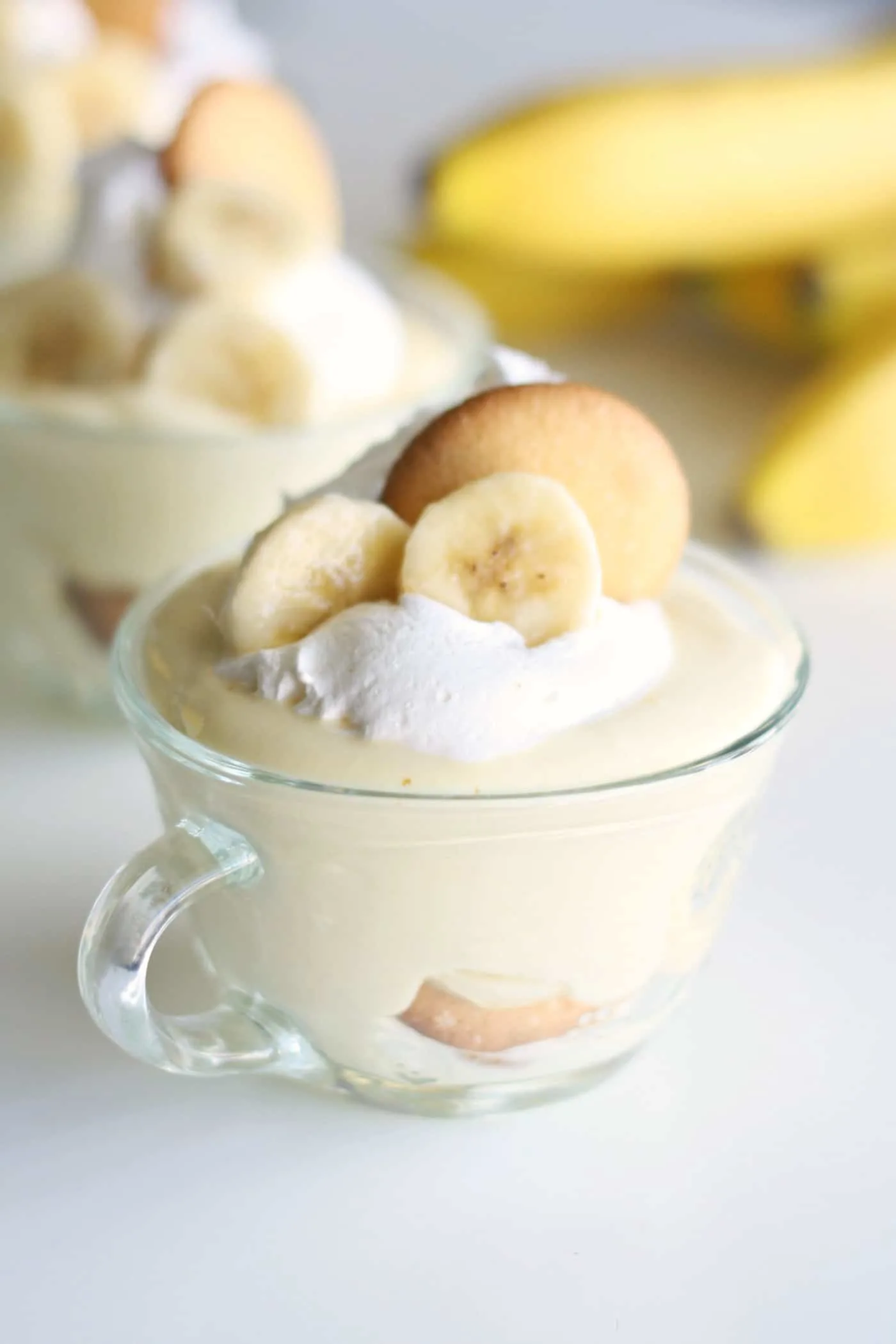 I love banana pudding. I love the creamy richness. I love the crunch of the wafers. I love the soft bananas. And the colder, the better. Give me all the cold, creamy banana pudding, especially during summer! When it's summer, I'm all about cool fruit desserts.
While there are lots of delicious banana pudding recipes out there (who am I to discriminate against banana puddings?!), this is one of my favorites. It strikes the perfect balance between "easy" and "tastes amazing."
This pudding uses basic ingredients, but doesn't taste basic when you are done. So so so good!
Easy Banana Pudding vs. From Scratch
There are recipes that entail whisking eggs, milk, sugar, and various other ingredients in a sauce pan to make pudding.
I'm not complaining about those recipes one bit and think if you have the time and inclination, it's a fun challenge to try at least once.
The issue is that it's really easy to scorch homemade pudding, in my experience. Another issue is that the finished pudding requires four hours to refrigerate.
That's why I've chosen to use instant pudding in this recipe. Sometimes I like it when recipes are a sure thing, especially when I have several people waiting for dessert!
Lemon Juice
Not sure if you're aware, but lemon juice keeps a lot of fruits from turning brown – bananas included!
You don't have to use the lemon juice if you're going to serve this right away, but it's a nice touch in making your dessert "look" nicer.
So that the lemon juice doesn't affect the taste, place 1 cup of water and 1/4 cup of lemon juice in a bowl.
Soak the bananas in the water (in slices or whole) for about 3 minutes. You'll have the most beautiful, non-brown bananas ever!
Making it Diet Friendly
If you're looking to trim some calories out of this recipe, you're going to purchase sugar free, fat free instant banana cream pudding.
Then you're going to prepare it according to box instructions (fat-free milk) and forgo the evaporated milk.
In addition, you'll use fat-free Cool Whip. The dish is still delicious, and you'll end up with 387 calories, 70g carbs, 9g fat, and 38g sugar per serving.
If you want to reduce a little more, simply cut the number of vanilla wafers or serving size (I know – who wants to do that?).
Banana Pudding with Nilla Wafers
Ingredients
1 (14-ounce) can sweetened condensed milk
1 1/2 cups cold water
1 (3.5-ounce) package banana instant pudding and pie filling
1 (8-ounce) tub whipped topping
36 vanilla wafers
3 medium bananas, sliced and dipped in lemon juice
Your vanilla wafer banana pudding is ready to serve. Creamy and delicious with a little bit of crunch!
Get the printable nilla wafer banana pudding recipe below!
Yield: 6 servings
Nilla Wafer Banana Pudding
This is the ultimate easy banana pudding recipe! This pudding uses basic ingredients, but is far from basic-tasting. It is sure to be a hit for your next gathering!
Additional Time
20 minutes
Ingredients
14 oz sweetened condensed milk (1 can)
1 1/2 cups cold water
3.5 oz banana instant pudding (1 box)
8 oz whipped topping (1 tub)
36 vanilla wafers
3 medium bananas
Instructions
In a large mixing bowl, combine sweetened condensed milk and water.
Add pudding mix and beat until well blended.
Chill at least 5 minutes in refrigerator.
Carefully fold in whipped topping with a spatula.
In separate dishes, layer pudding mixture with wafers, bananas, and more pudding.
Chill thoroughly - for about 20 minutes. Refrigerate any leftovers.
Nutrition Information:
Yield:
6
Serving Size:
1 serving
Amount Per Serving:
Calories:

602
Total Fat:

22g
Saturated Fat:

15g
Trans Fat:

0g
Unsaturated Fat:

6g
Cholesterol:

32mg
Sodium:

283mg
Carbohydrates:

95g
Fiber:

2g
Sugar:

74g
Protein:

10g
---
Happy eating! And be sure to visit us as we blog about style, food, and the things we love over at the Pretty Life Girls!
If you love this easy banana pudding recipe, you should also try the following recipes: