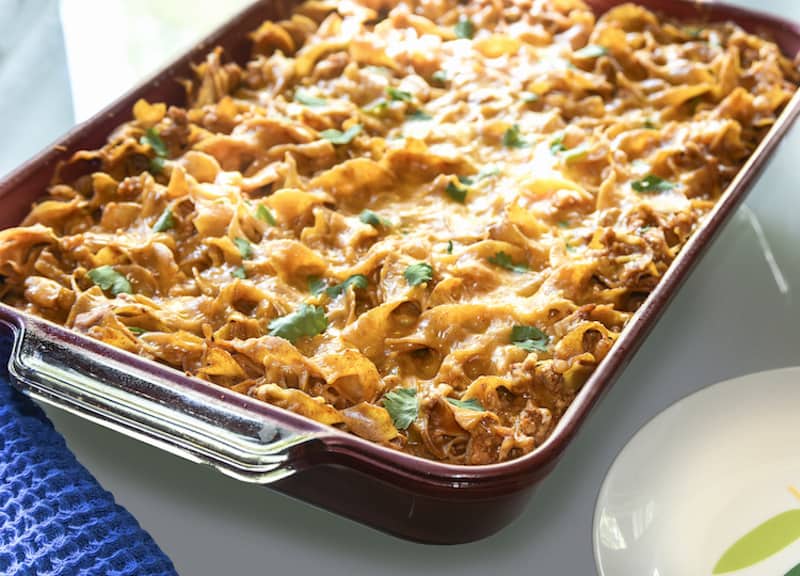 I'm obsessed with easy meals . . . and I'm also obsessed with ground turkey. I'm constantly looking for ways to incorporate ground turkey into my repertoire, but I need the meals to be somewhat healthy too (I'm always trying to watch my weight). I should also note that I have to combine this with another factor  – my boyfriend also needs to be pleased to with the meals, and he's not necessarily on the diet train like am.
This turkey enchilada casserole is our compromise!
It's REALLY delicious. I used this recipe from Table for Two and added a few things and subtracted some others to make it my own. The result is a yummy ground turkey casserole that is easy to make and isn't too high in calories (fulfilling my needs) yet is filling and tastes great (fulfilling my man friend's needs). Everyone around here is happy when I make it, and I promise the same will hold true in your household as well.
Just grab some simple ingredients and whip it up with the recipe below!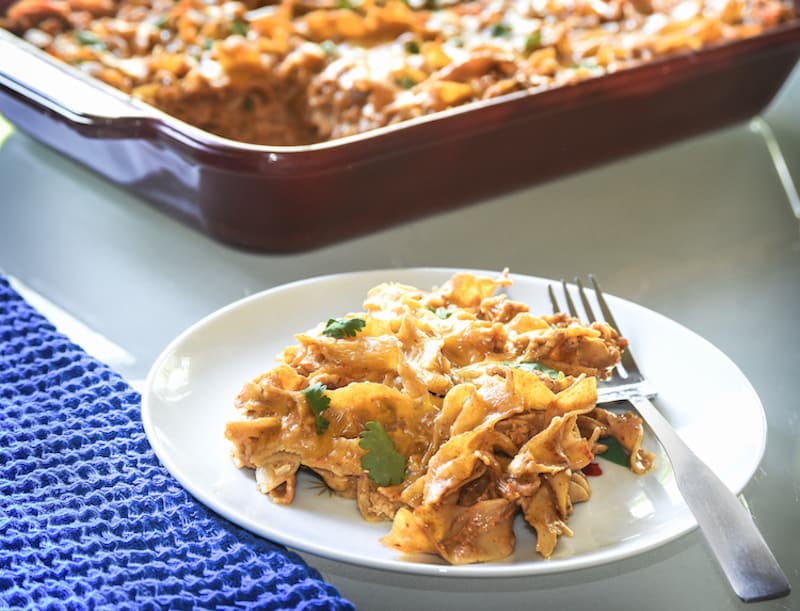 Skinny Turkey Enchilada Casserole Recipe
Ingredients
1 pound ground turkey breast
12 ounces egg noodles - I used whole grain, extra broad
1 can (10 oz.) red enchilada sauce
1 small onion
5 ounces light cream cheese
¼ cup light sour cream
1.5 cups shredded, reduced-fat Mexican cheese blend
1 can (4 oz.) diced green chiles
½ tsp. chili powder
¼ tsp. cumin
¼ tsp. cayenne pepper
Salt & pepper, to taste
2 sprays light cooking spray
Instructions
Preheat oven to 350 degrees.
In a large pot, bring water to a boil and cook the egg noodles according to package instructions.
Spray the cooking spray into your pan and heat up.
Dice your onion into small pieces and start cooking your onion for about 5 minutes or until the onions start getting a clear, glassy look.
Add your ground turkey and cook until it is no longer pink and completely cooked through.
Add the chili powder, cumin, and cayenne pepper. Stir to combine.
Drain the noodles and place them back into the large pot.
Add the cream cheese, sour cream, and enchilada sauce to the large pot with the noodles. Stir until they are combined and melted.
Add the turkey mixture to the large pot and stir. At this time you'll also add the green chiles and stir everything to combine.
In a large casserole dish, pour in the pasta mixture and top with the cheese.
Bake for 15 minutes or until the cheese has completely melted.
Nutrition Information
Serving size:
1 piece
Calories:
334
Fat:
9.5
Saturated fat:
4.8
Unsaturated fat:
.4
Trans fat:
0
Carbohydrates:
34.9
Sugar:
4.6
Sodium:
464.2
Fiber:
3.2
Protein:
27.1
Cholesterol:
58.1
Once you've tried it, I'd love to know your thoughts in the comments!