Do you love working with polymer clay? Do you love jewelry? Then you should try to make a clay necklace! Here are 10 ideas you'll love.
Once upon a time I bought a ton of clay with the intention of doing some amazing clay crafts. Going through my craft stash recently made me think that it's finally the right time to finish what I set out to do: but where to start?
Necklaces are one of my favorite things to make in general, so that seems like a reasonable place to start with clay. To get my creative juices flowing, I looked up some necklace project ideas, and I wanted to share my research with you. People are doing some amazing jewelry pieces with clay!
To show you what I'm talking about, just scroll down. I'm having a hard time deciding . . . which clay necklace would you make first?
DIY Clay Necklaces
This necklace is so interesting and cool – wouldn't it be a beautiful statement piece with a white dress?
Pretty clay bunting and braided charm necklace at Flamingo Toes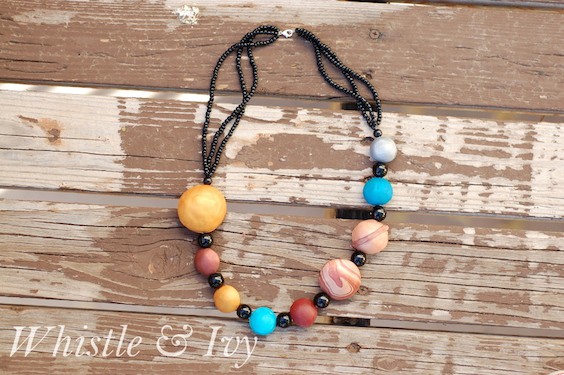 This is the coolest idea ever – make a beautiful necklace inspired by the solar system!
Solar system chunky necklace at Whistle & Ivy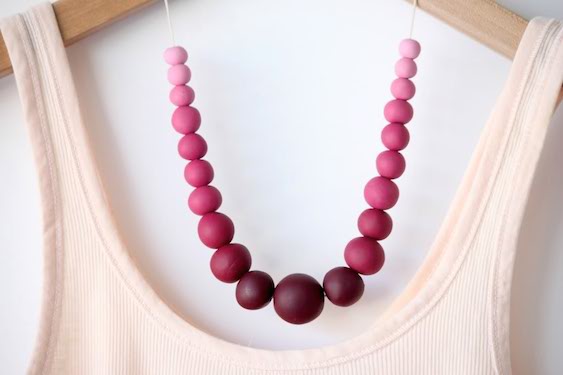 Never thought about doing ombre with clay? It's not as hard as you think!
DIY ombre polymer clay beaded necklace at Delighted Momma
I love the two rows of colorful, sparkling clay beads on this pretty necklace.
DIY clay bead necklace at Artsy-Fartsy Mama
I love how this necklace is actually layered clay disks – so cool!
Violet necklace at One Artsy Mama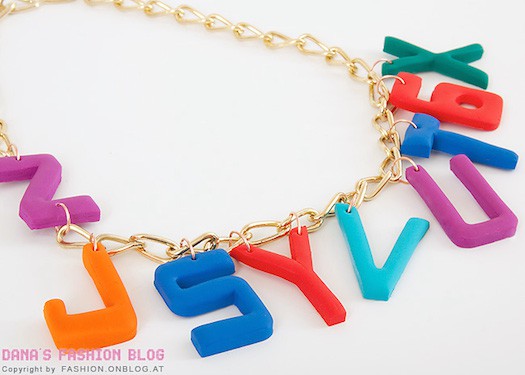 You know those cute alphabet magnets on the front of everyone's fridge? Dana's necklace reminds me of those!
Alphabet necklace from polymer clay at Dana's Fashion Blog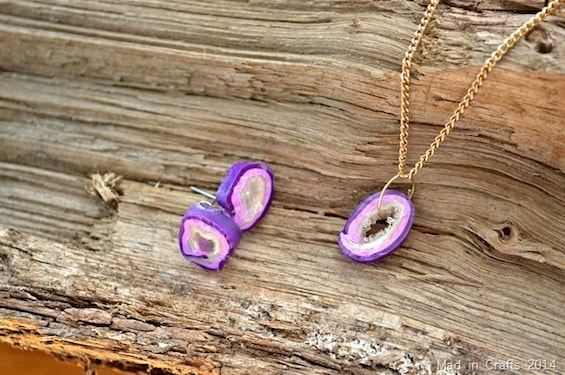 I love the look if this faux geode necklace and earring set – you're going to love the technique!
Easy faux geode necklace at Mad In Crafts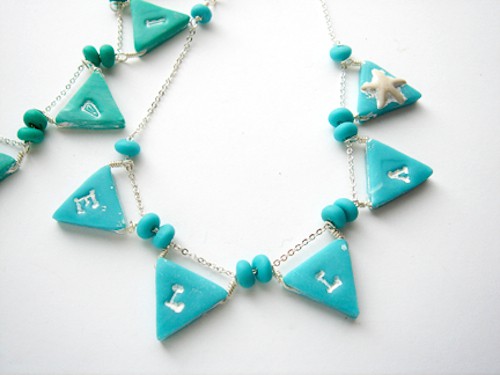 I'm always going to love buntings and banners, and this necklace is just about as cute as it gets.
Pennant necklace at Art From My Heart
Feathers are going to continue to be huge this year, and you can use clay to make them.
Polymer clay feather necklace at The Crafted Sparrow
You can use solid clay colors turned into interesting shaped beads for a unique necklace.
DIY clay bead necklace at The Crafted Life