No need to buy expensive cleaners when you can make your own! This DIY all purpose cleaner is a great little freshener to have in your cleaning arsenal.
Four ingredients, cheap to make, smells great, and free of harsh yucky chemicals! There's a video at the end of the post that will show you how it comes together.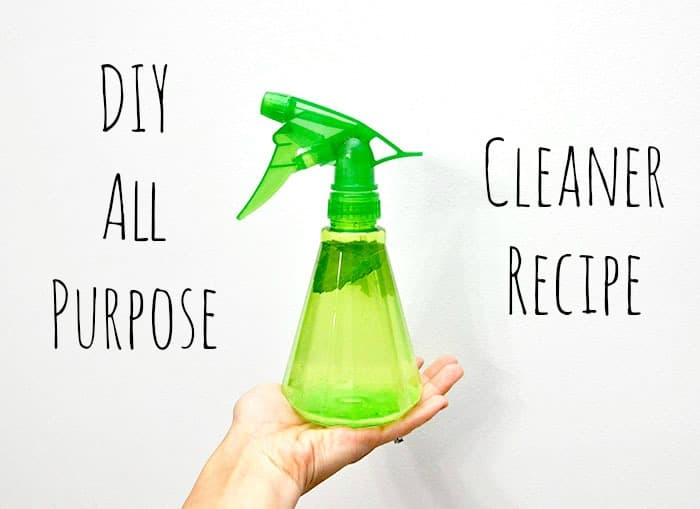 Spring has sprung here in the northwest, and that means the windows are open, the dogs are out constantly, and there's dirt everywhere just a bit more than in the winter.
I notice I'm cleaning the countertops and other surfaces a lot, and you know what? Regular cleaners give me headaches. It was time to develop a DIY all purpose cleaner recipe that I could use regularly!
Homemade All Purpose Cleaner
This homemade all purpose cleaner is awesome for several reasons. First, it only has four ingredients and you can make it in about five minutes.
Second, it smells amazing and it's not going to give you a headache. And third – it works REALLY well.
Oh wait – and fourth, did I mention the cost savings? Each bottle contains about $1.15 – $1.20 worth of raw materials . . . for 12 ounces of cleaner. That's not too shabby compared to the prices of other natural cleaners!
I use this DIY all purpose cleaner in the kitchen, bathroom, and anywhere else that I want to tidy things.
It's not harsh on surfaces, though I don't recommend it for use on marble or granite because the acids in the vinegar may damage the stone (get my all natural granite cleaner recipe here). For mirrors and windows, I like my window cleaner recipe.
Before we get into the recipe, let me address a few common questions below.
Advantages of Vinegar
Why use vinegar in this recipe? Well, the acetic acid in vinegar is a good disinfectant, effective against E. coli, Salmonella, and Staphylococcus, amongst others.
I love the low cost and natural cleaning properties. It works really well on most household messes.
I also get asked if cleaning vinegar can be used instead of white vinegar. Cleaning vinegar is 20% stronger than white vinegar, so it's fine to use and actually will make for a stronger homemade all purpose cleaner.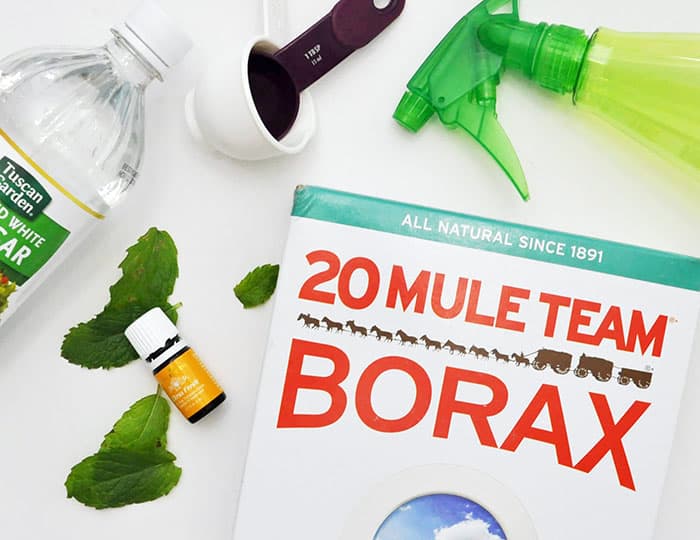 Is Borax Safe?
Some people hear "Borax" and think boric acid, which makes them believe that Borax is unsafe. It turns out that the chemical makeup is different. I believe that based on my own personal research and the info in this article, Borax is safe.
You wouldn't put a lot of things on your skin or in your eyes for a prolonged period of time, and of course you wouldn't do that with this DIY all purpose cleaner either.
Thought this is natural, treat this cleaner as you would any other cleaner in terms of safety.
What Essential Oil Should I Use?
Rosemary, lavender, lemon, eucalyptus, peppermint . . . these are all common essential oils used in cleaners and I've tried them all and like them.
It really depends on the scent that you like. Lavender seems to be my favorite for cleaning and the most pleasing to my senses.
Are you ready to learn how to make this homemade all purpose cleaner?? Get the recipe below.
DIY All Purpose Cleaner Recipe
Ingredients
1 cup of distilled white vinegar
1 tablespoon of Borax
8 – 10 drops of your favorite essential oil
3 – 6 fresh mint leaves
You'll want a 12-ounce spray bottle for your homemade cleaner. I'm not a big fan of the bottles that spray out like jets – I prefer the ones that mist. Is that picky enough for you?
But seriously, I bought a pack of bottles and use them for all my homemade cleaners.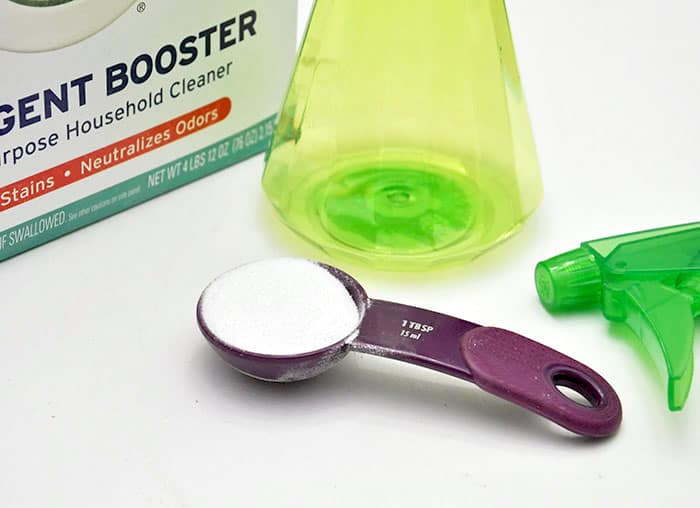 Depending on the opening of your spray bottle, you might have to use a funnel to make your life easier. I ended up being really careful.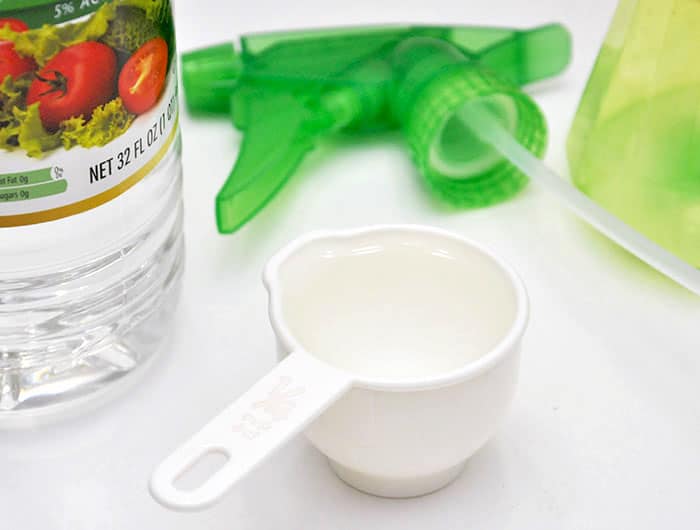 Sprinkle in the Borax and then pour in the vinegar. The photo shows a 1/4 measuring cup but I ended up adding 1 full cup of vinegar.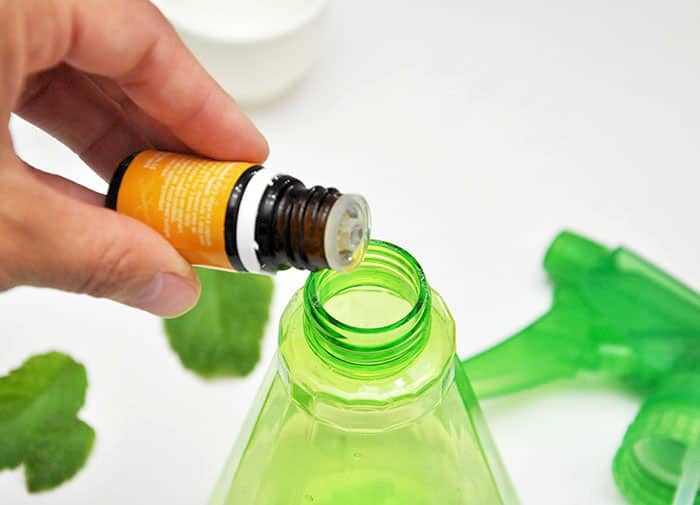 Add in your essential oil and mint leaves. The smell will automatically make your nose very happy!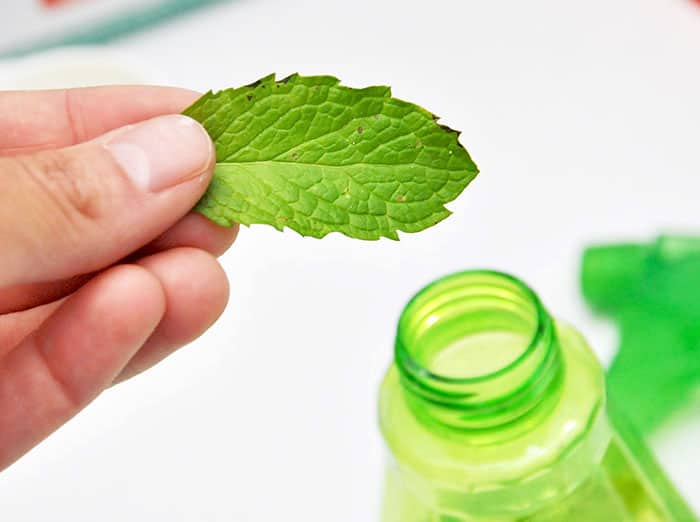 Fill the rest of the bottle with warm water and shake well. Your homemade all purpose cleaner is ready for a road test!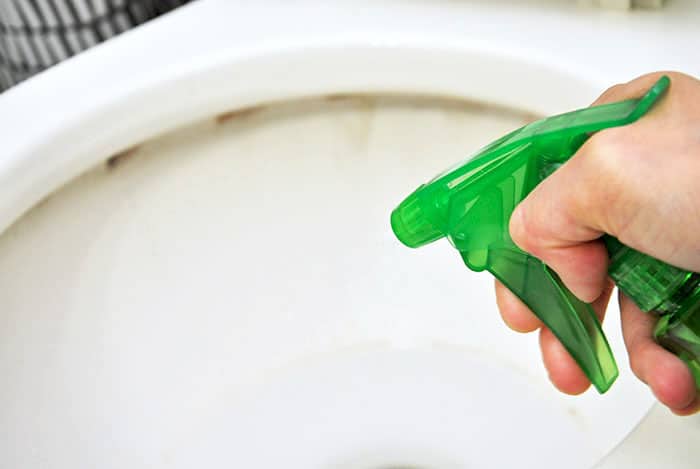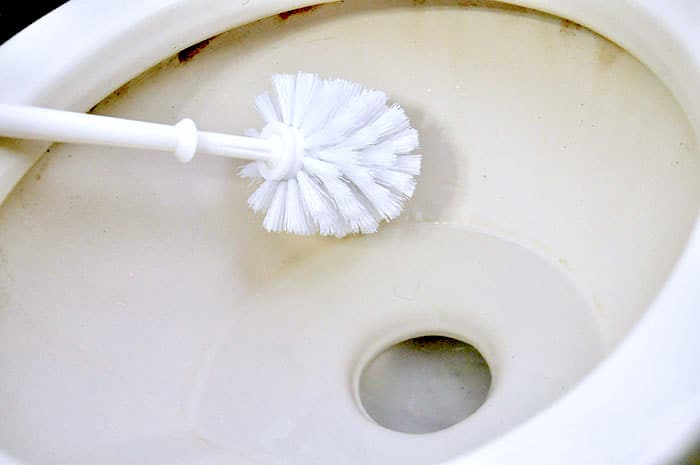 Now use away! I tested my DIY all purpose cleaner on the downstairs toilet because it gets the most, um, attention.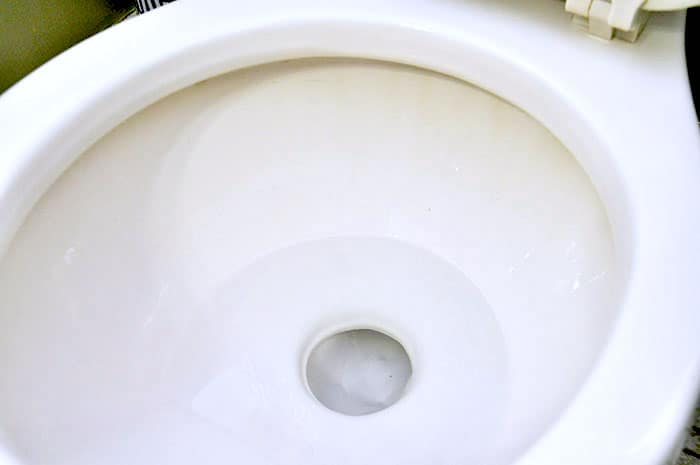 Spray the cleaner inside the bowl and allow it to sit for about 5-10 minutes. Scrub with a brush and flush. Repeat these steps until it's as clean as you like it.
Tip: sprinkle extra Borax and use a pumice stone for any harsh stains or even scratches! Polishes like a charm. Simple and easy, now you can make sure things stay clean while your kiddos have other plans.
Are you ready to see the video? Check it out in the how-to card below:
Yield: 1 bottle
DIY All Purpose Cleaner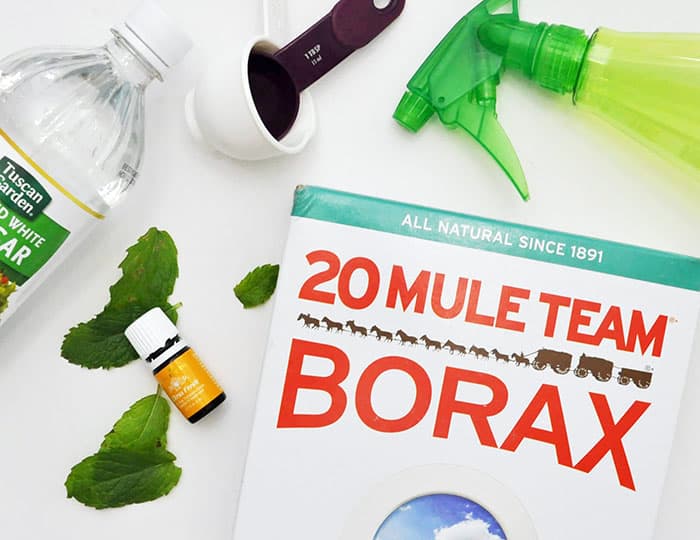 Learn how to make homemade all purpose cleaner the easy way! This is a simple, natural, great smelling recipe.
Materials
Distilled white vinegar - 1 cup
Borax - 1 T
Your favorite essential oil - 8 - 10 drops
Rresh mint leaves - 3 - 6
Tools
12-ounce spray bottle
Funnel
Instructions
Add the Borax to your spray bottle.
Pour in the white vinegar.
Add 6 - 8 drops of essential oil and mint leaves.
Fill the rest of the bottle with warm water and shake well.
Use it by spraying on a surface, let set for two minutes, and scrub. Rinse off with warm water.
---
For more homemade cleaners and related inspiration, check out these articles!