Your kids are going to love making these DIY bookmarks with a twist – just add paint chips and confetti made from tissue paper. So easy!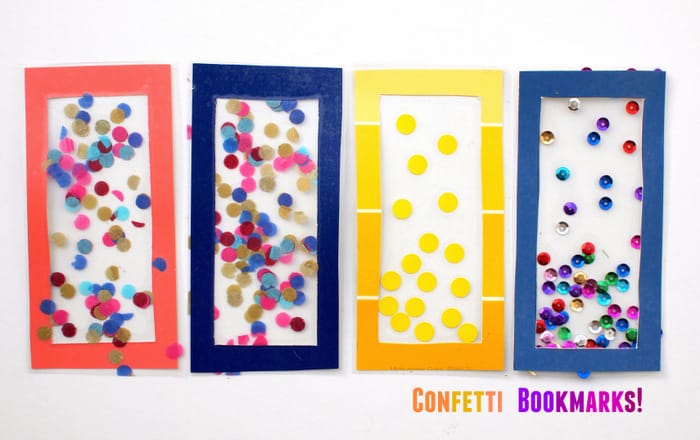 Looking forward to the new school year? I sure am! Every year I do a happy dance around the end of August because I love seeing all the cute new designs for backpacks, notebooks, and pens. Hi! It's Leslie from Pink Stripey Socks.
Today's craft is school themed- we're making Confetti Bookmarks! Hooray! My son enjoyed these cat bookmarks so much that I made him these to celebrate the start of a new school year!
Ready to make your own DIY bookmarks? Let's go!
Confetti DIY Bookmarks
Materials:
Tissue paper (Other options: Construction paper, sequins, or circle stickers)
Clear Contact Paper
Scissors
Masking Tape
Craft Knife
Cutting Mat
Paint Chips
Hole Puncher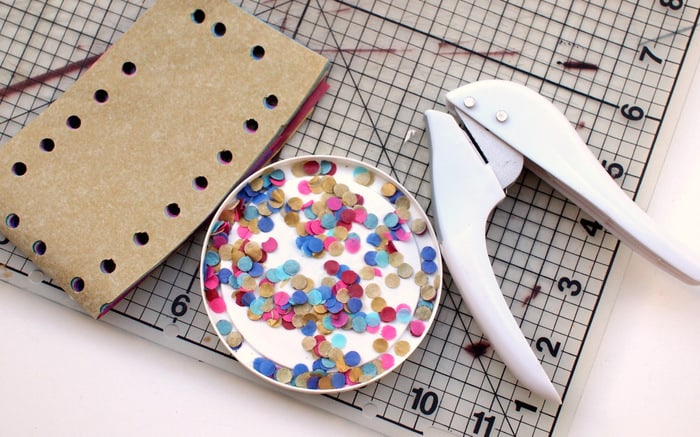 Step 1:
Let's create confetti! Grab several sheets of tissue paper and fold them together (I folded about 10 sheets in half). Then, use your hole puncher to create confetti. (Alternatively, you can also use construction paper to create confetti too! I just happened to have tissue paper on hand.)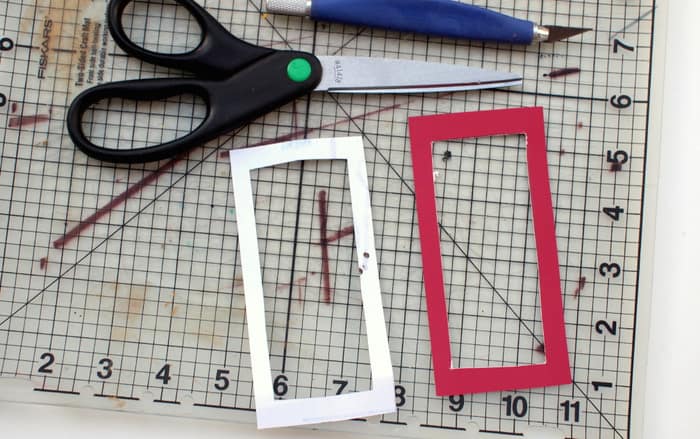 Step 2:
Now let's create the border for your bookmark. Cut out a bookmark template from a regular sheet of paper. Then, trace and cut out your template using a colorful paint chip.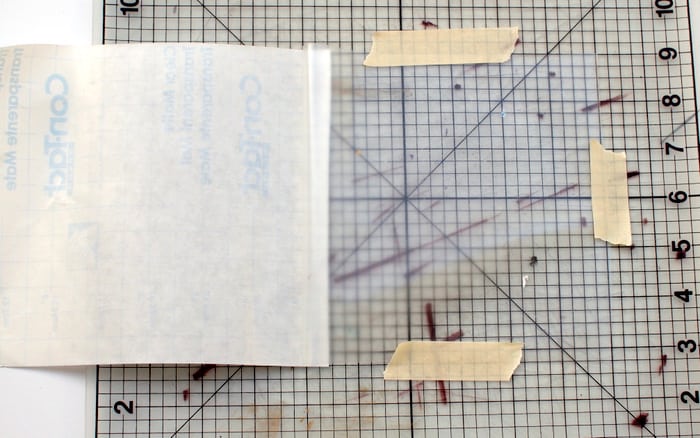 Step 3:
Cut out two pieces of clear contact paper. Make the second sheet slightly larger than your first. (Having a larger second sheet helps you to easily cover the first sheet of contact paper.) Peel off the backing and tape the smaller sheet of contact paper, sticky side up, onto your work surface.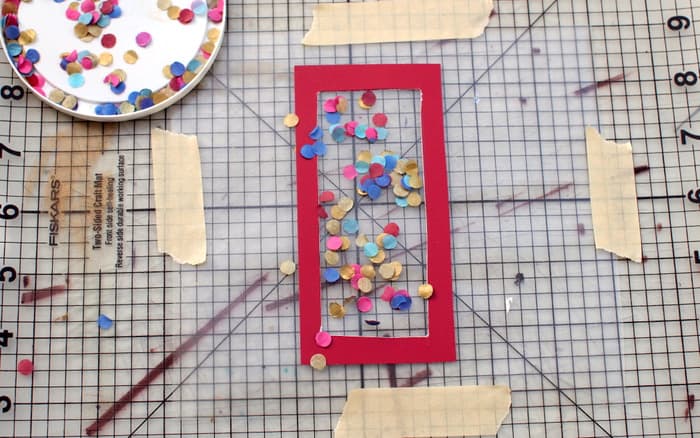 Step 4:
Gently stick on your bookmark border. Then, sprinkle on your confetti!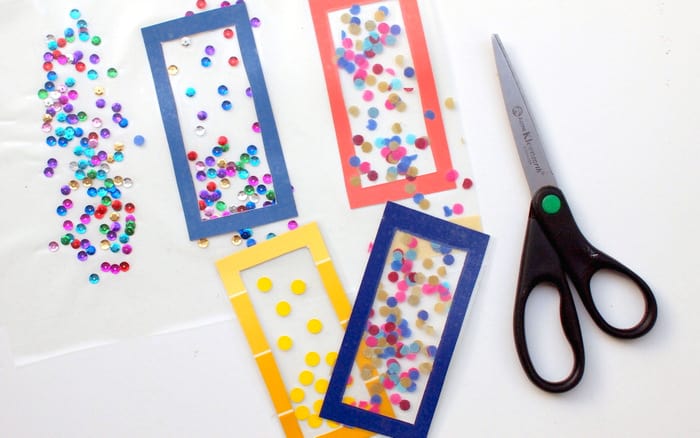 Step 5:
Once you're done, peel off the backing from your second sheet of contact paper and carefully stick it to your first. Then, cut out your bookmarks!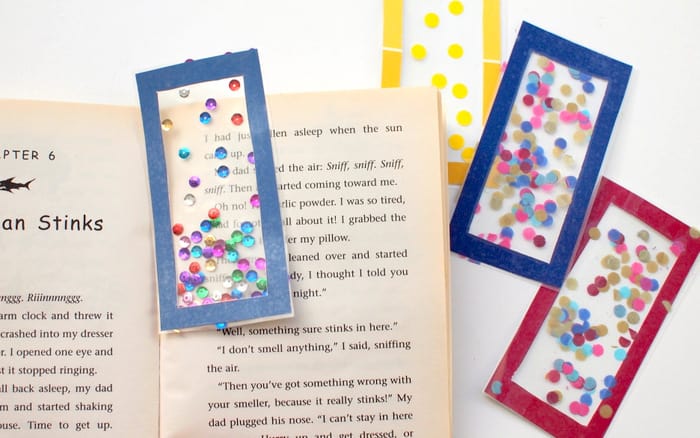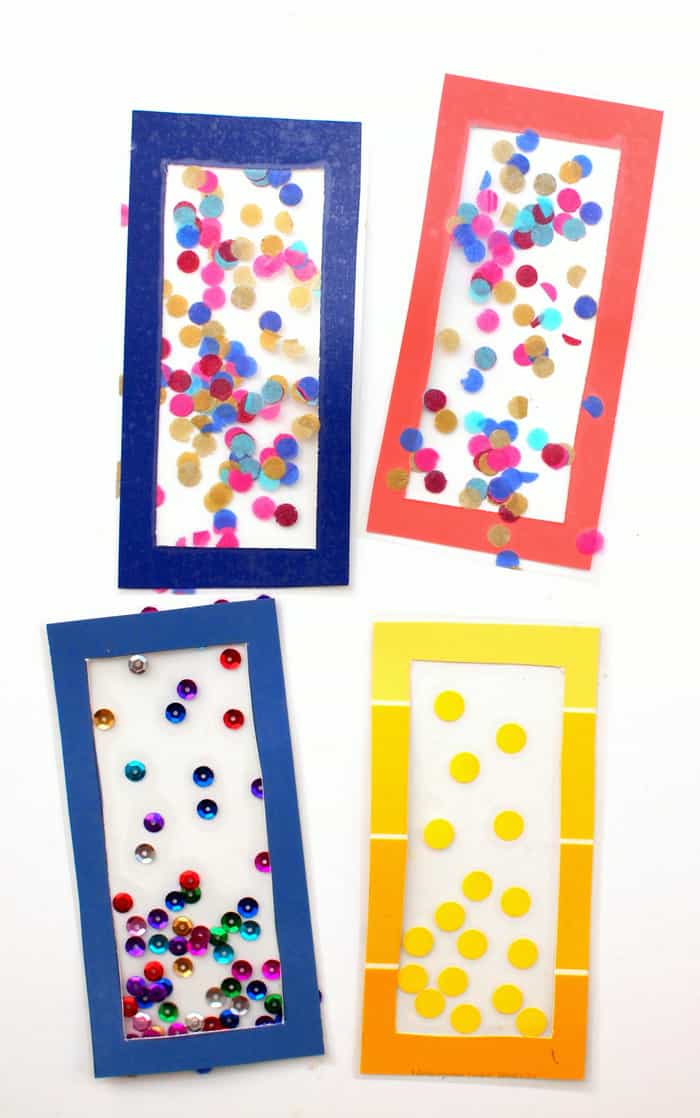 Trust me, you're not going to stop at making just one. Soon you'll have a bunch of colorful, confetti bookmarks to celebrate your love of reading and the start of the school year!
Now if you liked this craft, you'll also like:
Happy making, friends!