These sand terrariums are a perfect pairing of a craft you loved as a kid combined with painted succulents! It's really easy to do with any colors.
Skills Required: None. Even if you've never crafted before, you'll be able to make these quite easily. My only advice is to use several thin coats of spray paint; don't heavy hand it. The rest is simple!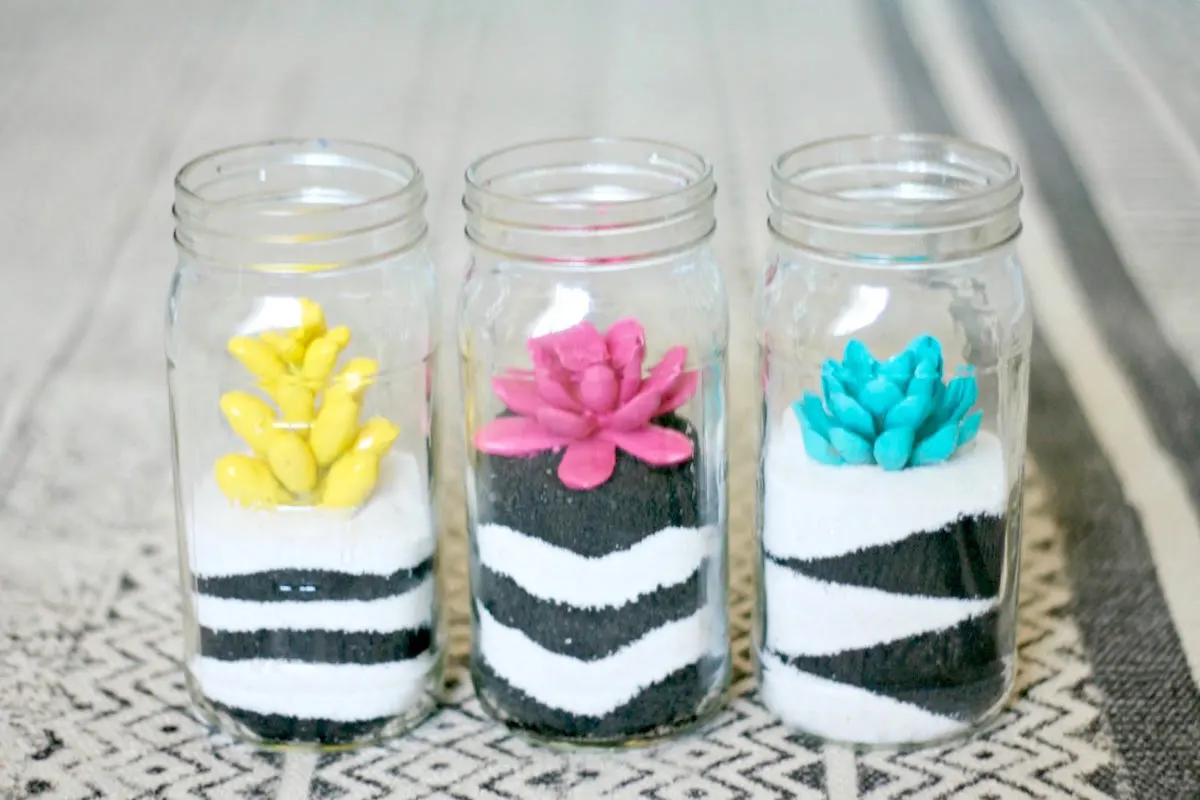 I am so excited to share today's project with you! This fun and springy project is a combo of old and new – sand art (one of my favorite crafts from childhood) and painted succulents (which are a new trend I have been seeing).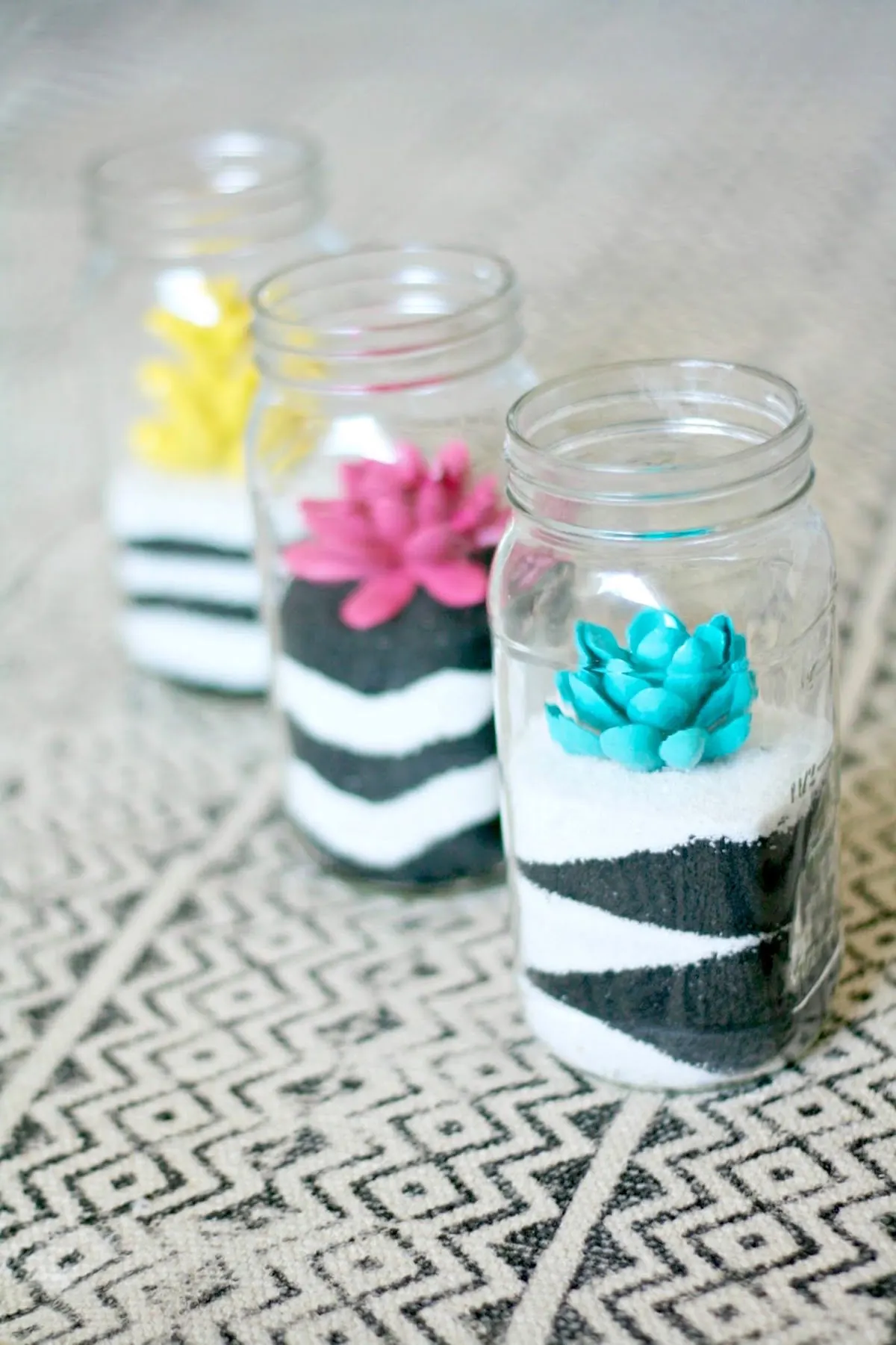 This project is so easy, fun, colorful, and adaptable. These DIY sand art and painted succulent terrariums will look so cute as a springy centerpiece, or just to brighten your counters or desk. Here is how I made them.
Painted Succulents in a Jar
Gather These Supplies
Colored sand
Faux succulents
Spray paint
Funnel and scoop (optional)
Thoughts on This Project:
Before getting started, make sure to thoroughly clean the jars. You can use either mild soap and water or rubbing alcohol and cotton balls. The goal is to get rid of handprints and residue so that your jars look awesome on the shelf!
Use several light coats of spray paint on the faux succulents for the most even application and coverage.
Sand comes in a ton of colors so don't be afraid to experiment. You can find colors online or at the craft store.
Faux succulents are for my kindred spirits who don't necessarily want to take care of plants. If you want to, you can use live air plants as well. They can live in these jars and are easy to take care of. Get a guide here.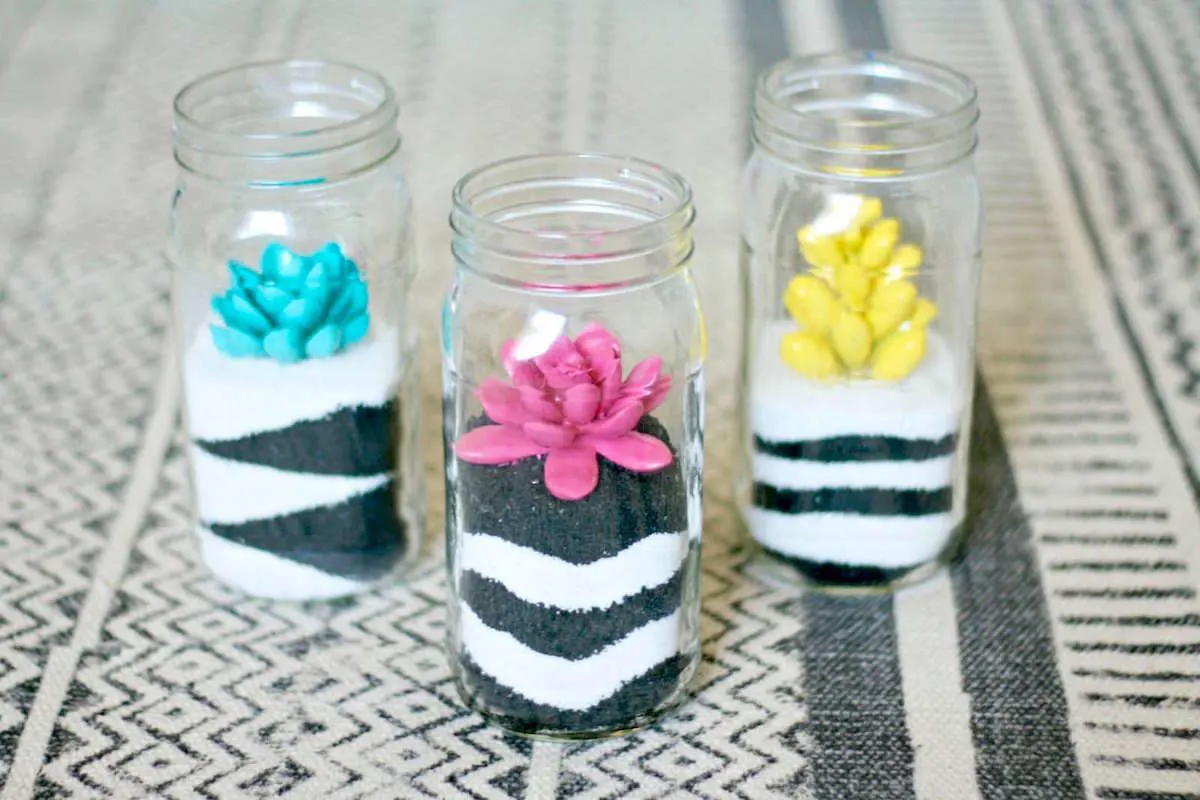 I feel like these sand terrariums would be great for Halloween too, don't you? It's the black and white for me. There could be some fall and holiday versions as well. They're so bright and fun.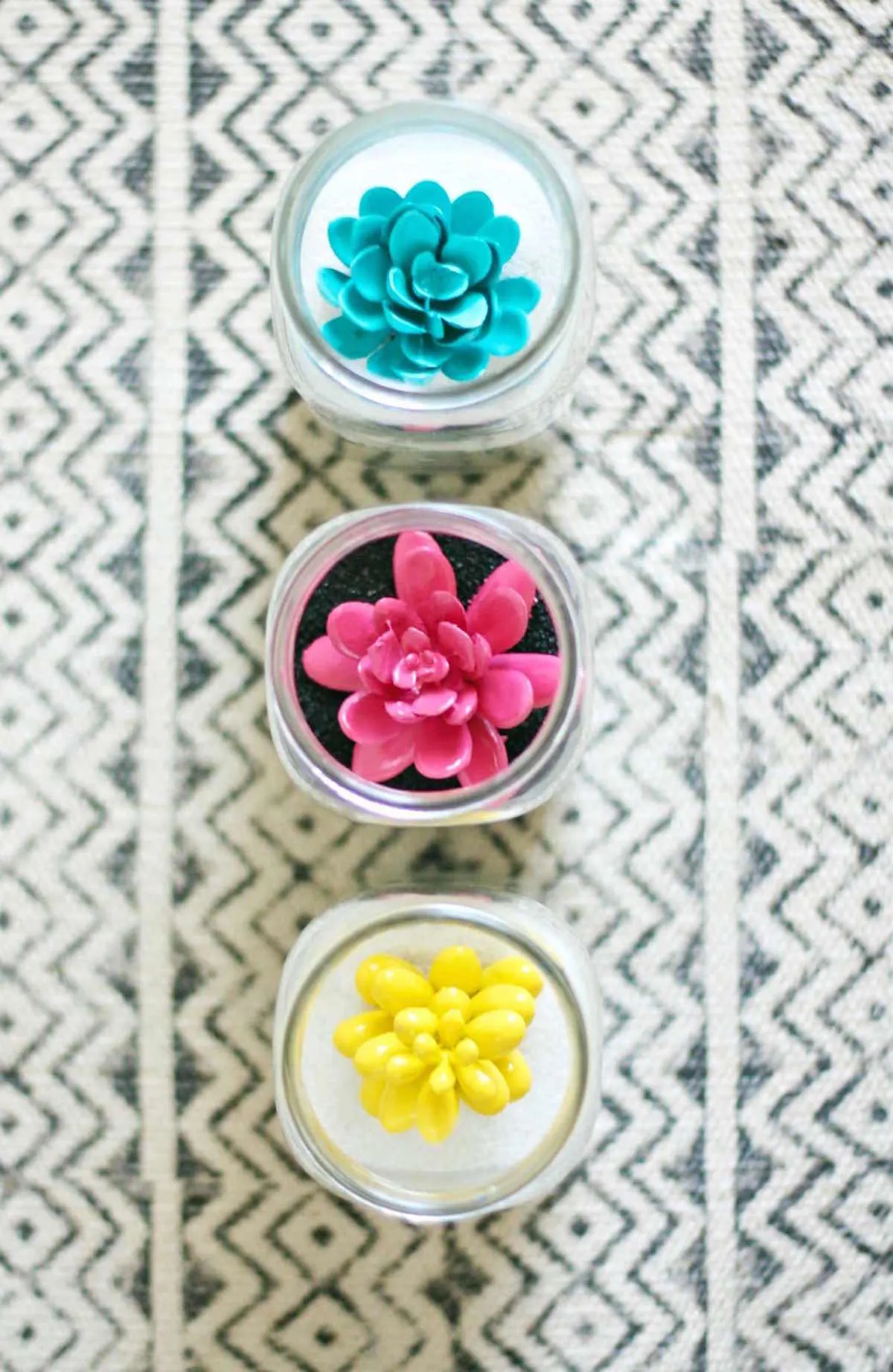 Get the printable how to card for this craft idea below!
Yield: 3 jars
Sand Terrariums
Both kids and adults love this sand in jar art that also functions as a terrarium! You're going to love this simple home decor project.
Active Time
1 hour
30 minutes
Total Time
1 hour
45 minutes
Materials
Faux succulents
Jars
Spray paint
Sand
Tools
Funnel and scoop (optional)
Instructions
Get your supplies together including the spray paint, jars, sand, and faux (or real) succulents.
If you are using faux succulents, spray paint them in the colors of your choice. Let them dry completely.
Add sand to the jars, alternating colors and playing with designs. A funnel and scoop of some kind come in really handy if you have one.
Continue layering the sand in the jars until you are happy with the way it looks. Leave room at the top for the succulents.
Place your succulent in the sand down in the jars. Push down slightly to stabilize.
---
I hope you love them as much as I do! Let me know what you think in the comments. And be sure to visit us as we blog about style, food, and the things we love over at the Pretty Life Girls. I'd also love for you to visit these other craft ideas: