Make your mantel beautiful by decorating it with a set of these amazing DIY Christmas stockings! These 20 ideas are so festive.
We talked about 16 ways to make a Christmas tree skirt, and now I'm ready to dive into another fun holiday decor staple: DIY Christmas stockings! I have very fond memories of hanging up stockings when I was little.
It was always my job to do it, and our grandmother had given us knitted stockings with all of our names on them (so they were very special). Given that I had four younger brothers and thought that the way to get more stuff in your stocking was to have the biggest one, I got creative each year.
spent a lot of time stretching my knitted stocking. If you look at old pictures, you can see each year that the toe got a little longer . . . and longer . . and dangled down below the others. Hilarious!
Now that I'm older, it's time to make my own stockings. I put together a collection of 20 DIY Christmas stockings that inspired me. You can bet that mine will be the biggest one of any that I make . . . I haven't given up on the idea that you get more if your stocking is bigger. Scroll down to see the projects I found!
DIY Christmas Stockings
White Poinsettia
Make a stocking out of an old cable knit sweater, then add a pretty white poinsettia to top it off.
Find out how to do it at Making Life
Simple Felt
Using felt is a pretty (and inexpensive) way to make simple stockings.
Find out how to make them at Good Housekeeping
Last Minute Stocking
You can make this stocking the night before – by picking clip art or even cookie cutter shapes.
Learn more about the project at Prudent Baby
Tea Towels
Johnnie created these cute stockings out of towels – you can also use a drop cloth.
Find the step-by-step at Saved By Love Creations
Coffee Bags
Don't throw those coffee bags away – turn them into vintage inspired stockings.
Get the how-to at Just Crafty Enough
Fleece Pants
Don't throw away those pants . . . turn them into a colorful stocking with your sewing machine!
Learn how to make them here at DIY Candy
Pretty Botanical
I love the felt botanical patterns added to the front of these pretty stockings.
See how they were done at Woman's Day
Classic Cuffs
This classic DIY Christmas stocking pattern will look great with any type of fabric – and of course you have to add the pom poms.
Find the instructions at Postively Splendid
Midcentury Modern
If you love midcentury as much as I do, this inspired stocking will be right up your alley.
Find the step-by-step tutorial at DIY Network
Sewn Lining
If you aren't comfortable with sewing linings, this tutorial shows you a simple way to do it.
Get the how-to at U-Create Crafts
Polka Dots
If you love polka dots as much as I do, these colorful burlap DIY Christmas stockings will definitely tickle your fancy.
See how these were done at Living With Punks
Gingerbread Man
This little guy lost part of his head! And looks really cute on the front of a stocking.
Download the pattern at Dream a Little Bigger
Helvetica Font
Jackie made these bold stockings using a reverse applique technique and the font "Helvetica."
Learn how to make it at Teal & Lime
Elf Toes
Jamie made these sweet stockings using her grandmother's old dresses – don't you just love the toes?
Find the step-by-step at DIY Home Sweet Home
Made of Wood
These are made of wood so they don't hold anything – but they look REALLY cool on a mantel!
Visit the post at Inspired By Charm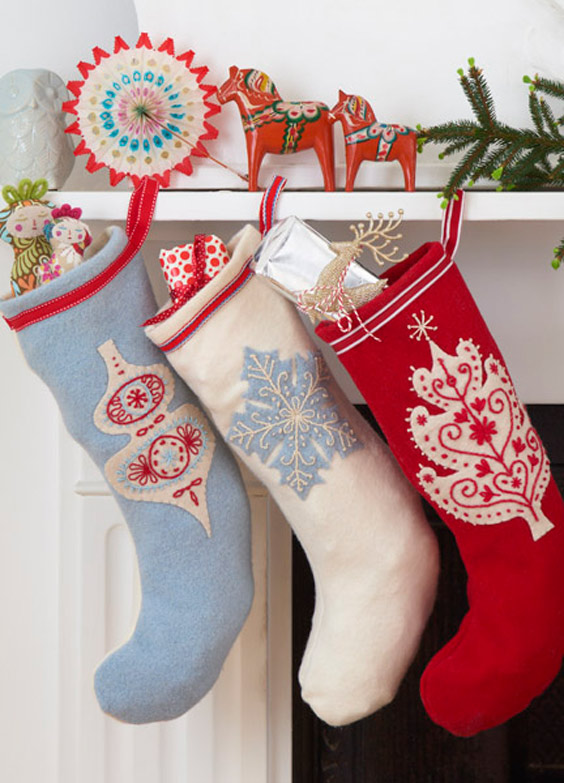 Scandinavian Inspired
I love the beautiful color palettes of these stockings, and the pretty embroidery.
Get the how-to at Achica Living
Space Age
Feeling a little retro? These space age stockings are amazing.
Download the pattern at Tried & True
Scalloped Edge
Chelsea used a plain red stocking and personalized it with scalloped trim and an embroidered name.
Learn more about the project at Lovely Indeed
Old Sweaters
For a budget stocking option that looks great on the fireplace, use thrift store sweaters.
Learn how to do it yourself at The Complete Guide to Imperfect Homemaking
Easy Pom Pom
Get the easy way to make a cute stocking, complete with pom pom trim.