If you feel giving gift cards is impersonal – add your personal touch with one of these 12 DIY Christmas gift card holders that the recipient will love!
I love giving and receiving gift cards for the holidays. If you want my honest opinion, I don't think they are impersonal – assuming you picked a gift card that your recipient will like! For example, don't bother getting me a gift card to Bass Pro Shop, but I'll take one to Starbucks. Ha!
I do realize that some people feel like gift cards are a little impersonal, so I have a solution for you – add a personal touch with one of these DIY Christmas gift card holders. Fun, right?
These ideas for Christmas gift card holders are so inspiring, and you can pick one based on what you have on hand or what supplies are easily accessible to you. Scroll down to see them!
DIY Christmas Gift Card Holders
Ten Minute Holder
You can make these gift card holders in 10 minutes or less with fabric scraps and a sewing machine.
Get the how-to at See Vanessa Craft
Santa Bags
Cheryl added ribbon and embellishments to turn these mini red bags into Santa themed gift card holders.
Find the step-by-step at That's What Che Said
Mason Jar
Spray paint a mason jar and add a personalized tag for a fun and unique gift card holder.
Get the instructions at Stephanie Ackerman Designs
Mini Stocking
You can turn these mini stockings into a gift card banner or tie them onto the top of bigger gifts.
Learn how to make them at Crap I've Made
Cassette Tape
Upcycle an old cassette tape case into a Christmas gift card holder using paper and Mod Podge.
Learn how to do it at Mod Podge Rocks
Scrapbook Paper
Katie made a template so that you can use any of your favorite scrapbook papers as gift card holders.
Download a variety of templates at My Frugal Home
Colorful Glitter
Shannon used old tack boxes along with Mod Podge and glitter to make these festive holders.
See how they were made at Rosyscription
Recycled Magazines
For a gift card holder that's absolutely free, use magazines and add other items in your stash as embellishments.
Learn how to do it at The Craftinomicon
Holiday Themed
Use your favorite holiday themed fabric along with snaps or velcro to make these festive holders.
See how they were made at While Wearing Heels
Jute Webbing
Turn jute webbing into a mini gift card envelope using hot glue, buttons and thread.
Get the instructions at Where My Heart Resides
Altoid Tins
Use spray paint, paper and Mod Podge to upcycle old mint containers.
While the original tutorial is no longer available, you can find similar here.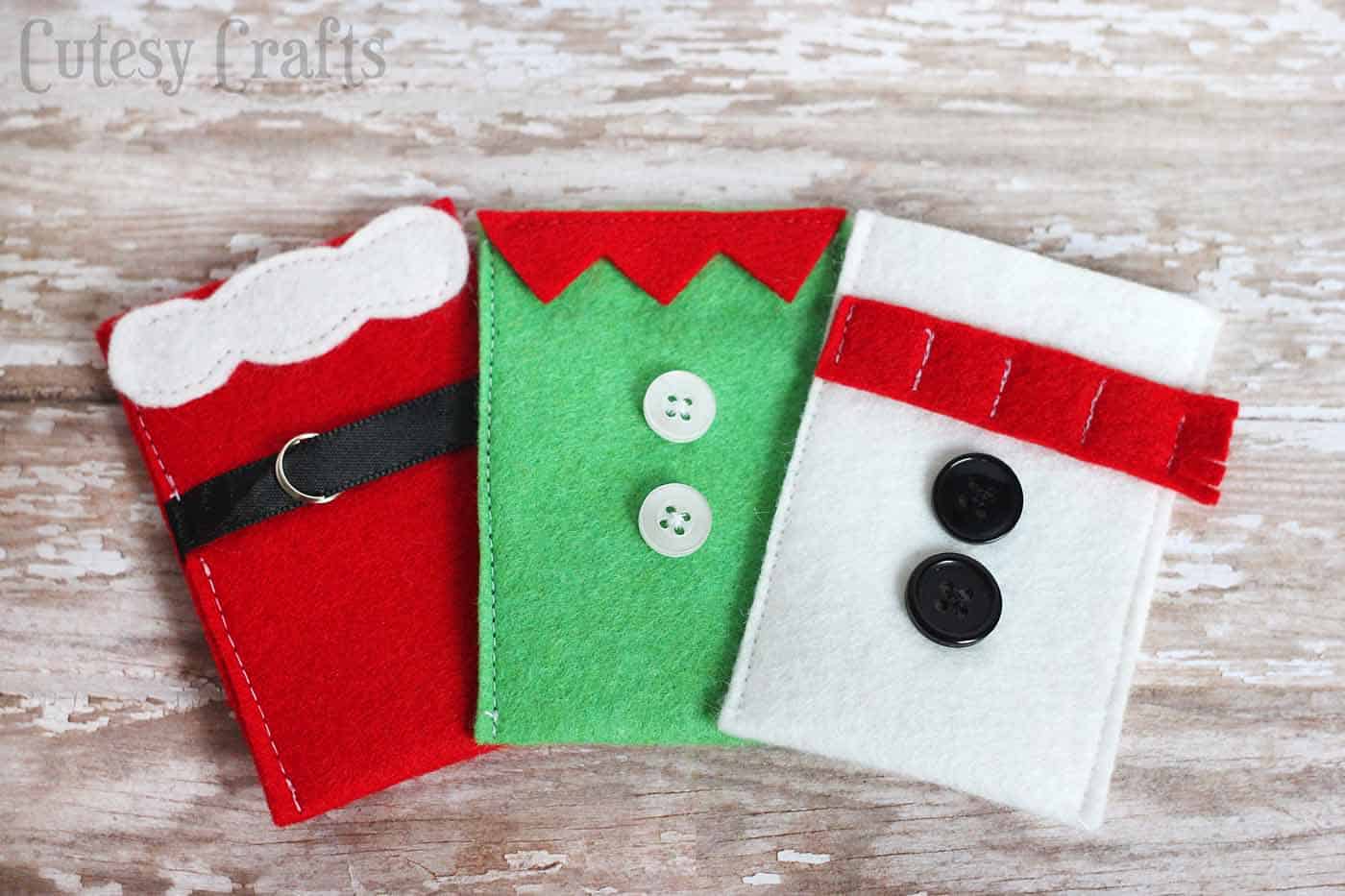 Fun with Felt