Learn how to make a birch pillar DIY candle holder. Would make a pretty wedding decoration or even a wedding or anniversary gift.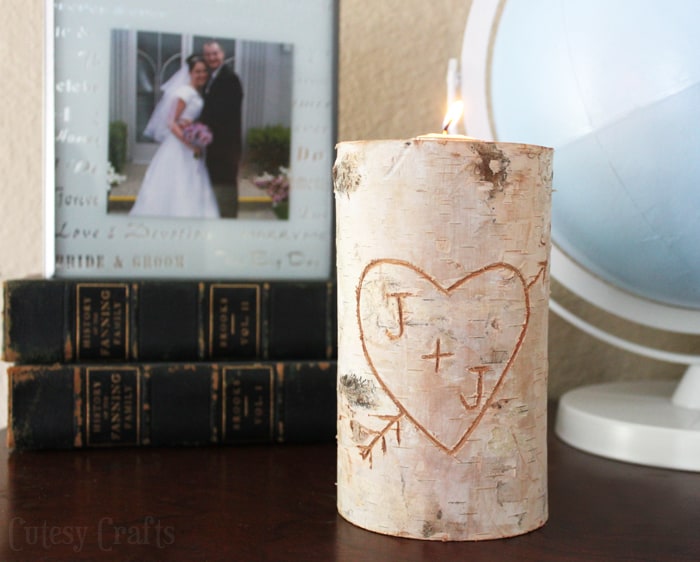 I've always had a secret desire to carve something into the side of a tree, but being a good girl, I have never given into that urge. So when I saw these birch pillars being sold at the craft store, I knew exactly what I wanted to use one for.
My wedding anniversary is coming up, and I thought it would be cute to carve mine and my husband's initials into the pillar. You know, with the whole heart and arrow thing too. Then I turned it into a DIY candle holder. It looks so pretty next to our wedding photo!
DIY Birch Candle Holder
To make this candle holder, you will need:
birch pillar (found mine in the wood section of the craft store)
tealight candle
light brown colored pencil
knife
drill
1 3/8 or slightly larger drill bit
Start by marking out the size of your candle and drilling a hole in the top of your birch pillar. With this kind of bit, you might need to rock the drill back and forth a little while drilling to get a good hole.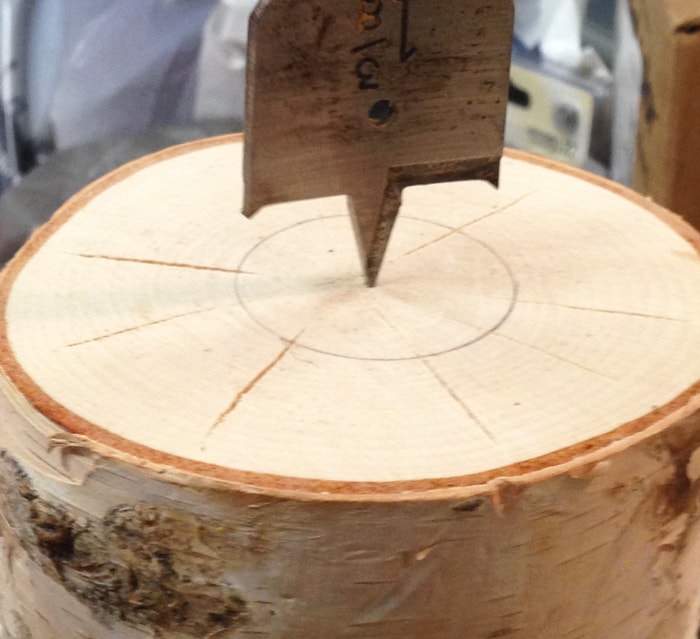 Sketch the design you want on the front of your birch pillar. It doesn't need to be perfect. You want it to look like it was carved spontaneously into the side of a tree.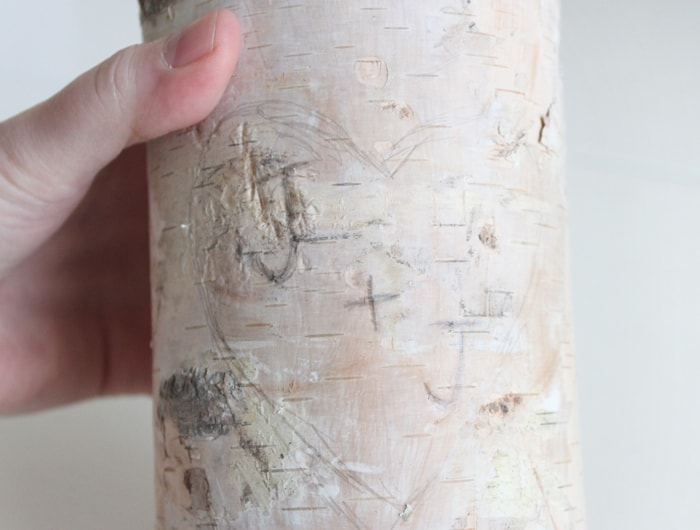 Carve your design with an old, dirty pocket knife. You know, to make it as authentic as possible. But really, if you have some kind of special carving knife, that would probably be even better.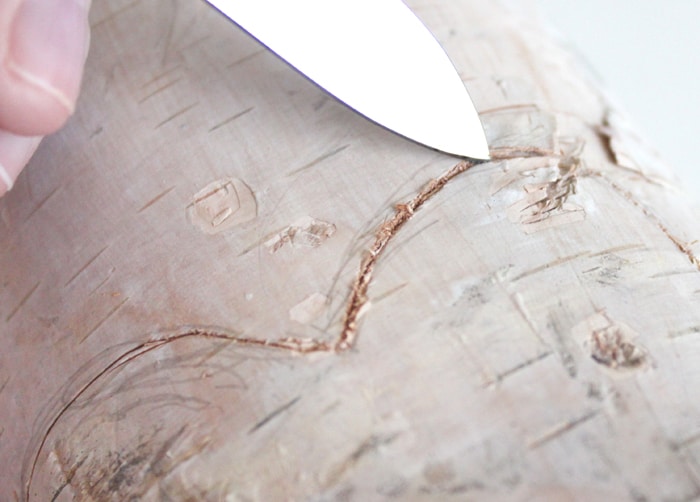 I wanted the design to "pop" a little bit more from far away, so I shaded it in with a light brown (hazel) colored pencil. Not 100% necessary, but I think it made it look better.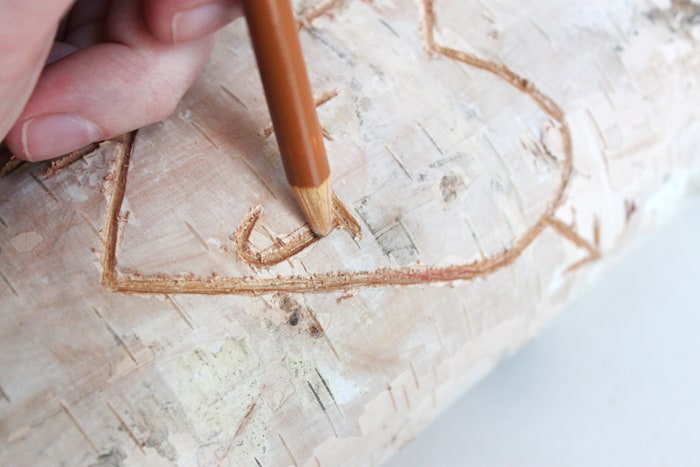 Put a tealight candle in the top of your birch candle holder and you're done!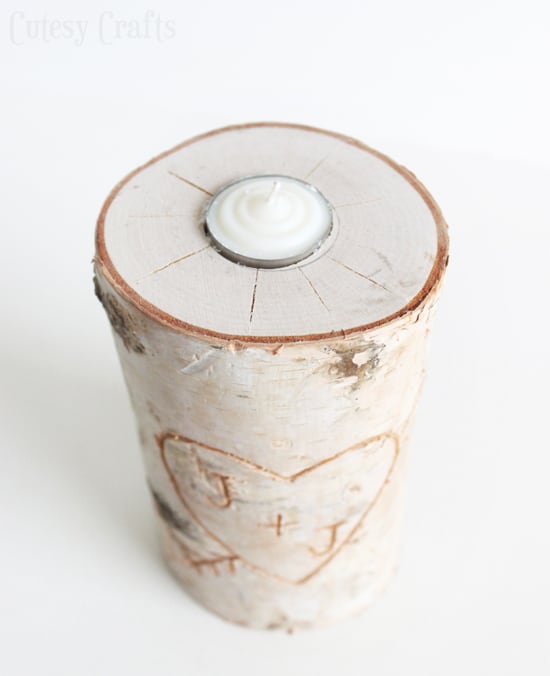 I'm thinking these would make really pretty wedding decorations. You could even give one as a wedding or anniversary gift with the date carved into the bottom. So cute!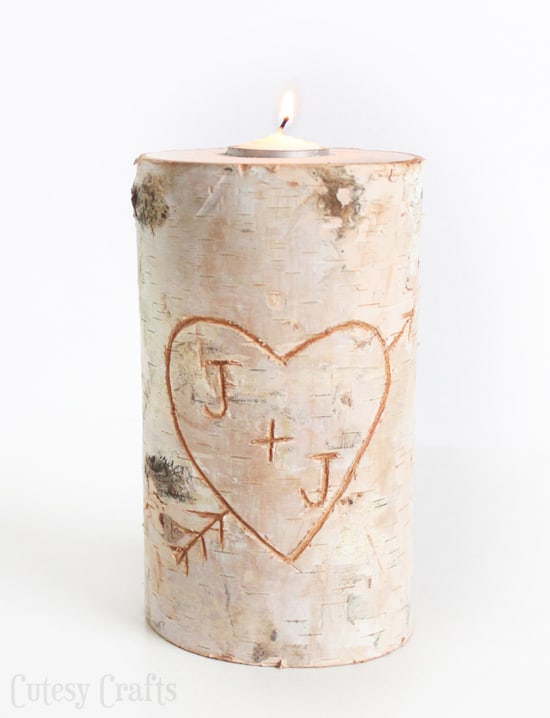 Come on over to my blog, Cutesy Crafts, to find some other fun things to make!