Use small washers from the hardware store to make these cute DIY star ornaments – kids will love making them with you, and they are so inexpensive!
Skills Required. None. Even if you've never crafted before, you can easily make these. As can older children. You will be using strong glues, so parental supervision is required.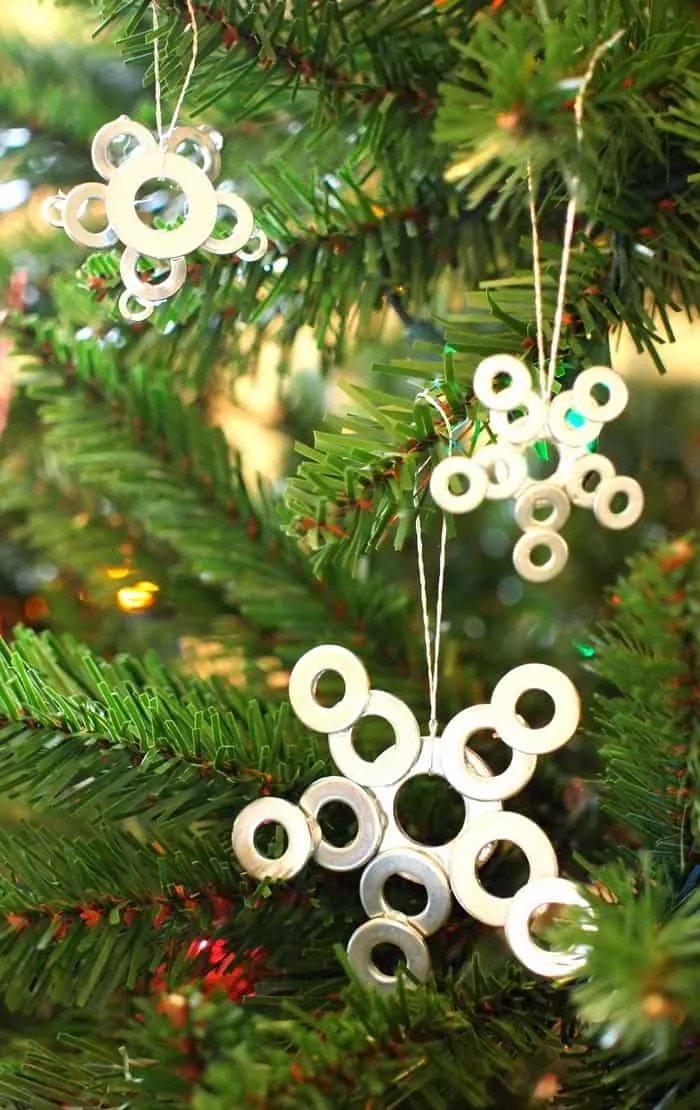 I love easy DIY Christmas ornaments! With the holiday season always seeming so hectic and busy, it's nice to just relax at night and make something easy and fun.
This year we finally became homeowners (hooray!), and we always seem to have bits of hardware lying around. So I took a handful of washers and transformed them into a set of DIY star ornaments!
(check out these DIY Christmas ornaments for kids!)
This was a super gratifying project because the stars took only a couple of minutes to make! After waiting for them to dry overnight, I now had a couple of new, silver-y, and unique Christmas decorations! This is such a great Christmas craft for kids and adults to do together.
Here's how I made these unique metal ornaments!
DIY Star Ornaments
Here are the materials I used:
Various sized washers
Freezer paper (or wax paper)
Crazy glue (that will bond metal to metal)
Masking tape
Silver string (or ribbon)
Scissors
Wooden skewers (optional)
Note: Since the glue you'll be using is a strong glue, this should be done with older children only. Please observe the package warnings and use your best judgement.
First I taped down a piece of freezer paper onto my workspace. This helped to catch any extra glue globs. Plus, it ensured that I didn't accidentally glue my ornaments to the table.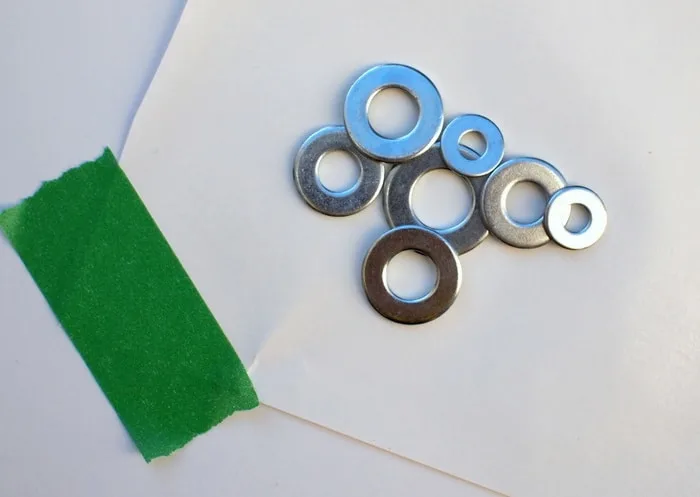 Then I played with a bunch of washers until I got a star ornament design that I liked.
Then, I crazy glued the washers to each other one at a time, starting from the middle and working my way out (sometimes the washers slid around, so I used two wooden skewers to carefully move them back in place).
Note: For those of you who love hot gluing things – I also tried hot gluing the washers together.
Although the glue set immediately, the connections were fragile. My three-year old found the ornaments very pretty and accidentally pulled the washers apart. Eeek!
So if you only want ornaments that last for a year (and you won't really touch them), go ahead and hot glue them. But if you want them to last, then I definitely recommend the crazy glue!)
I waited overnight for everything to dry in place. Once the ornaments dried, I tied on loops with silver string.
And voila! Star ornaments made from washers. They look great decorating the tree and would also make great (and easy) gifts to give any DIY-loving friends.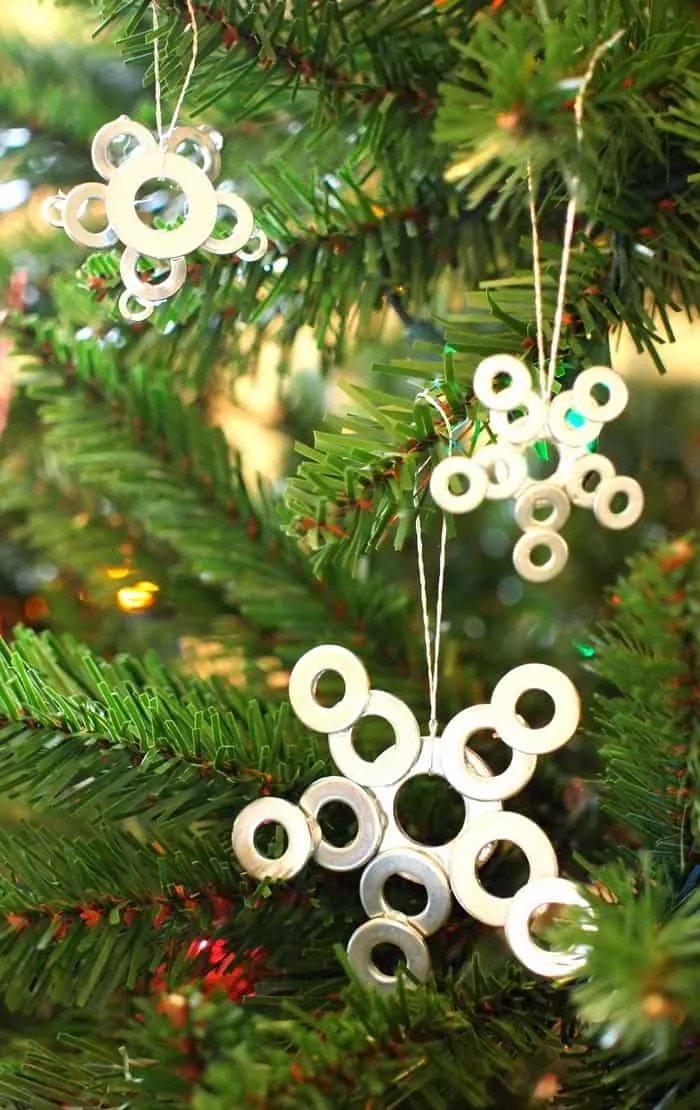 ---
If you liked these easy handmade ornaments, you'd probably like these perler bead snowflake ornaments or these felt milk jug ornaments.
I'd also love for you to check out these other DIY Christmas ornaments that kids can make:
Origami Paper Christmas Tree Ornaments