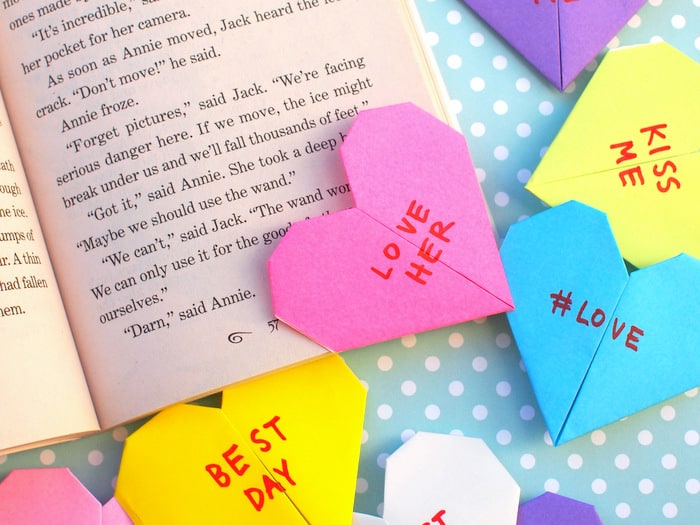 Hi! This is Leslie from Pink Stripey Socks.Nothing says Valentine's Day like Conversation heart candies. They're colorful and always have such sweet or funny sayings. Today I'll show you a super easy way to fold and decorate Origami bookmarks to look just like those adorable and iconic Valentine's Day candies!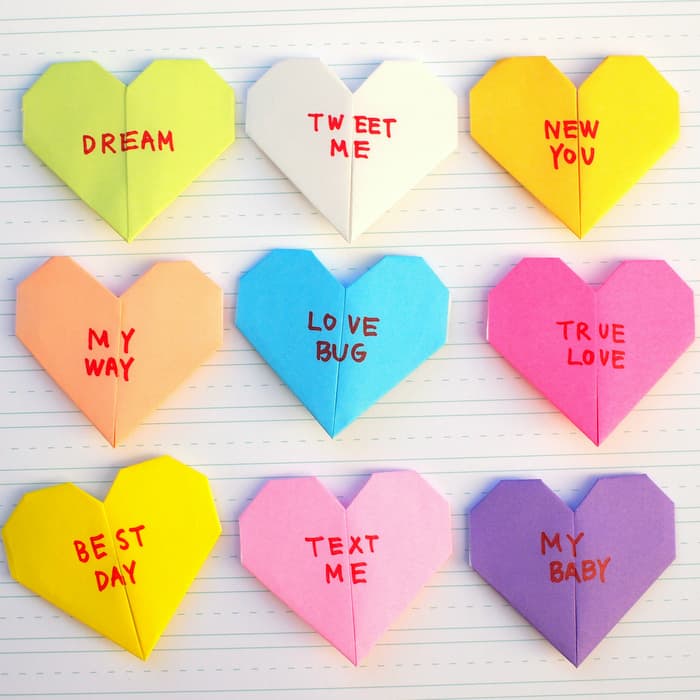 Here's what you'll need:
Origami Paper in various colors
Scissors
Red Permanent Marker
Clear Tape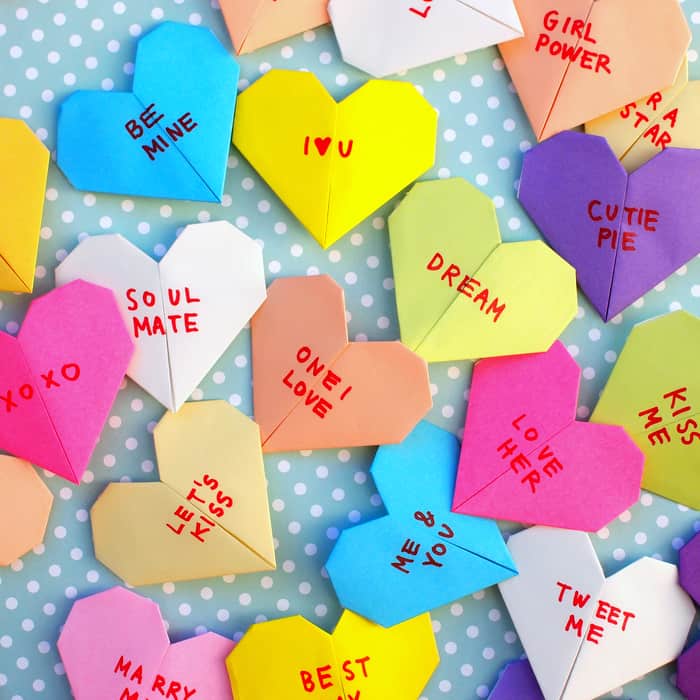 Let's make an origami bookmark (or ten)!
Step 1: Fold your paper in half and then cut it along the fold. Now you have two smaller, rectangular sheets of paper.
Step 2: Fold one of your rectangular sheets of paper in half lengthwise. (The top portion of my paper is open.)
Step 3: Now fold it in half again.
Step 4: Open it up and you should see a fold in the middle.
Step 5: Fold up one side of your paper against the folded line.
Step 6: Repeat step 5 with the other side.
Step 7: Now flip it over. Use a small piece of tape to hold both halves together.
Step 8. Fold down the top portions.
Step 9. Fold down the corners.
Step 10: Flip your origami over and you should see a heart bookmark!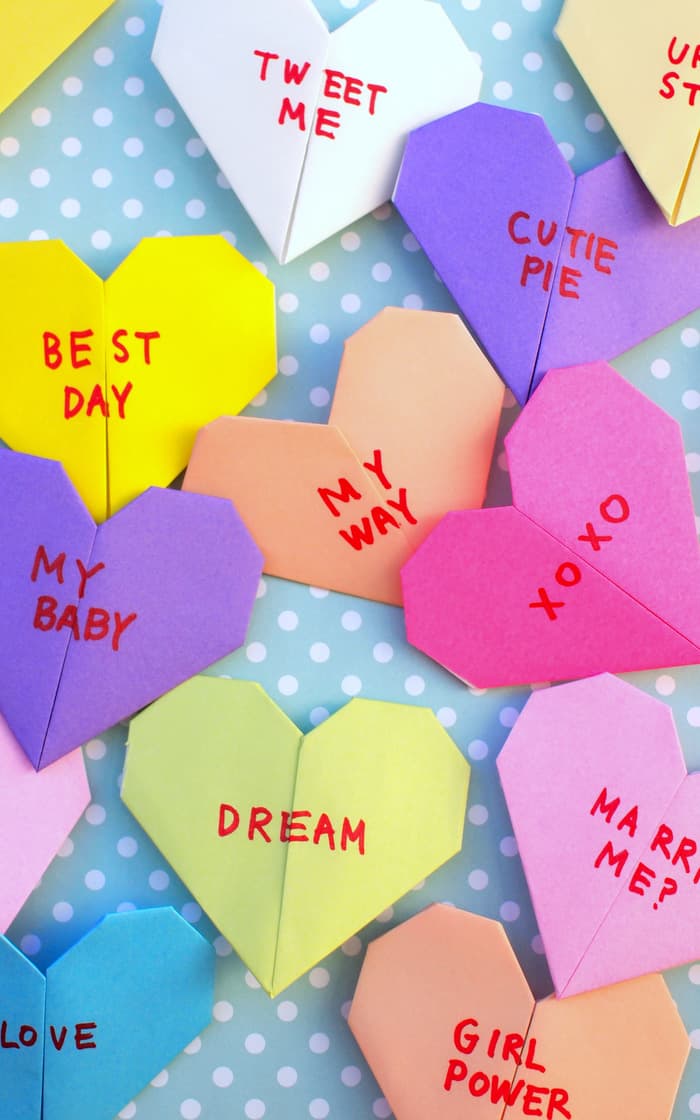 You can leave them like that, or increase the cuteness by decorating your bookmarks with some cute conversation heart sayings!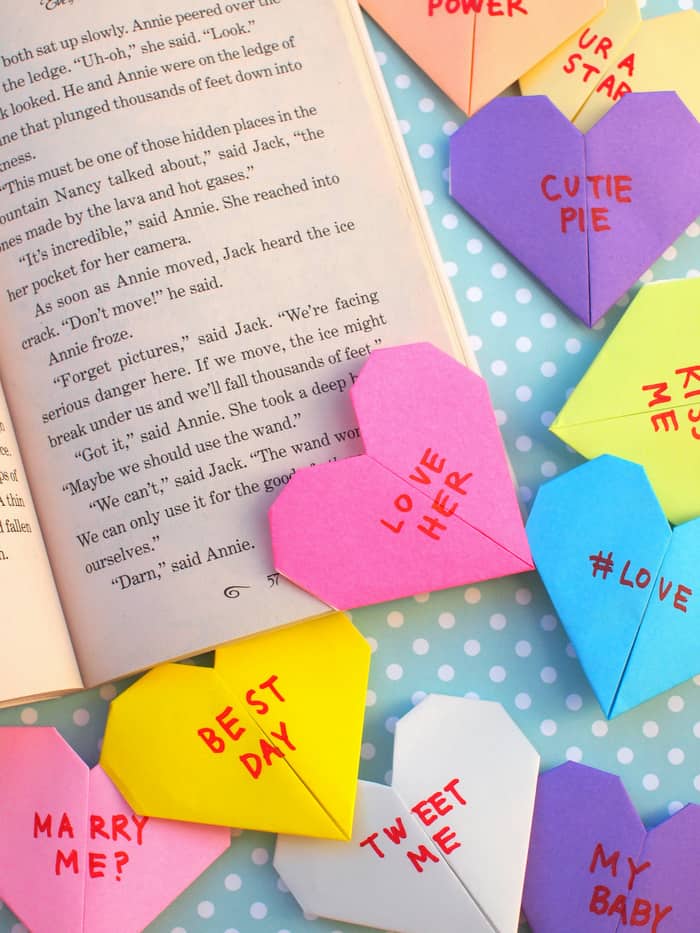 In a crafting mood? Check out these other easy and cute Valentine's Day crafts!
For even more fun easy and family-friendly ideas, you can also peek at my blog Pink Stripey Socks or my Facebook, Instagram, and Pinterest accounts!
Happy making, friends!