Whether your children love fireworks or not, they can still celebrate Independence Day with these unique Fourth of July kids crafts!
We did a lot of crafting as children in my family, but never much for the Fourth of July. My poor mom – there were five kids and so she probably just wanted the summer off! I have to say though, I really love Fourth of July kids crafts . . . and it seems each year they are getting more and more clever.
Much better than when I was younger (I think back then we pretty much only had macaroni art). Whether or not your children love fireworks, they can still celebrate with these fun projects. To see all of the inspiration, just scroll down. I know you'll find something you (and your kids) will love!
Fantastic Fourth of July Kids Crafts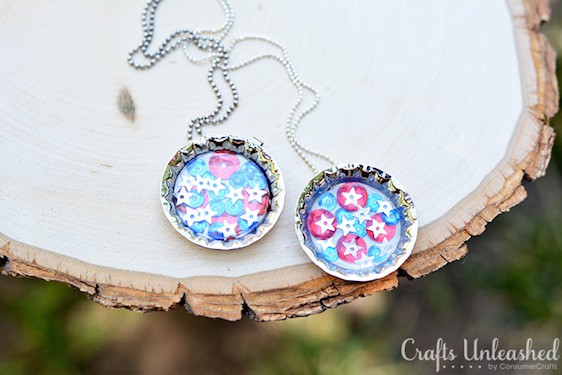 Bottlecap necklaces are a blast to make, and these are perfect for any age.
Patriotic sequin DIY bottle cap necklace at Crafts Unleashed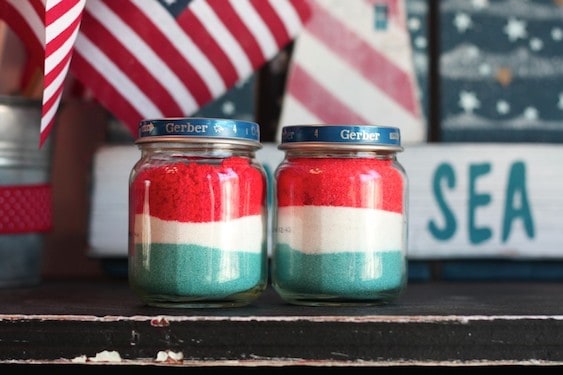 Use baby food jars to make this fun sand art . . . and even the little ones can participate.
Sand art (4th of July edition) at Honeybear Lane
Everyone loves handprint art, and this flag art is so creative!
American flag handprint heart art at Pink Stripey Socks
I love a project that you can make and then use afterwards, and that's exactly what you can do with this homemade chalk.
Homemade chalk in time for the 4th at From Glitter to Gumdrops
Real sparklers aren't exactly safe for the little ones, but they'll have no problem with these!
Paper sparklers at It Happens in a Blink
Did you know that q-tips make great fireworks? I love this awesome kids' craft!
Q-tip fireworks craft for kids at Sassy Dealz
These tin can windsocks are great because you can dig some of the supplies out of the recycle bin.
4th of July tin can windsocks at Random Thoughts of a Supermom!
These paper lanterns are so easy to make – you definitely need a banner of them!
Paper lantern kids' craft at The Crafting Chicks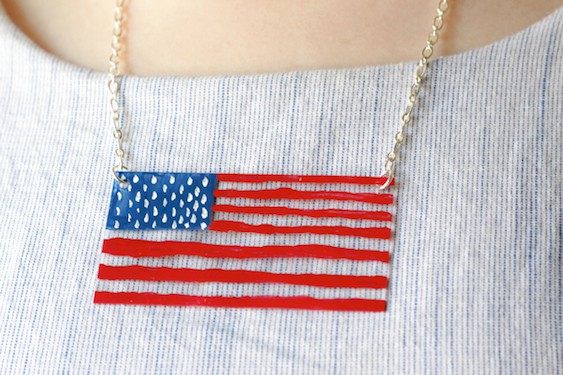 Heidi used acrylic sheets for her necklace, but this project would also be fun with Shrinky Dinks.
Painted acrylic flag necklace at Hands Occupied
Use jumbo popsicle sticks to make these festive flags with your little ones – you can take them a step further and make a banner as well.
4th of July kid's craft at Ginger Snap Crafts
These coffee filter flowers are so easy to make, and you can display them as a centerpiece.
4th of July coffee filter flowers at Crafts By Amanda
There are all sorts of fun tie dye methods, and this firecracker one is the perfect place to start.
Firecracker tie dye patriotic t-shirt at iLovetoCreate
Fireworks aren't the only thing that makes noise on the 4th of July – so do these recycled noisemakers!
Firecracker noisemaker at Paging Supermom
Kids can make this star spangled headdress with paper, then wear it for the big day.
Note: The tutorial is no longer available at Spoonful so use the photo for inspiration!
Kids love painting mason jars, and this keeps them busy for awhile – then you can display them on a porch or walkway.
Patriotic mason jar candle holders at Architecture of a Mom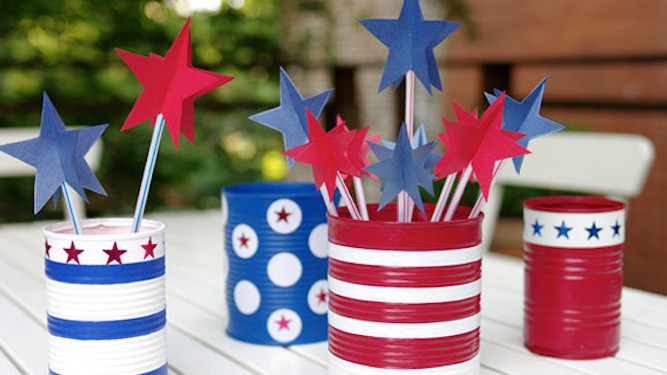 Not only can kids paint the cans for this centerpiece, but they can also make the stars to display inside.
Fourth of July crafts at Grandparents.com
Which of these Fourth of July kids crafts would you try first?