If you have never tried chalkboard paint or have a jar laying around, here are over 20 awesome chalkboard DIY projects that you HAVE to try! Great ideas for gifts, home decor, crafts, and more.
Scroll down to the bottom of the post to see a video of my top chalkboard painting tips! These are very helpful, especially if you plan to do several projects.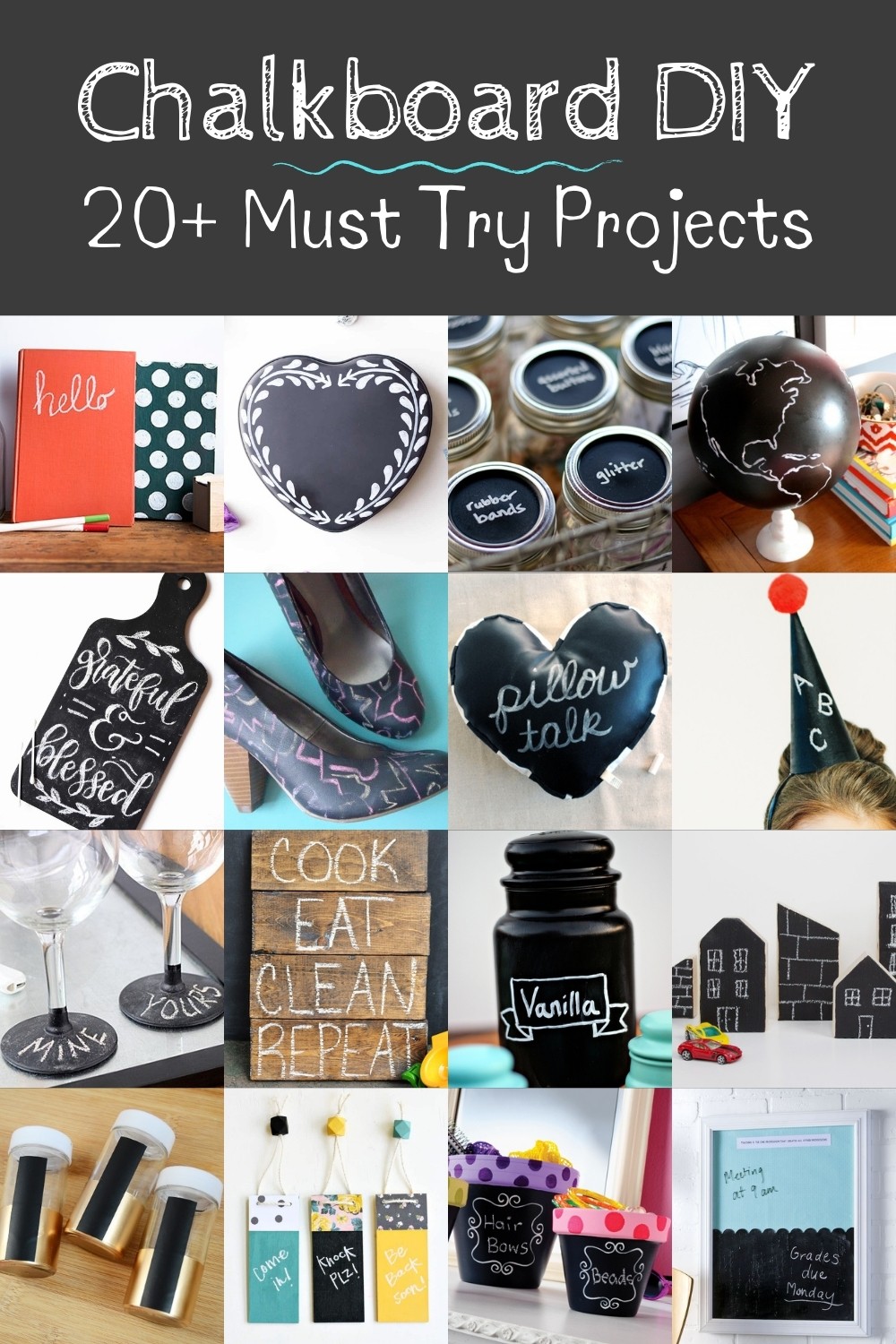 So I have a recent obsession – chalkboard paint. Don't laugh at me . . . I know it's been popular for quite awhile! And I've been using chalkboard paint for quite awhile too, but I've never loved it as much as I do now, for some reason. I just love chalkboard DIY projects I guess!
The last jar had been stored away for awhile, and recently I broke it out of the stash to do a project – and that reignited my passion. does that ever happen to you?
I'm trying to figure out a bunch of ways to use chalkboard paint these days, so I put together a collection of over 20 ideas that inspire me (I've also throw in a few that use "pre-chalkboarded" surfaces for good measure).
Chalkboard Paint
I wanted to share a few tips for using this paint if you're a newbie. Here are five important things you should know:
It can be used on many surfaces: wood, terra cotta, paper mache, canvas, and most porous surfaces.
A soft bristle brush, roller, or sponge applicator is the best way to apply.
It is best to apply several thin coats of paint, letting it dry between coats (for 1 hour).
Painted chalkboard DIY projects should be "conditioned" before use. Follow the instructions on the bottle.
Don't seal your surface! You won't be able to write on it anymore if you seal over the top.
---
Are you ready to see some chalkboard crafts? Grab a bottle of chalkboard paint and pick your favorite idea from the list below.
Chalkboard Crafts
Are you looking for some great chalkboard DIY projects? Check out these must try craft ideas!
---
Ready to get my best chalkboard painting tips? Simply press "PLAY" in the center of the video below:
What are your favorite chalkboard projects? I'd love to know in the comments, as well as your best tips for using the paint! I'd also love for you to check out the following craft posts: