If you have never tried chalkboard paint or have a jar laying around, here are over 20 awesome chalkboard DIY projects that you HAVE to try! Great ideas for gifts, home decor, crafts, and more.
Scroll down to the bottom of the post to see a video of my top chalkboard painting tips! These are very helpful, especially if you plan to do several projects.
So I have a recent obsession – chalkboard paint. Don't laugh at me . . . I know it's been popular for quite awhile! And I've been using chalkboard paint for quite awhile too, but I've never loved it as much as I do now, for some reason. I just love chalkboard DIY projects I guess!
The last jar had been stored away for awhile, and recently I broke it out of the stash to do a project – and that reignited my passion. does that ever happen to you?
I'm trying to figure out a bunch of ways to use chalkboard paint these days, so I put together a collection of over 20 ideas that inspire me (I've also throw in a few that use "pre-chalkboarded" surfaces for good measure).
Chalkboard Paint
I wanted to share a few tips for using this paint if you're a newbie. Here are five important things you should know:
It can be used on many surfaces: wood, terra cotta, paper mache, canvas, and most porous surfaces.
A soft bristle brush, roller, or sponge applicator is the best way to apply.
It is best to apply several thin coats of paint, letting it dry between coats (for 1 hour).
Painted chalkboard DIY projects should be "conditioned" before use. Follow the instructions on the bottle.
Don't seal your surface! You won't be able to write on it anymore if you seal over the top.
Are you looking for some great chalkboard DIY projects? Check out the must try ideas by scrolling down!
20+ Chalkboard DIY Projects
In five minutes your kids can draw on the front of the fridge on not get in trouble, with this special contact paper. Later you can remove it, which is nice. Chalkboard paint makes a great appliance paint if you want to use that instead of the contact paper, FYI.
Did you know that JoAnn has chalkboard fabric? This pillow is amazing, and you could probably do it with paint, too. Now I'm wondering what other chalkboard DIY projects I could do with this!
3. Wine Bottle Table Numbers
Recycle wine bottles by painting them with chalkboard paint – they make great home or wedding table decor. They'd even be fun to put on a front porch to greet your guests for a summer soiree!
Kids will love drawing buildings and houses on the front of these painted wood blocks. This chalkboard DIY would look so fun using various colors of paint, don't you think? So cute!
Speaking of chalkboard paint colors, this is a great example! Use it to decorate candles, jars and more.
6. Chalkboard Clock
This would make perfect decor for a child's playroom – I love the hand drawn numbers. You can purchase a wood clock face and clock parts and easily put this together on your own.
7. DIY Lazy Susan
This lazy susan is perfect for a party where you need to label your goodies. I see lazy susans at Goodwill ALL the time! If you are interested in this project, see if you can grab one from there first.
Never lose track of whose glass is whose again! You'll just paint the base for this chalkboard DIY – you don't want to get any paint near the lip of the glass.
Paper mache cones turn into DIY party hats with pom poms, paint and headbands. This is also a great way to reuse old party hats of any design or color!
10. Chalkboard Stepping Stones
Who wouldn't want to come home to a chalkboard walkway with a personalized message?
Note: if it rains your chalkboard message is going to wash off – but this is so fun for a sunny day. Great for kids and parties!
I've never had shoes that I could write on, but I think that given the opportunity, I would love it. For some reason I think this chalkboard DIY would be so fun for teachers!
Make reusable chalkboard place cards with paint and free printable maps (that you can get in the post). These are great for the holidays.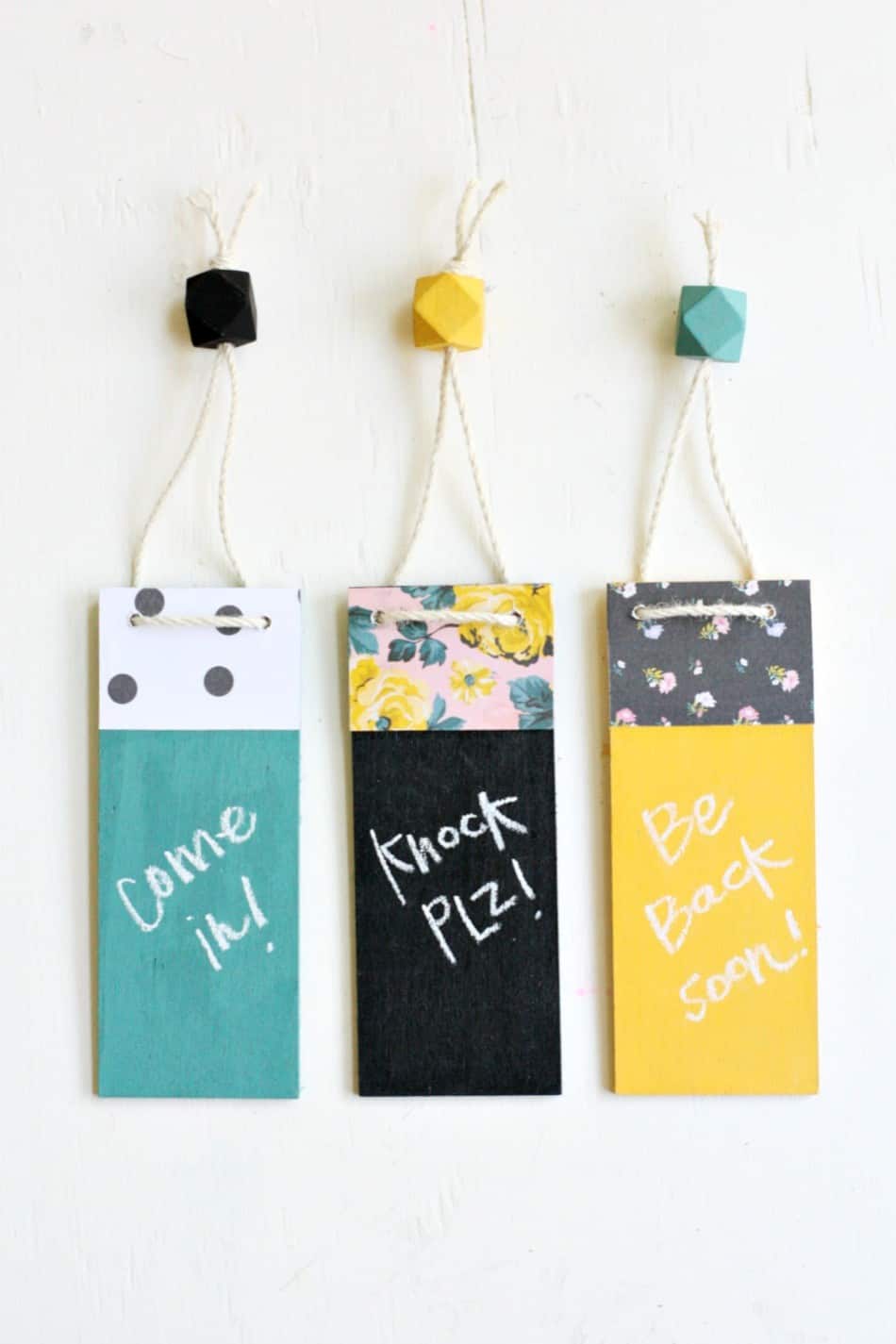 Use Mod Podge clear chalkboard topcoat to add a fun finish to any color surface! I love these door hangers because they are the perfect combination of a decoupage and chalkboard DIY.
An old suitcase gets a makeover – draw the villa of your choice on the outside, and open it up when it's time to play. I'd love to make this idea for my niece!
I love that not only are these chargers chalkboard, but they are also covered in maps. You can write such fun messages to your guests.
This would make a perfect teacher's gift, or make it for yourself if you want to get more organized. Perfect for hanging in the kitchen for the whole family to write on.
Add a personalized message to the inside of your locket with chalkboard paint. This chalkboard DIY project would make such a great Mother's Day gift.
Label your mason jars so that you can see what is in them just by looking at the top. This would be so handy in the pantry, craft room, or bathroom.
Use regular terra cotta pots for storage by painting them with chalkboard on the base and pretty colors on top.
This amazing project uses a kid's ball as the globe surface – just by adding chalkboard spray paint. Once you do that, draw anything on it that you like, including a world map.
Perhaps even more amazing than colored chalkboard paint is the clear variety! You can turn any surface into a chalkboard, like this kitchen sign.
22. Chalkboard Coffee Cups
You can paint a small chalkboard on coffee cups or even the sleeves. It's not necessarily a long lasting technique, but it's a sweet gesture (like for Valentine's Day or an anniversary!).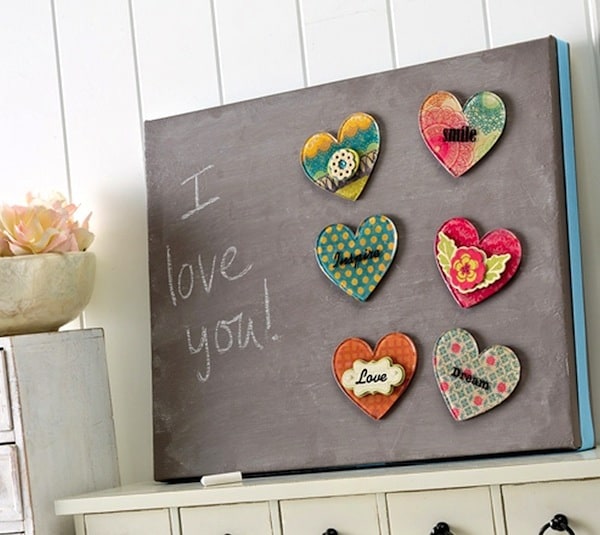 This magnetic chalkboard combines the best of both worlds – you can hang notes on your magnet board and then write messages on it. I love that.
Ready to get my best chalkboard painting tips? Simply press "PLAY" in the center of the video below:
What are your favorite chalkboard projects? I'd love to know in the comments, as well as your best tips for using the paint!