Are you looking for a handmade Mother's Day card idea that both littles and adults will have fun making? This is that card – so simple and darling!
Skills Required: None. Even if you've never crafted before, you can make this paper craft. You'll be placing stickers and using markers!
Is it just me? Or are handmade cards THE BEST? I'm a big ol' softie because cards decorated with markers, crayons, and stickers make my mom heart melt every single time. Hi! I'm Leslie from Pink Stripey Socks.
Today I'm sharing a really easy and modern Mother's Day card that kids can make for the special ladies in their lives. You probably have a lot of these supplies already on hand in your craft stash.
And actually, this Mother's Day card isn't just for the kids – adults will love making them too. I suggest making one not only for your own mom but any mother in your life that needs a special greeting!
How to Make a Handmade Mother's Day Card
Here are the materials you'll need:
Paper
Scissors
Markers
Circle Stickers
Stapler
Now let's make this adorable card!
1. Fold a sheet of paper in half to be your card.
2. Cut out a small rectangle. (Mine was approximately 4"x7.") Draw lines on the paper to represent the flower stems.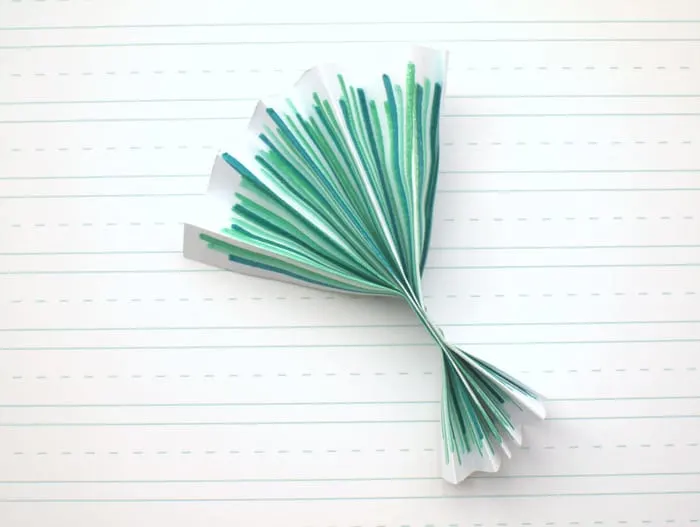 3. Accordion fold your rectangle and staple it.
4. Decorate your circle stickers to look like flowers. Cut the green circle stickers in half to resemble leaves.
5. Now it's time to release your inner florist and decorate your card! Stick on your accordion folded rectangle to look like flower stems. Then, add your stickers to look like flowers and leaves.
Hope you have a fun time making this easy, colorful, and modern Mother's Day card! Check out my blog, Pink Stripey Socks for more colorful and kid-friendly Mother's Day crafts!
Happy making, friends! If you're looking for some additional Mother's Day goodies that are guaranteed fun, you'll want to take a peek at these other projects: