Learn how to make wood slice ornaments for your Christmas tree and other holiday decorating. These are SO easy and inexpensive. There's also a free printable provided to use as a template for your designs!
Skills Required: Beginner. Beginning crafters should be able to tackle this project pretty easily, especially if you buy the wood slices pre-cut and dried. If you choose to use cut branches, you'll need to know how to use power tools and go through a drying process (which also isn't hard).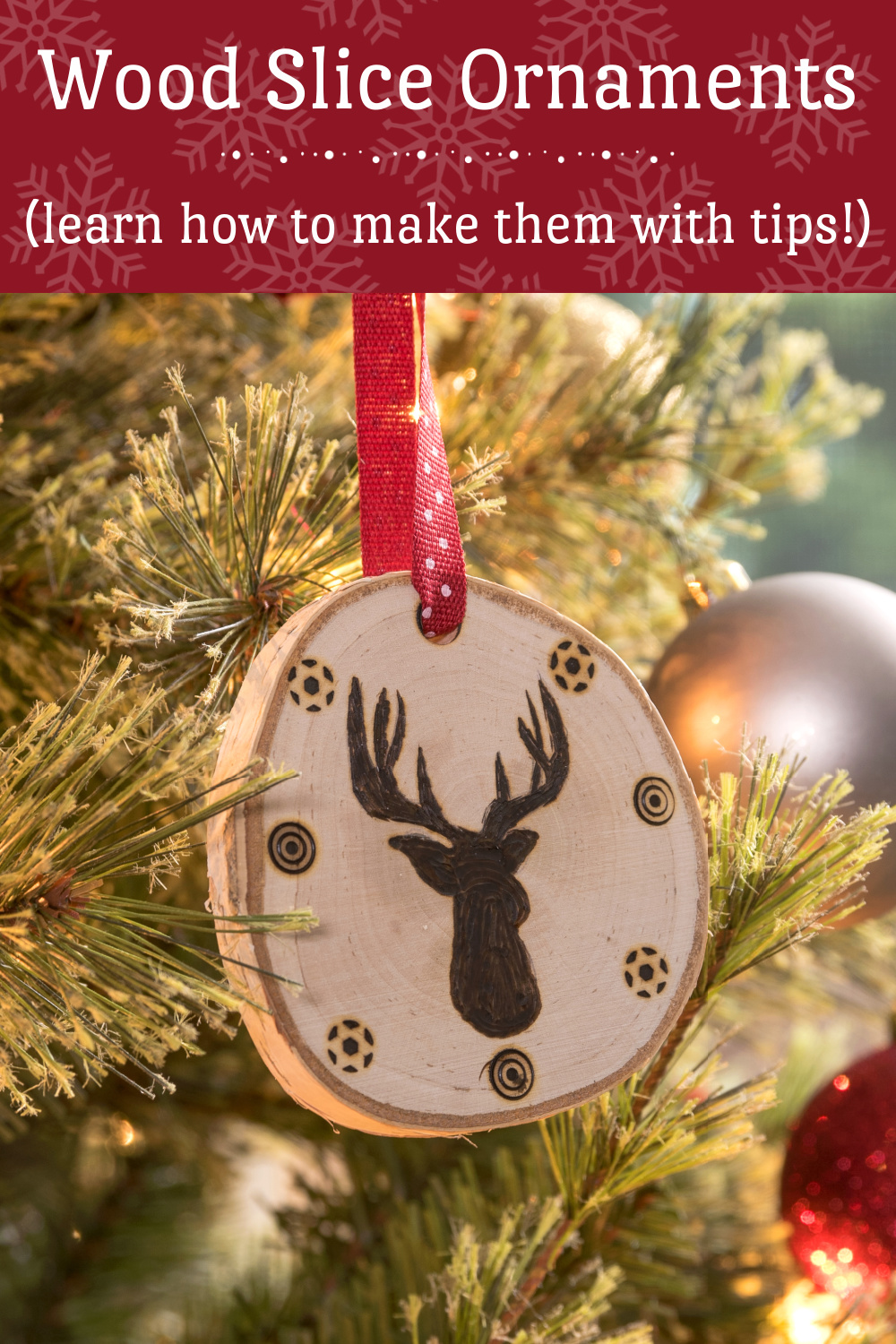 You guys. I'm so excited to share this tutorial for wood slice ornaments with you today because it's so easy. If you love wood burning, this is going to be fun for you. Not that burning is the only method for decorating these wood ornaments . . . there are other ideas too.
And I will show you those as well.
But first I'm going to show you how to wood burn ornaments, because that's what I did for these. And frankly, I love the outcome. These wood circle ornaments are so perfect for a rustic or farmhouse style Christmas tree – or gift tags – or any sort of festive decorating. I just love them so much.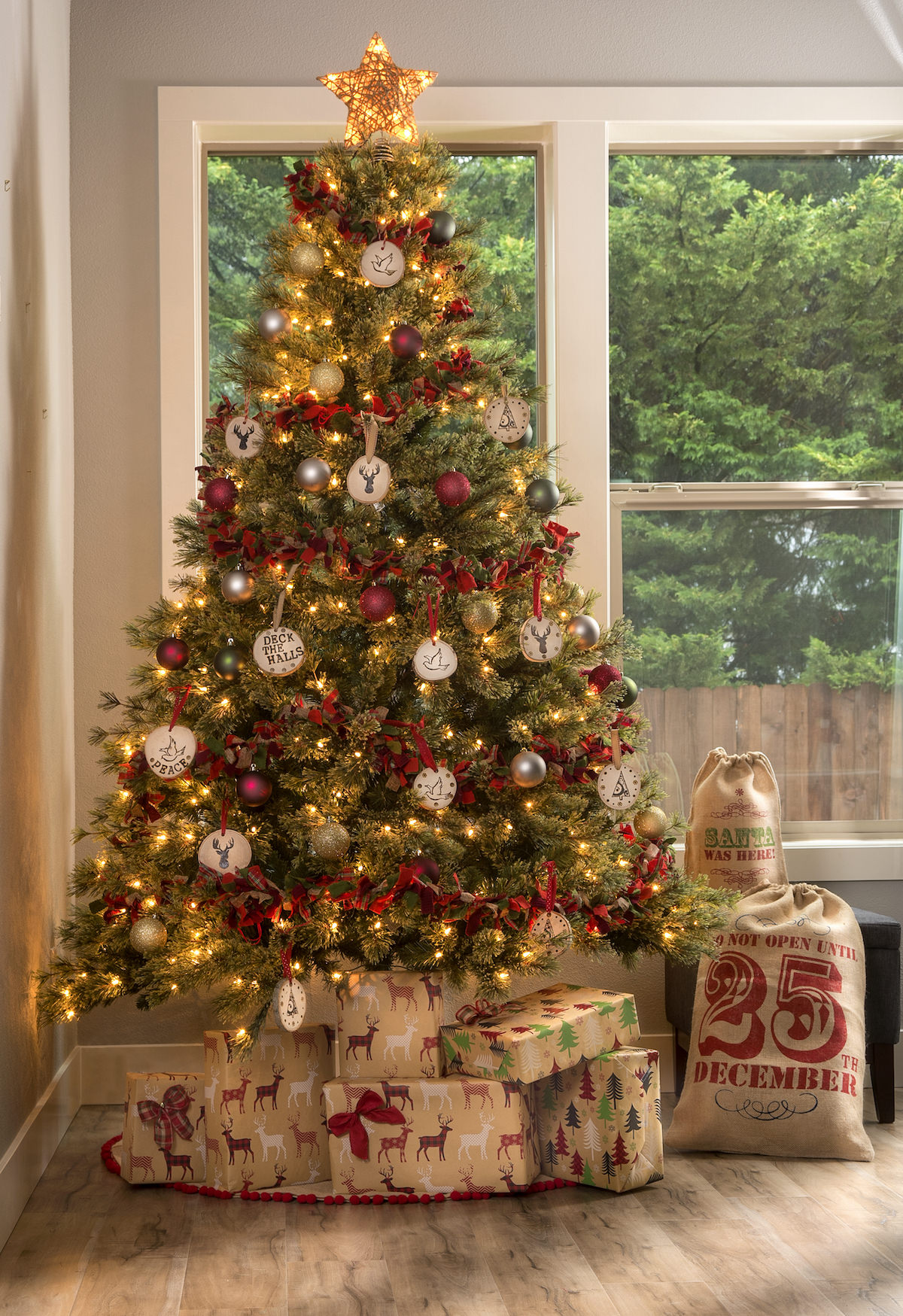 DIY Wood Slice Ornaments
Before we get started on the ornaments, I want to walk through some frequently asked questions about this project. If you are ready to get to the tutorial and want to skip the tips below, simply scroll down.
Cutting Your Own Versus Purchasing
I have used both wood circles purchased from the craft store in projects as well as ones that were cut from tree branches. Here's what you should know about both scenarios.
Buying Wood Circles
Wood slices are readily available at most craft stores, but personally they are a crafting surface I always buy online. I tend to use them in a lot of different projects, so I buy large packs and just use them up. If you purchase wood circles online, make sure they are already dried.
Cutting Wood Circles from a Branch
If you're going to cut your own, it will be free, but you'll also have to go through some steps. You need a hand saw, and you'll cut the branches to about 1/2″ or 1/4″ thickness to use for your wood slice ornaments. Then you need to wipe away the sawdust and let them dry before using.
But here's the catch – usually the rule for drying out wood is a year for every inch of thickness. This would mean that, depending on the thickness, it's going to be about 3 – 6 months before you can use them. If you cut down a tree in spring, that time frame could work. Otherwise . . . read the next section for drying information.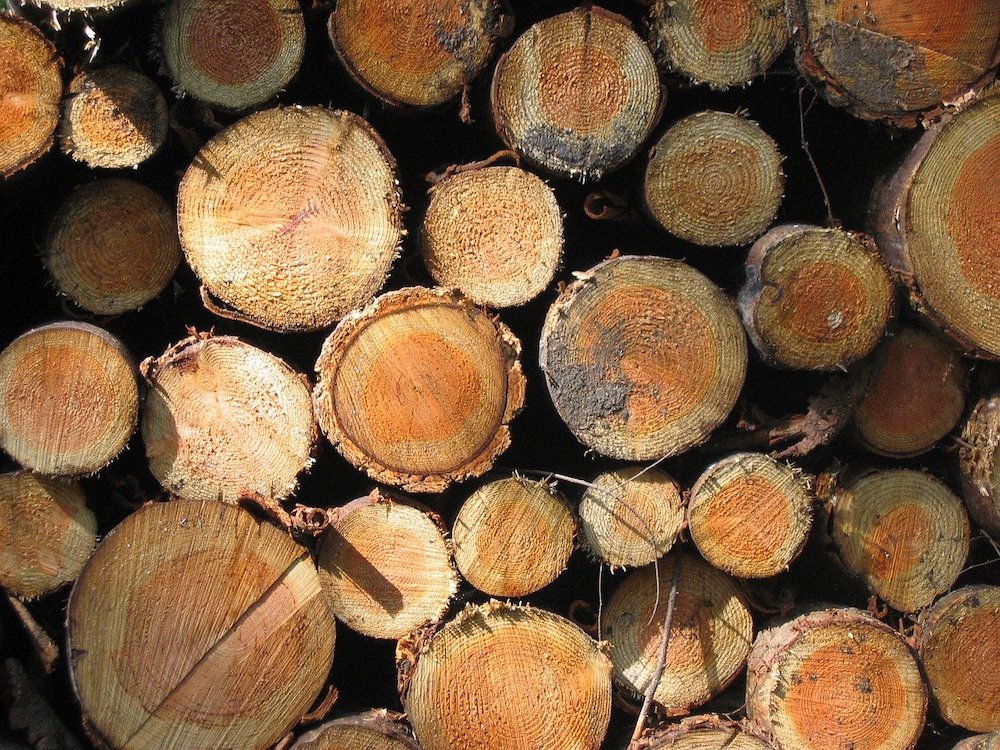 How do you dry wood slices for ornaments?
You can let wood dry naturally (which takes a lot of time), but my other favorite methods that cut to the chase are using denatured alcohol and baking. I discuss both below.
Baking
If you cut your own wood, baking is the easiest option. To do this, set your oven to 200°F and place the slices in on a cookie sheet. Leave for 45 minutes, then flip over to the other side. This is an easy, fast method – but you will lose some of the wood to cracking. So make sure you have a lot of slices (you can also embrace the cracks as part of the aesthetic).
Denatured Alcohol
Another option is to use denatured alcohol. This blog post describes the details of the method, but essentially you will let the wood sit in a bath of denatured alcohol for about 24 hours, and then dry out for 24 hours. Keep in mind that this type of alcohol is toxic, so you would have to be careful about how and where you use this method.
How do you prepare wood slices for crafts?
Once the wood is dry, it's ready for you to paint, wood burn, decoupage, or whatever else you'd like to do to it. You don't need to seal it before you craft with it. You can, but you don't need to.
Do I need to seal wood slice ornaments?
No, you don't. I didn't seal any of the ones you will see in this tutorial. However if you want to keep the edges from flaking too much or just give them a finished/polished look, you can brush them with some polycrylic or spray sealer. It's not required though.
---
Are you ready to get into the tutorial? It's very simple – instructions are listed out below.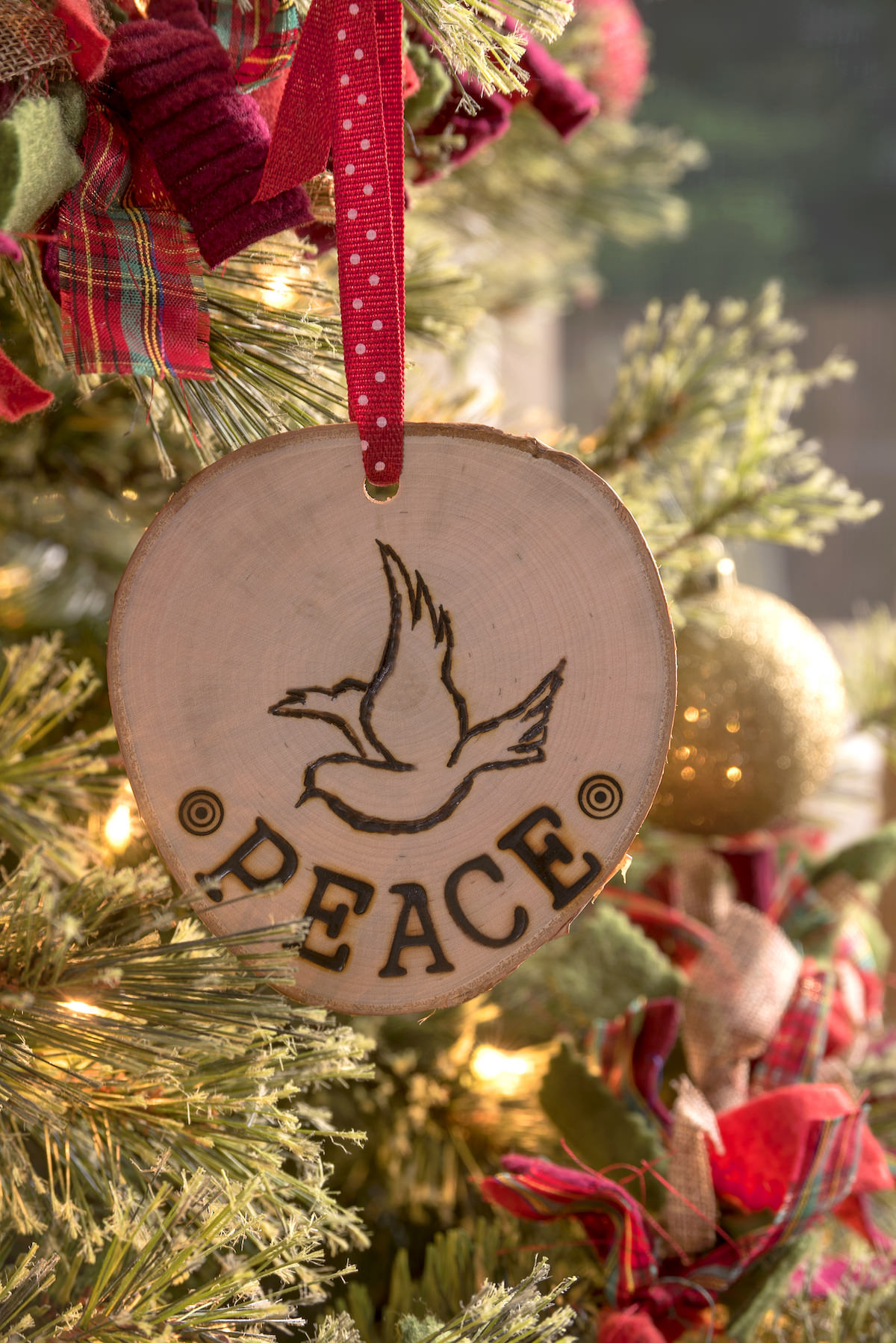 Gather These Supplies
Wood slices – one per ornament
Transfer paper (also known as graphite or carbon paper)
Pen or pencil
Ribbon (for hanging)
Scissors
Tape
Drill with a small bit
Free printable – or your own graphics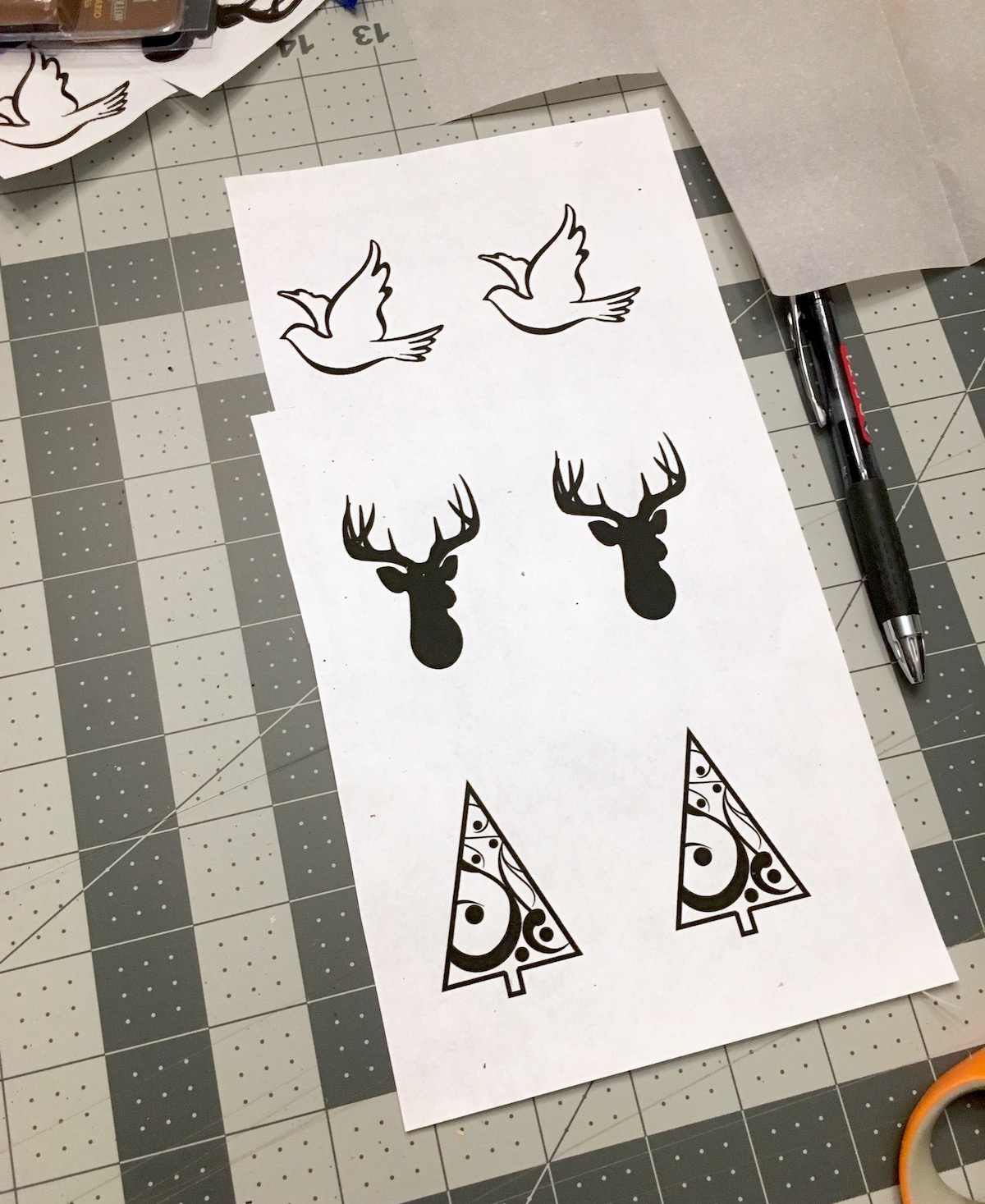 Print out the artwork of your choice to fit the wood circles. You can grab my free printable here. If you print your own artwork, just make sure that the design isn't too detailed if you are a newbie wood burner. It takes some practice to achieve wood burned ornament success.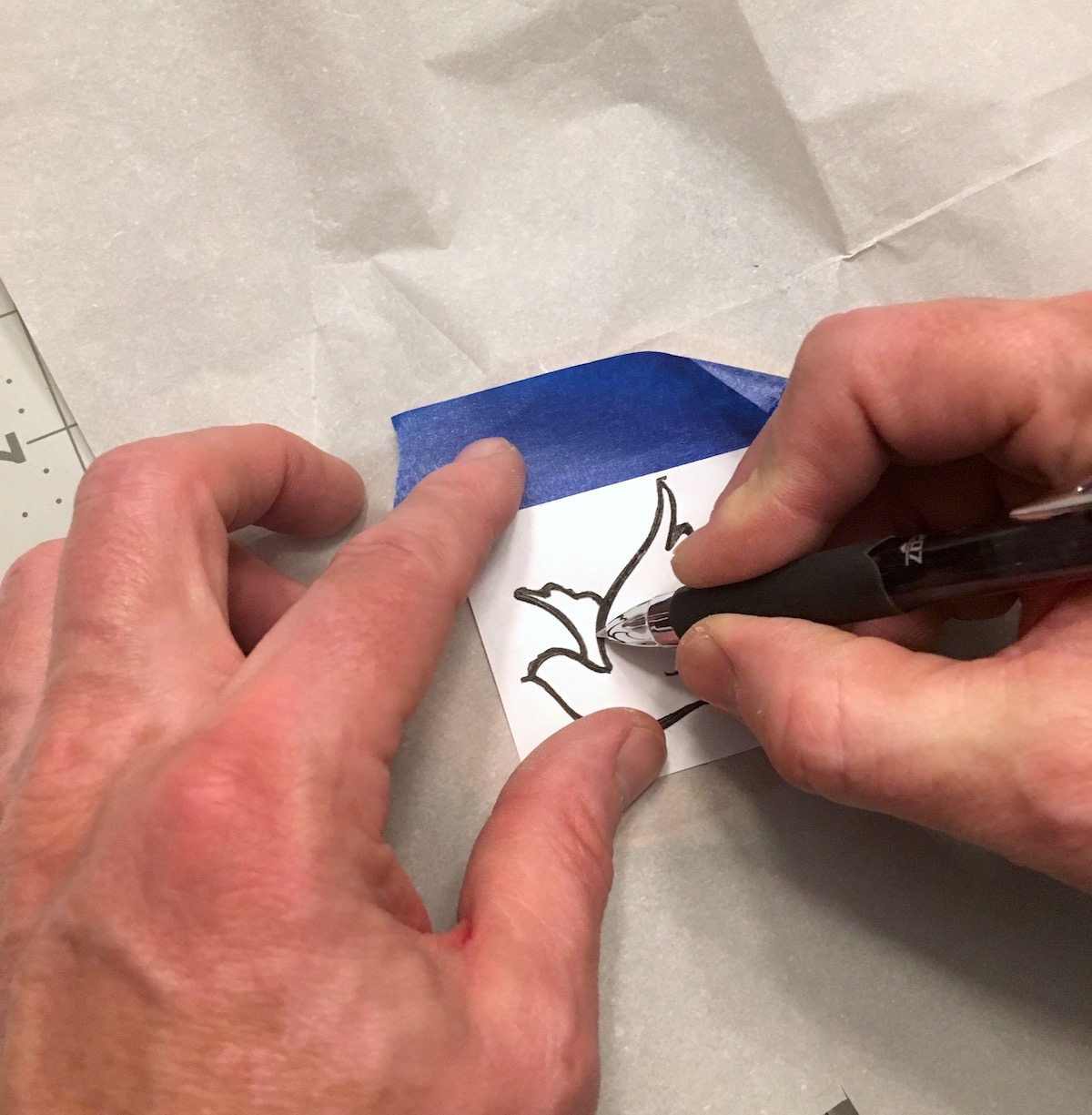 Cut out the design of your choice. Place the transfer paper down onto the wood circle following the package instructions (usually it's the darker side down). Tape into place.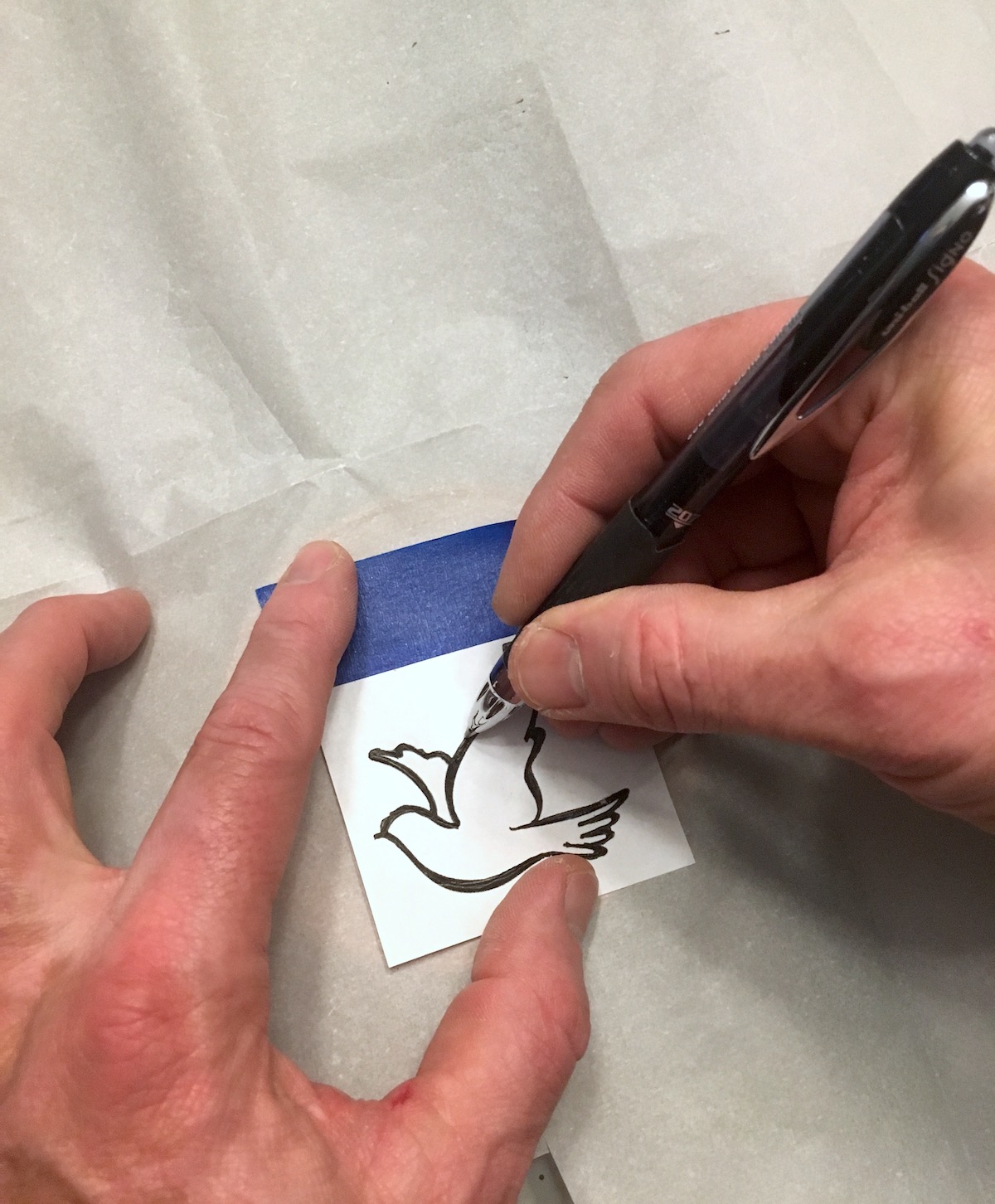 Begin tracing on top of the design with a pen or pencil. This will transfer the design to the top of the wood slice. Be sure to fill in the entire line, even if it's thick – this helps with your wood burning, trust me!
Pull out the wood burner, plug it in, and warm it up.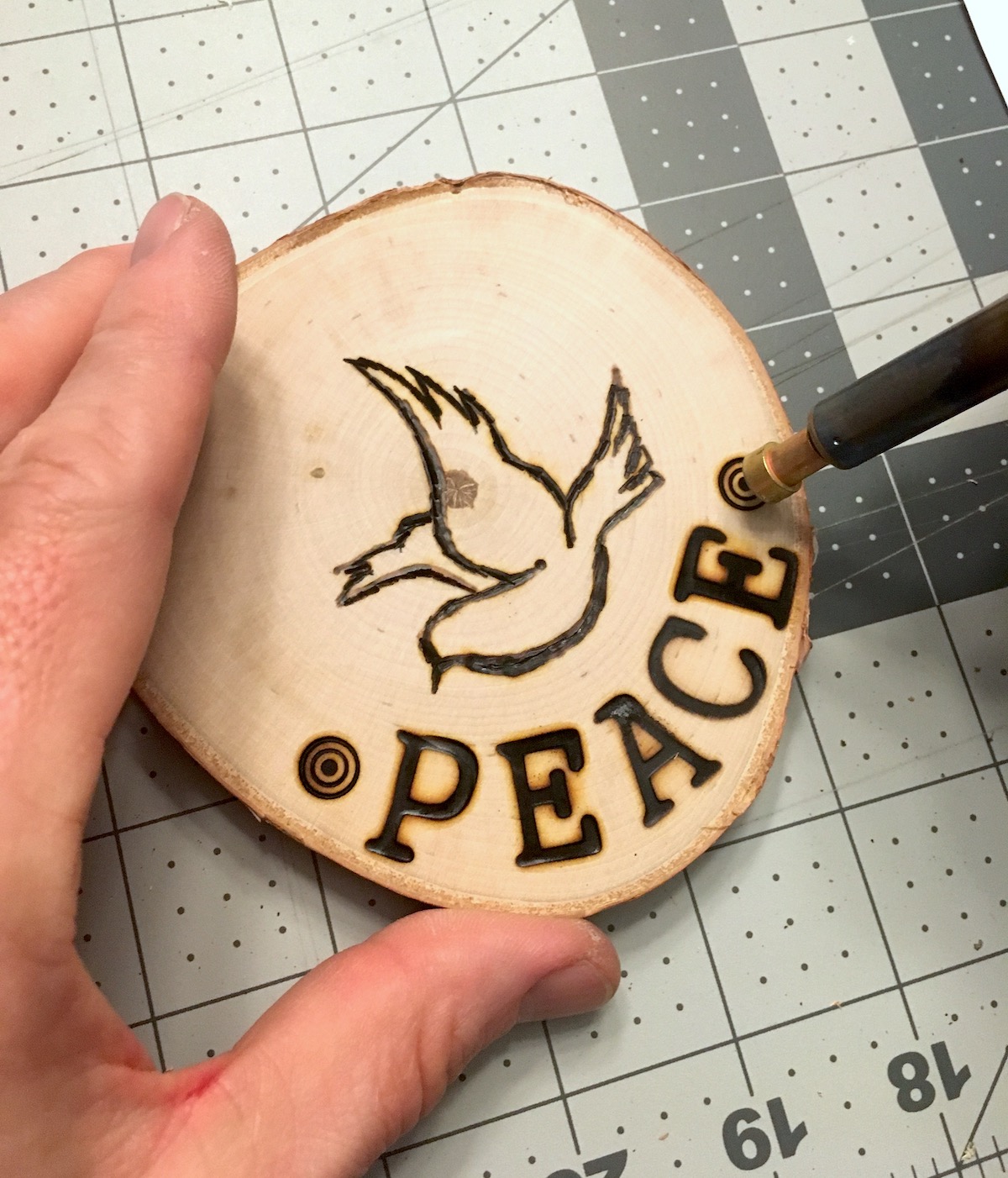 Use your wood burner to fill in the design! There's a wood burning guide here on the blog if you need help. You'll fill in the design using your tool, then if you like, add accents with letters and stamps. Many wood burning kits come with letter stencils as well!
Be sure to follow all safety instructions on your wood burning tool! It's a serious burning tool and that includes your hands . . . so be careful.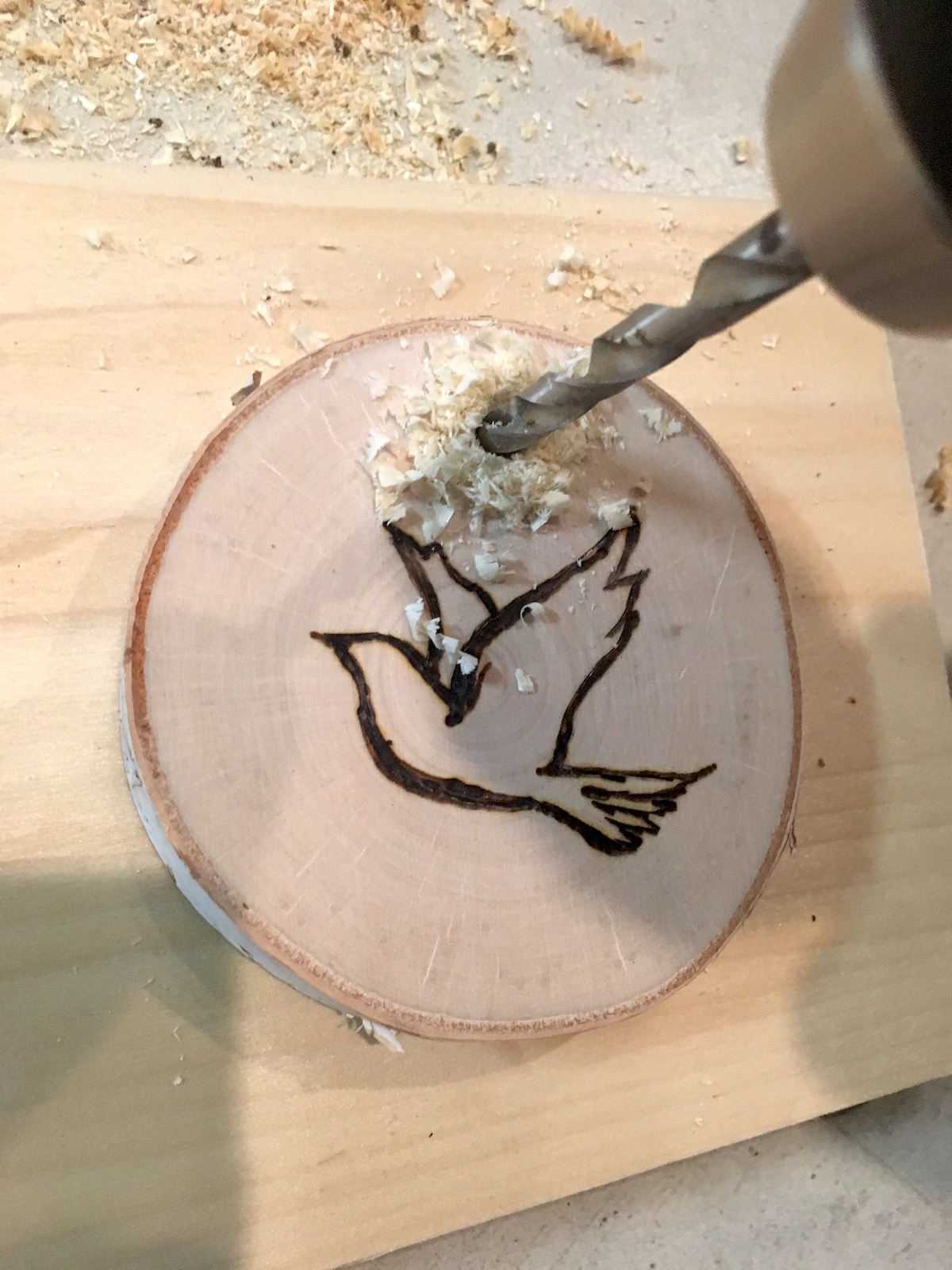 Once the burning is done (all the wood slice ornaments), then place the slices on a piece of scrap wood and drill through. The scrap wood protects your work surface. Drill and then reverse to get the bit out.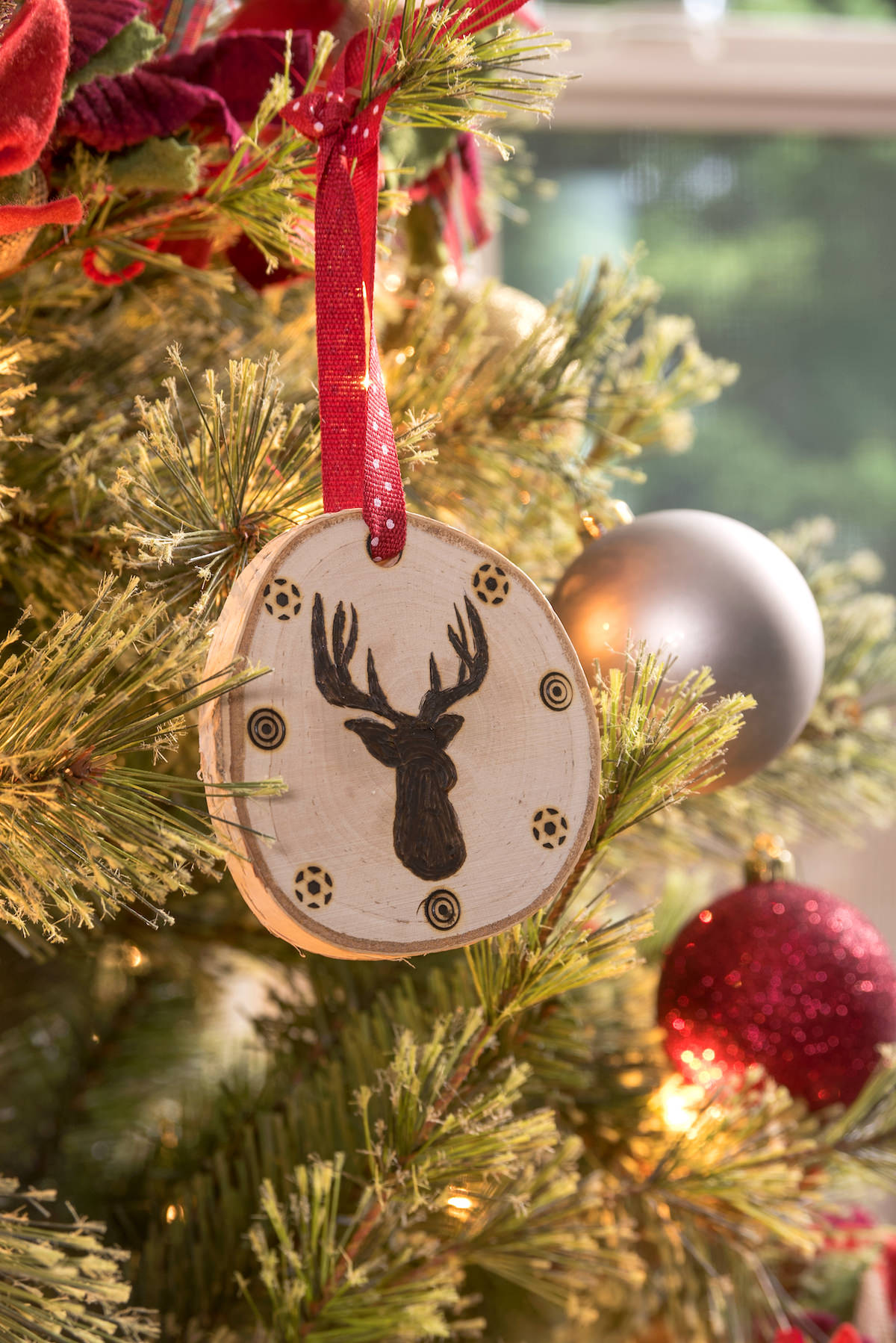 Cut pieces of ribbon, put them through the holes and then tie knots. Now you can hang them on your tree. Don't they look awesome?
Wood burning isn't the only way to decorate wood slices! You can also use these other projects as inspiration for wood slice ornament ideas:

Wood Slice Magnets / Easy DIY Christmas Magnets / Wood Slice Coasters
---
Yield: 6 ornaments
Wood Slice Ornaments
Learn how to make beautiful wood slice ornaments for your rustic or farmhouse Christmas tree! You can burn, paint, or stencil them any way you like.
Active Time
1 hour
30 minutes
Total Time
1 hour
40 minutes
Materials
Wood slices - 6
Transfer paper
Ribbon
Tape
Scrap wood
Tools
Wood burning tool
Pen or pencil
Scissors
Drill with a small bit
Computer and printer
Instructions
Print out downloaded designs, sized to fit your wood circles, using a computer and printer.
Cut out each individual design as well as a piece of transfer paper the same size.
Place the transfer paper, dark side down, onto the wood circle. Tape down, then tape the design on top.
Trace the design onto your wood slice using a pen or pencil.
Remove the transfer paper and design and heat up the wood burning tool.
Follow the lines of the design to burn them into the wood.
Use wood burning stamps or various tips to accent your design. Repeat with all wood circles.
Place the ornament onto a piece of scrap wood and drill a small hole in the top. Reverse the drill to back out of the hole.
Cut a length of ribbon, thread it through the hole, and tie into a knot on the top for hanging.
---
If you enjoyed making these wood circle ornaments, I hope you'll check out these other ornament ideas: