Learn how to make a pom pom Christmas garland to decorate your holiday home! This is SO easy to make, even for beginning crafters.
Skills Required: None. Even if you've never crafted before, you'll be able to make this garland. You'll use pom pom makers, which are really easy if you follow the instructions.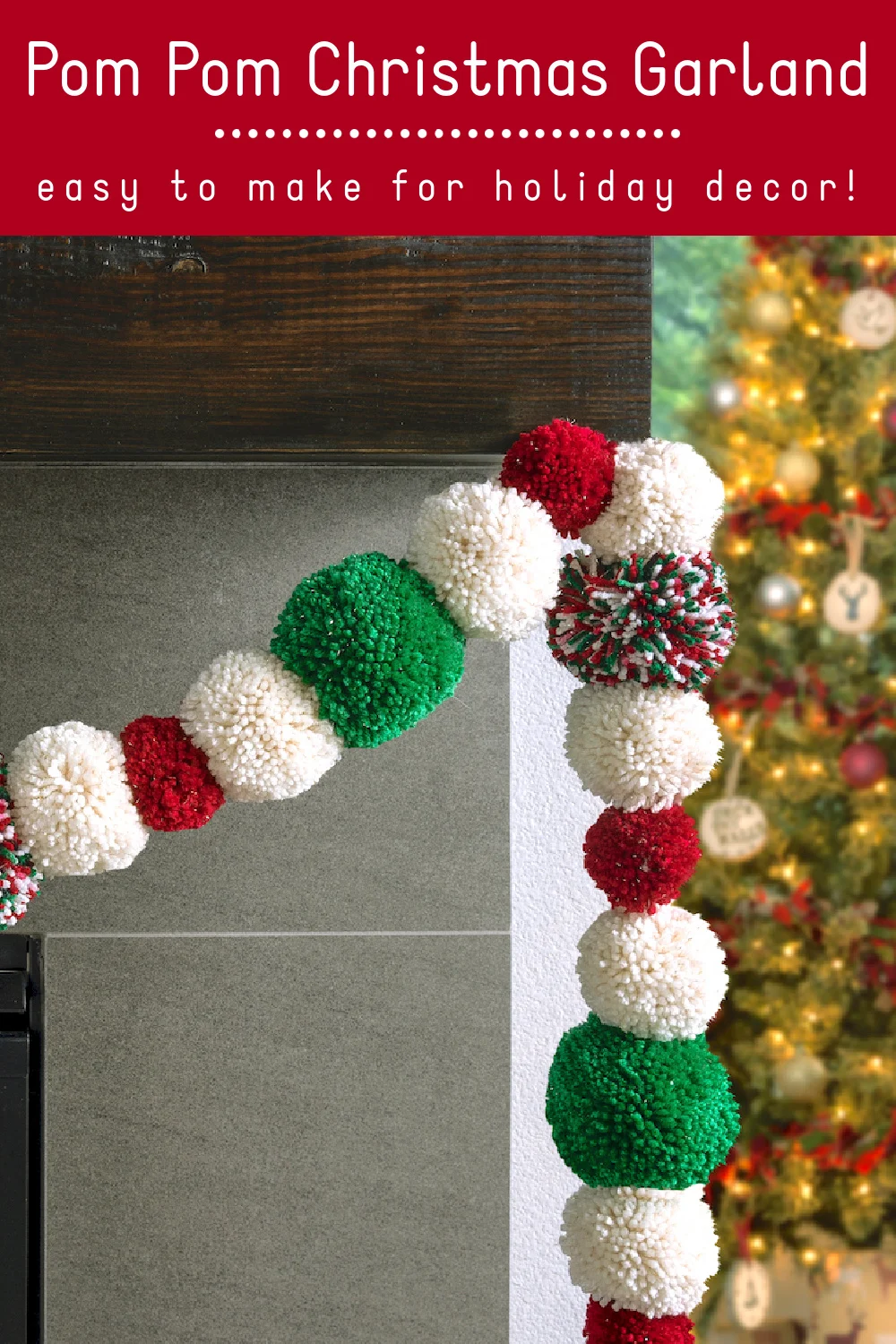 Have you ever made a pom pom garland before? If not, you're in for a real treat. Because there is something about pom pom garlands that everyone loves. If you meet someone that doesn't – be wary of them. For they know not what is true Christmas spirit!
I've made a regular pom garland, but I've never made a pom pom Christmas garland. At least until this one. And now I can't believe I've waited so long! Not only are they easy, but a garland like this one makes a HUGE impact in your holiday decorating.
Christmas Pom Pom Garland
This easy Christmas garland is completed in two simple steps. You're going to use the pom pom makers and some skeins of holiday colored yarn to make the poms. Then you're going to string the poms onto a piece of yarn with a needle. I will walk you through everything!
Just so you know, I used about five skeins of yarn to make a garland 5 – 6′ (depending on how you space out the poms). BUT a few things:
The size of your poms greatly affects the amount of yarn you use. For a mantel, I'd go with a few bigger poms, along with some medium and small. But for a Christmas tree garland, I'd use a smaller tool to make the poms.
If you make a garland with a bunch of big poms, you might want to put them on heavier thread. Otherwise the thread will sag, which is especially noticeable on a mantel (the branches provide support on a tree).
Buy yarn at the dollar store or on sale, and use your craft store app coupons to make this a cheaper project. I always buy a little more and then (keep my receipt) return what I don't use. I'm also at the craft stores all the time!
Are you ready to check out how to make this pom pom Christmas garland? Keep on reading.
---
Gather These Supplies
Yarn – about 4 – 5 skeins (I used four different colors, and two of the white yarn with gold flecks)
Pom pom makers – 3 3/8″, 2 1/2″, and 1 5/8″
Scissors
Needle (that fits the yarn)
Make the Pom Poms
I'm going to show you how to make a pom pom using a tool – this is the medium size (2 1/2″) pom pom maker.
You're going to open one side of the pom pom maker only and begin wrapping the yarn around the two sticks. The yarn ends up being in the U shape. Wrap firmly but not too tight. You don't want to pull on the yarn.
Continue wrapping until you have filled that U shape with yarn. You've made half a pom pom! Well, kind of.
Now you need to pass the yarn over to the other side of the tool. Bring it through the feet, then close that side and bring the yarn over to the other side for some additional wrapping.
Now pull out the other two sticks and do the same on the other side of the tool. Wrap the yarn again and again until the U is filled. When you're done wrapping, cut the yarn.
This is what a completed pom pom looks like inside the pom pom maker. But we're about to set this bad boy free!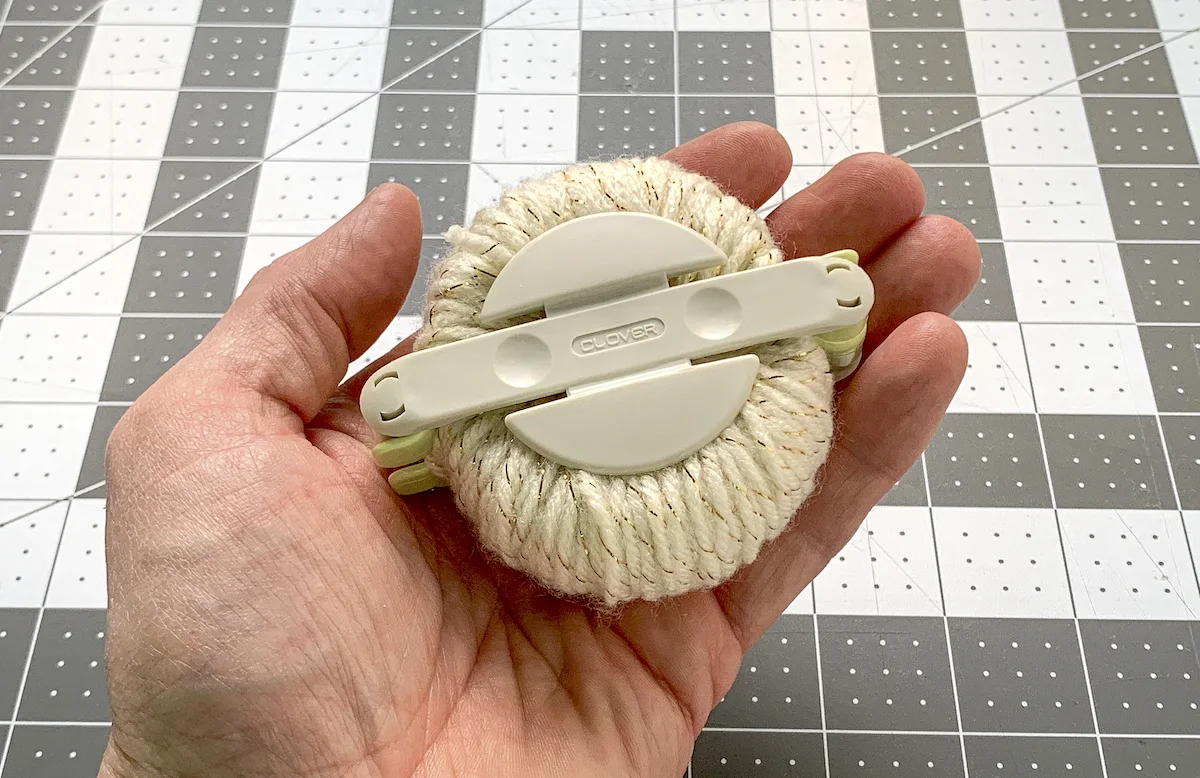 Use the scissors to cut both sides of the yarn. It's really easy because the tool has an indentation when closed that fits the scissors.
Now you'll tie it all together. Cut a length of yarn, about 12″ or so.
Tie the yarn around the center of the pom pom maker. You're going to tie it twice to make a knot. Tie firmly and tightly but not so tight you break the yarn.
Pat yourself on the back and give me a "hallelujah" and a "yeehaw!" You made a pom pom of your very own. Open the tool and remove the pom. It's going to look a little scraggly.
Trim the excess yarn with scissors to make it even.
As you can see, that was easy! Now you only need to make like 1 million more pom poms for your Christmas garland! Haha.
This is a visual display of the colors of yarn I used and the associated pom pom tools I used with them. I have green, cream, and red yarn. Then there's the Christmas variegated yarn. Doesn't it look fabulous?
Thread the Pom Poms
Put a 10′ length of yarn through a needle, because you're going to string the pom poms on to make your Christmas garland!
Lay your poms out in the order you would like them on the garland. Push the needle right through the center of the pom.
You're going to keep stringing the poms, spacing them out as you desire.
Hang the Garland
If you've made this for your mantel, you can hang with two small nails. If you've made this garland for your Christmas tree, you can simply wrap it around the branches. Though you're going to want to go quite a bit longer if you're making this for your tree!
This pom pom Christmas garland is ridiculously festive and I can see it going with a variety of styles, including farmhouse and even modern. Think of the color combinations?
If you try this Christmas decorating project, I'd love to hear in the comments!
Yield: 1 garland
Pom Pom Christmas Garland
Learn how to make a pom pom garland for Christmas - hang it on the mantel, your tree, or in a doorway. Perfect for beginning crafters!
Total Time
6 hours
15 minutes
Materials
Yarn - about 4 - 5 skeins
Tools
Pom pom makers - 3 3/8", 2 1/2", and 1 5/8"
Scissors
Needle (that fits the yarn)
Instructions
Use your pom pom makers to make various sized pom poms. Start with the large and make several poms.
Repeat with both the medium and small sized pom pom tools. Trim all pom poms.
Thread a yarn needle with an 8 foot length of yarn. String on your pom poms one by one.
Spread out the pom poms along the yarn, spacing evenly. Hang your Christmas garland on the tree or mantel.
Recommended Products
As an Amazon Associate and member of other affiliate programs, I earn from qualifying purchases.
---
Did you enjoy making this Christmas craft? Take a peek at these other craft ideas: