If you've decided to re-do a room or renovate your space, consider one of these 15 awesome DIY light fixtures to complete your look!
I'm an appreciator of light fixtures. This means that whenever there is a lamp section in any store, I'm there getting inspired by everything I see.
I realize that if I want something *really* unique and don't want to spend a ton of cash, it's time to DIY a light fixture myself.
And what I've learned by checking out some of the DIY light fixtures is that it's not as hard as you would think to make one yourself.
And some of these are nearly free, which is right up my alley. If you want to DIY a lamp too, check out this collection below. I know you'll find something you love!
DIY Light Fixtures
Wood Veneer
Veneer facing isn't just for furniture – you can also use it to make beautiful pendant lamps.
Find the instructions at Lowe's
Danish Modern
If you are an appreciator of mid-century modern like myself, you're going to love this cool lamp DIY.
Get the how-to at Adventures of An Almost 40 Year Old Intern
Mason Jars
This mason jar fixture adds the perfect rustic touch to a kitchen or dining area.
Get the instructions at Twenty 8 Divine
Recycled Fan
An old fan gets a new lease on life with a little spray paint and a hanging light.
Find out how it was done at Kittenhood
Stuck on Styrofoam
Foam cups are the key ingredient in making this modern pendant lamp.
The tutorial is no longer available but you can find similar instructions here.
Copper Pipe
Copper tubing is readily available at the hardware store, and makes for a stunning light fixture.
See how it was made at Camilla Styles
Clothespin Pendant
Can you believe this pendant lamp is made from clothespins and fencing material? It's so easy to make, too.
See how it was done at Young House Love
Dollar Wastebasket
A trash bin as a light fixture? What a cool idea – and it's budget friendly.
Find out how to do it at Dollar Store Crafts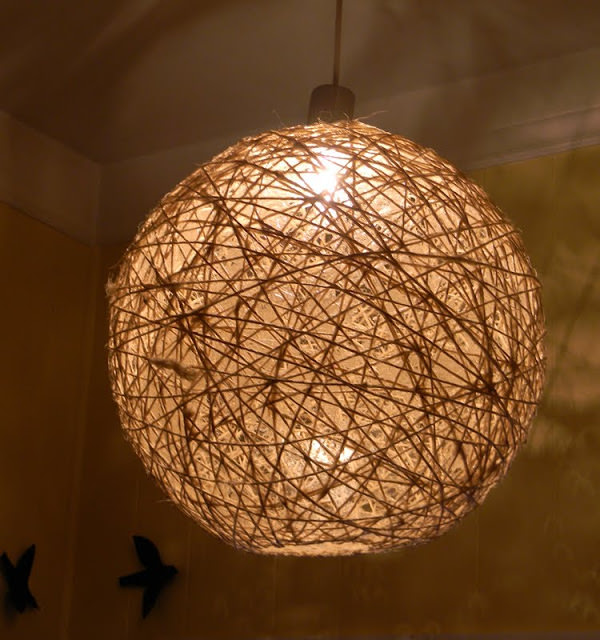 Twine Pendant
Mod Podge and twine are the key ingredients in this cool pendant lamp – I love all the texture!
See how it was made at The Design Pages
Bag Holder
Can you believe that this fixture was made from an IKEA bag holder? I love it.
Get the how-to at My Sister's Suitcase
Book Lamp
Are you a bibliophile? Then this project is perfect for you.
Get the step-by-step at Instructables
Old Cardboard
Don't throw that cardboard in the garbage – recycle it by turning it into a pendant light.
Wood Slats
Tracie used a recycled lamp fixture and wood slats to make a truly fabulous hanging pendant.
Get the instructions at Cleverly Inspired
Flat Marbles
Pick flat marbles in your favorite colors to make these gorgeous light fixtures.
See how it was done at Nine Red
Ping Pong
This gorgeous lamp was made with hundreds of spray painted ping pong balls.
Learn more about the project at Poppytalk
Which of these DIY light fixtures is your favorite? I'd love to know in the comments!