Snow globes are magical and made me instantly think of winter! Create DIY Christmas snow globes for yourself as decor or as a personalized gift.
Scroll down to the bottom of the post to get a video of a bonus snow globe project! Plus a few other Christmas goodies – you're going to love it. I promise!
I LOVE Christmas snow globes. In fact, I used to have a huge collection of snow globes from around the world. In my various moves, the snow globes had to go bye bye, but it doesn't matter . . . I'm still obsessed with them.
I've noticed from browsing craft ideas each year that more and more people are making them, and I love it. I think everyone should have a DIY snow globe – and I need to start with me! I collected 12 ideas because I'm definitely going to be making one this year.
Unique Snow Globes
These are all slightly different and will give you some great inspiration. If you are wondering how to make a snow globe, scroll down and pick an idea that is right for you!
Plastic Cup Snow Globes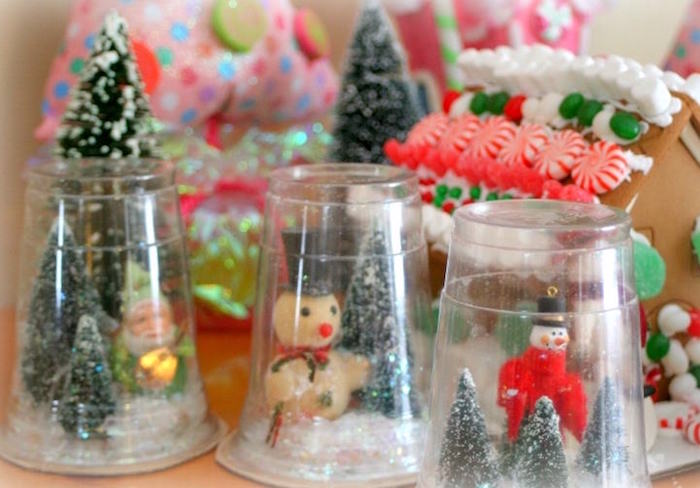 This is a great way for kids to make snow globes (and it's inexpensive) – plastic cups!
Wine Glass Snow Globes
This tutorial is brilliant – it uses plastic wine glasses for the outer part of the snowglobe.
Find out how they were done at My So Called Crafty Life
Oh, and because I think this idea is so cool, here's another wine glass snow globe from Family Chic:
Gold Dust Shaker Ornaments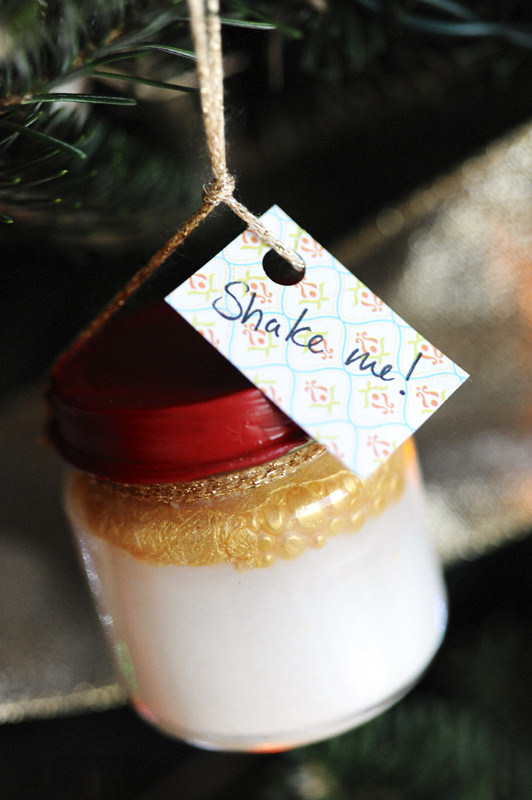 You can use mineral oil and gold dust to make a sparkly winter storm inside a jar – then hang it as an ornament.
See how it was done at Rust & Sunshine
DIY Glitter Globe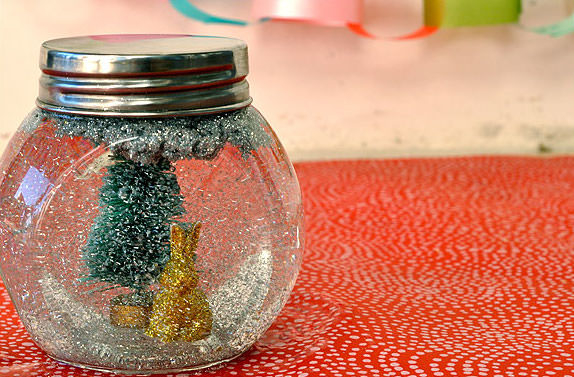 If you love glitter, this is a great way to use some of your favorite colors.
Find out how to make it at Camille Styles
Melted Snowman Jar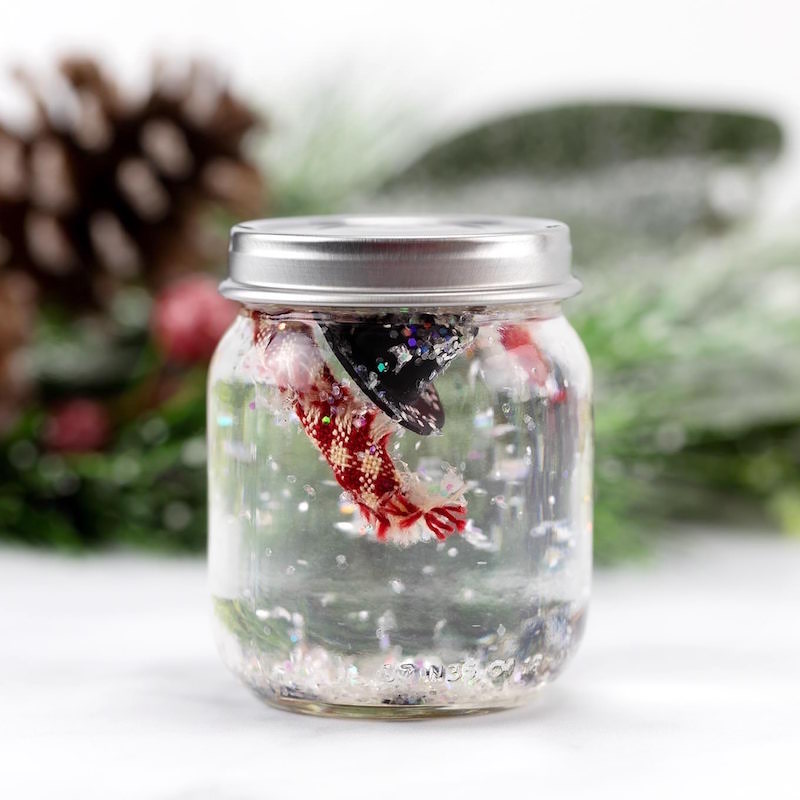 Rather than put your snow scene in a standard glass jar, put it in some decorated shadow boxes.
Find out more about the project at Fireflies and Mudpies
Winter Wonderland Snow Globe Necklace
Want to take a snow globe with you wherever you go? This one is small enough to wear around your neck.
See how it was made at Flamingo Toes
Light Bulb Snow Globe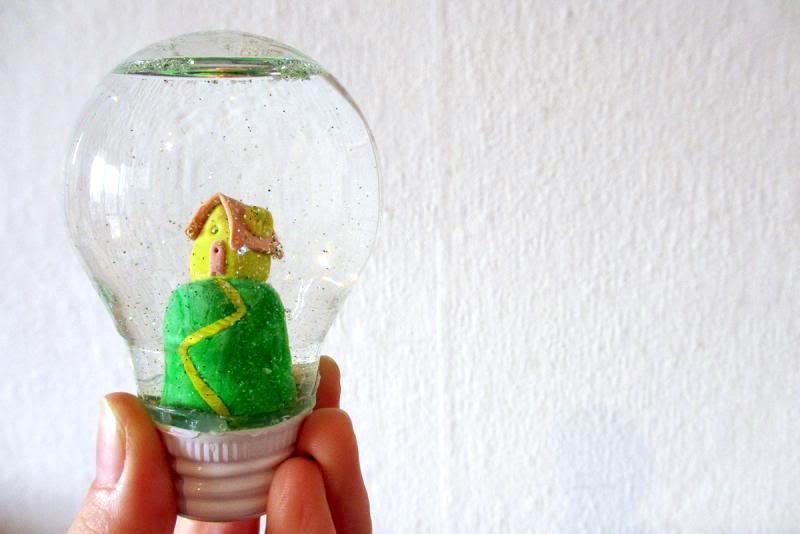 I love snow globes made with unusual supplies – this one uses a light bulb.
Get the instructions at Magical Daydream
DIY Photo Snow Globe
Use your favorite photos as the centerpiece of these snow globes, along with glitter.
Learn how to make them at Our Best Bites
Snow Globe Christmas Ornament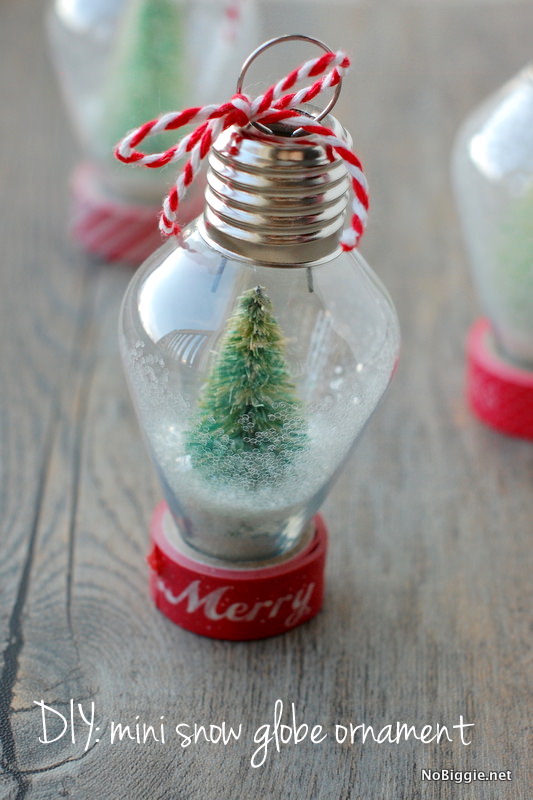 Make a mini snowglobe with a tree – that you can hang on your larger tree!
Find the step-by-step at No Biggie
Kids Art Snow Globe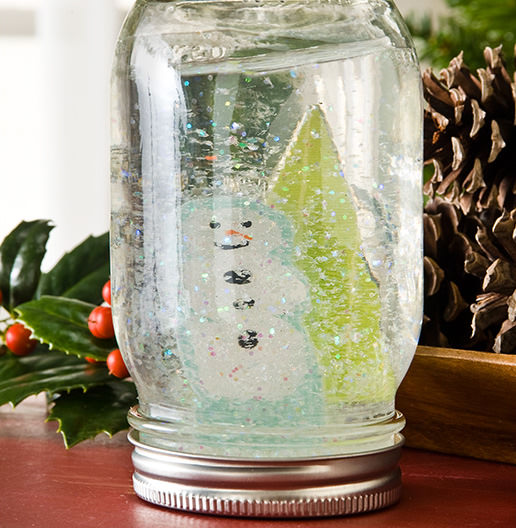 Use painted children's fingerprints to create the winter characters in this snow globe.
Salt Shaker Snow Globe
If you like the idea of little and cute, you're going to love this bottle brush tree inside of a salt shaker – with a little glitter, of course.
Photo by Flickr user michellelovesjunque
Waterless Snow Globes
If you don't want to mess with the water portion of the Christmas snow globes, this a great tutorial.
---
Are you ready to get your bonus tutorial? Learn how to make a cute Christmas snowglobe – as well as a few other things! It's a quick video; just press PLAY on the video in this post!
And once you've mastered snowglobes, I'd love for you to check out these other holiday decorating ideas:
Make Easy LEGO Snow Globes for Kids