This colorful Easter garland is so easy to make with scrapbook paper and yarn! Both kids and adults will love making this together.
When you have a niece that is getting into holiday crafting, you encourage her. At least that is what I do with my niece! I want her to follow her aunt's footsteps . . . whether she likes it or not. Ha! This year one of the projects we did together was this Easter garland – with cute little pom pom bunny tails!
This bunny garland could NOT be any easier. You're using a template to cut out the rabbit shapes – and then you can use a fork to make the pom poms. Then you glue it all together.
What I love about this Easter garland is that even though it's easy enough for a child to make, it's something you won't mind hanging up in your home. We all know sometimes kids' crafts end up in the drawer, but not this one. Just pick your favorite papers and get crafting!
Bunny Tail Easter Garland
Gather These Supplies
Scrapbook paper – various colors, scraps work too!
Bunny garland template HERE
Yarn – one skein of a light color
Fork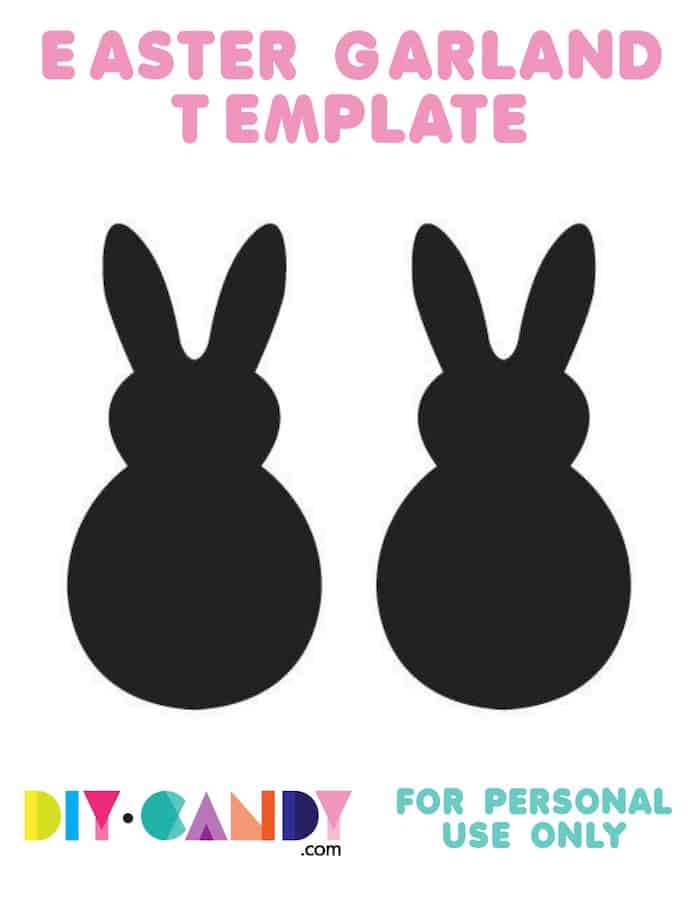 The first thing you'll want to do is print out the template you see above – GET THE FULL SIZED COPY IT HERE. You can print it out in black and white – I just added the color for fun. Print out a copy and cut out at least 9 – 10 bunnies (if not more!).
Then you're going to make one pom pom per bunny using a fork. To make a pom pom with a fork:
Wrap the yarn around the outside of a 4-pronged fork approximately 40 times. If you want your pom pom thicker, try 50 or 60 times.
Cut an 8-inch piece of yarn and tie off the yarn in the middle prong. You'll tie the top and bottom together. Tie a knot as tightly as you can.
Cut both loops on each side and fluff!
If you are more of a visual person, you can see a video here.
You'll want to use craft glue to attach the pom poms to the bunnies, and then to attach the bunnies to the yarn.
Your Easter garland is complete . . . and ready for hanging!
Of course if you love the bunnies, you can use them in other Easter crafts, too.
If you make this bunny garland we'd love to know . . . leave a comment!