Learn how to decorate a candle for the holidays using Dollar Tree supplies! This DIY Christmas candle is easy enough for beginners and makes a perfect addition to your festive decor.
Skills Required: None. If you've never crafted before, that's okay. You'll be wrapping mesh around a candle and using a hot glue gun. It's pretty simple.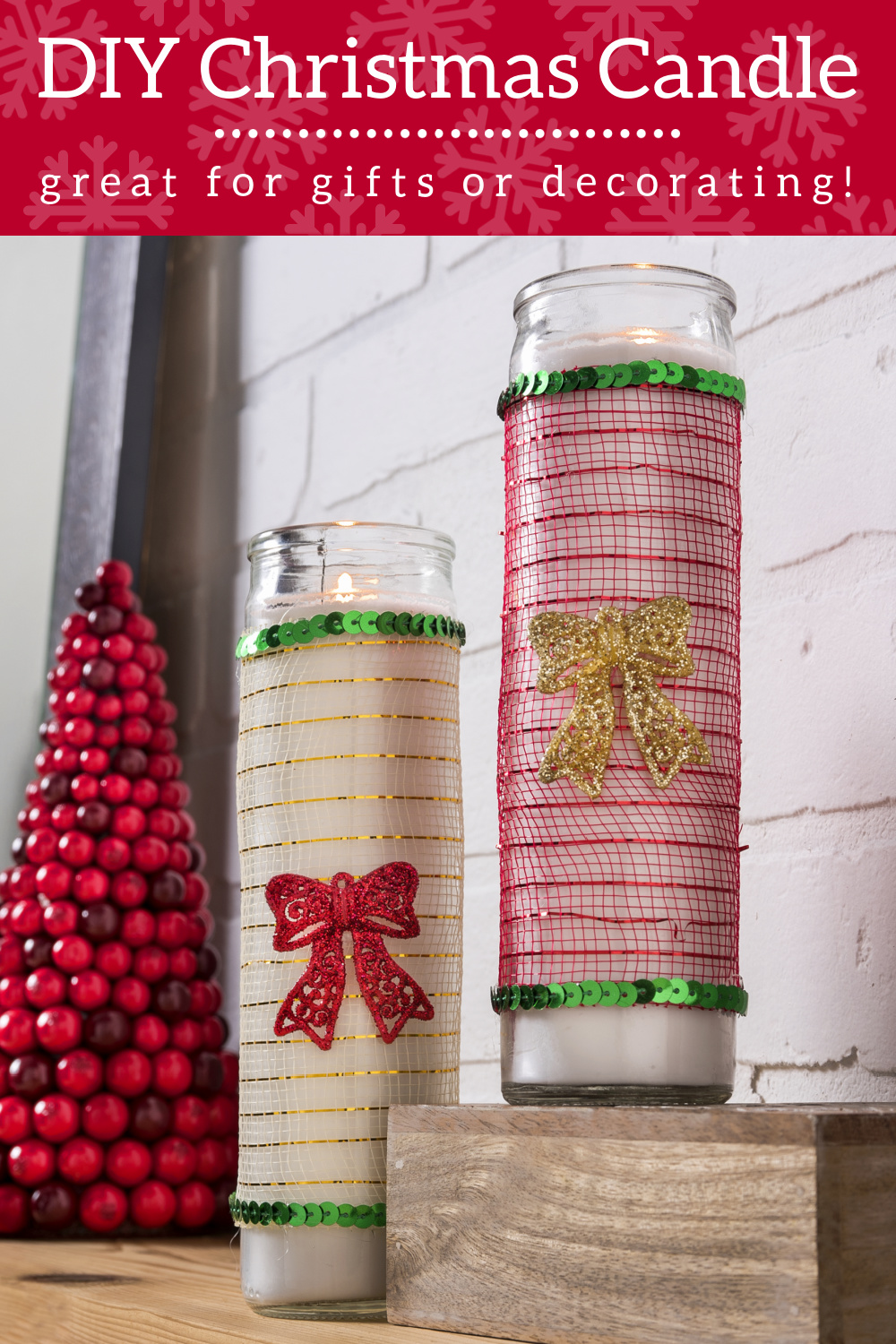 I have a Dollar Tree within a short distance from my home, and while running some errands the other day I decided to stop in and see what I could find in their holiday section.
Have you been to the dollar store recently?! The selection is pretty amazing, and they have a ton of craft supplies for the holiday season. In just a few minutes I was able to find some items to make this pretty and sparkly Christmas decor – and for just a few dollars!
DIY Christmas Candle Ideas
There are a lot of ways to decorate candles for Christmas, but this is one of my favorites because it's 1) inexpensive and 2) so easy.
In terms of project cost, I bought supplies to make six candles for a total of $9 . . . resulting in a cost per candle of $1.50 (plus tax).
As far as ease, these DIY Christmas candles are made in just a few easy steps. You're going to cut the mesh and glue it down, then glue down the trim, then add embellishments.
I'm so thrilled with how they turned out and love these for hostess gifts or placing around the home or on a Christmas mantel display. As they burn down, the mesh casts a cool glow on the wall. These candles have great ambiance.
Plus the possibilities for customization are endless. Here's how they are made!
---
Gather These Supplies
Votive candle
Mesh ribbon
Sequin trim
Ribbon ornaments
Scissors
Hot glue gun and glue sticks
Silicone finger covers or tool (optional)
Notes: your Dollar Tree might not have this exact mesh, trim, or ornaments, but they will have something close. Use my candle to inspire you to play around with your dollar store finds but also what you already have in your stash!
Cut the Mesh and Glue Down
To begin, wrap the mesh ribbon around the glass to fit around your candle (and overlap slightly); cut.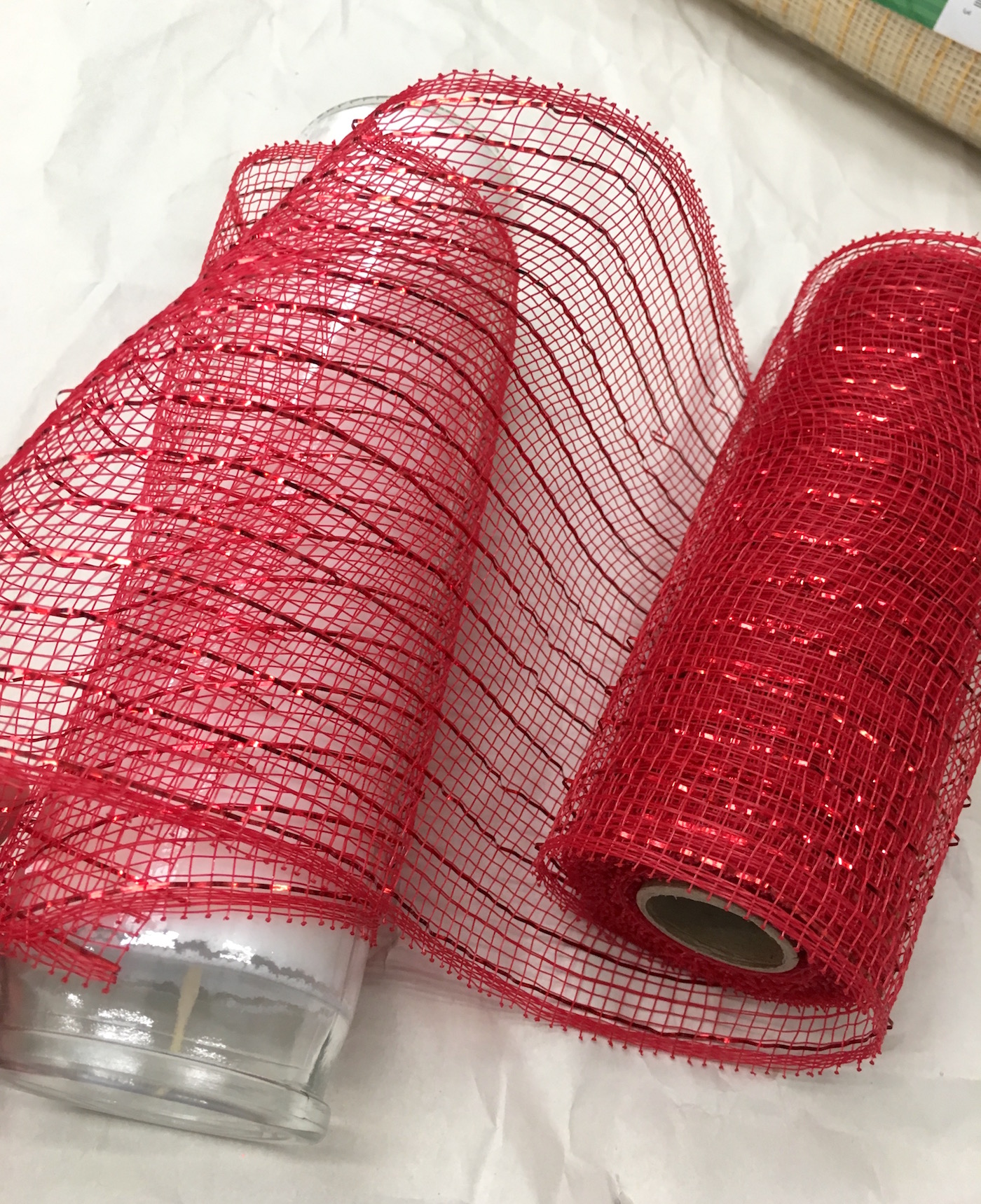 Place a thin line of hot glue on your candle and press the mesh ribbon into it being careful not to burn your hands/fingers. I use a silicone tool to press. There are also silicone finger cots available that can help prevent burns!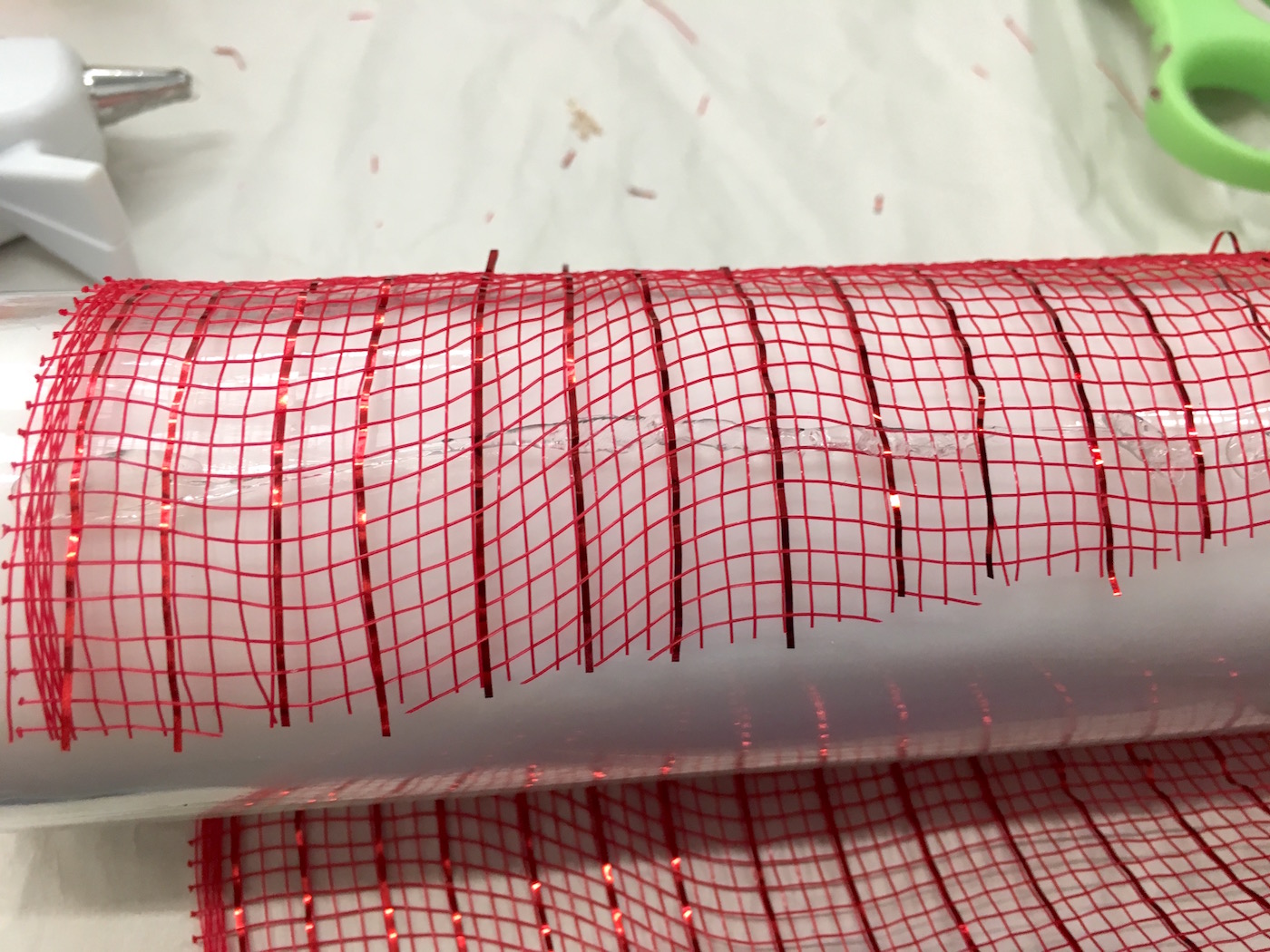 Add the Sequin Trim
Now that the mesh is down, you're going to secure the sequin ribbon to your Christmas candle. Place a dab of hot glue on the seam formed by the mesh ribbon, and place the end of your sequin trim down.
Continue placing dots of hot glue and the sequin trim until the candle is fully wrapped. Repeat at the bottom.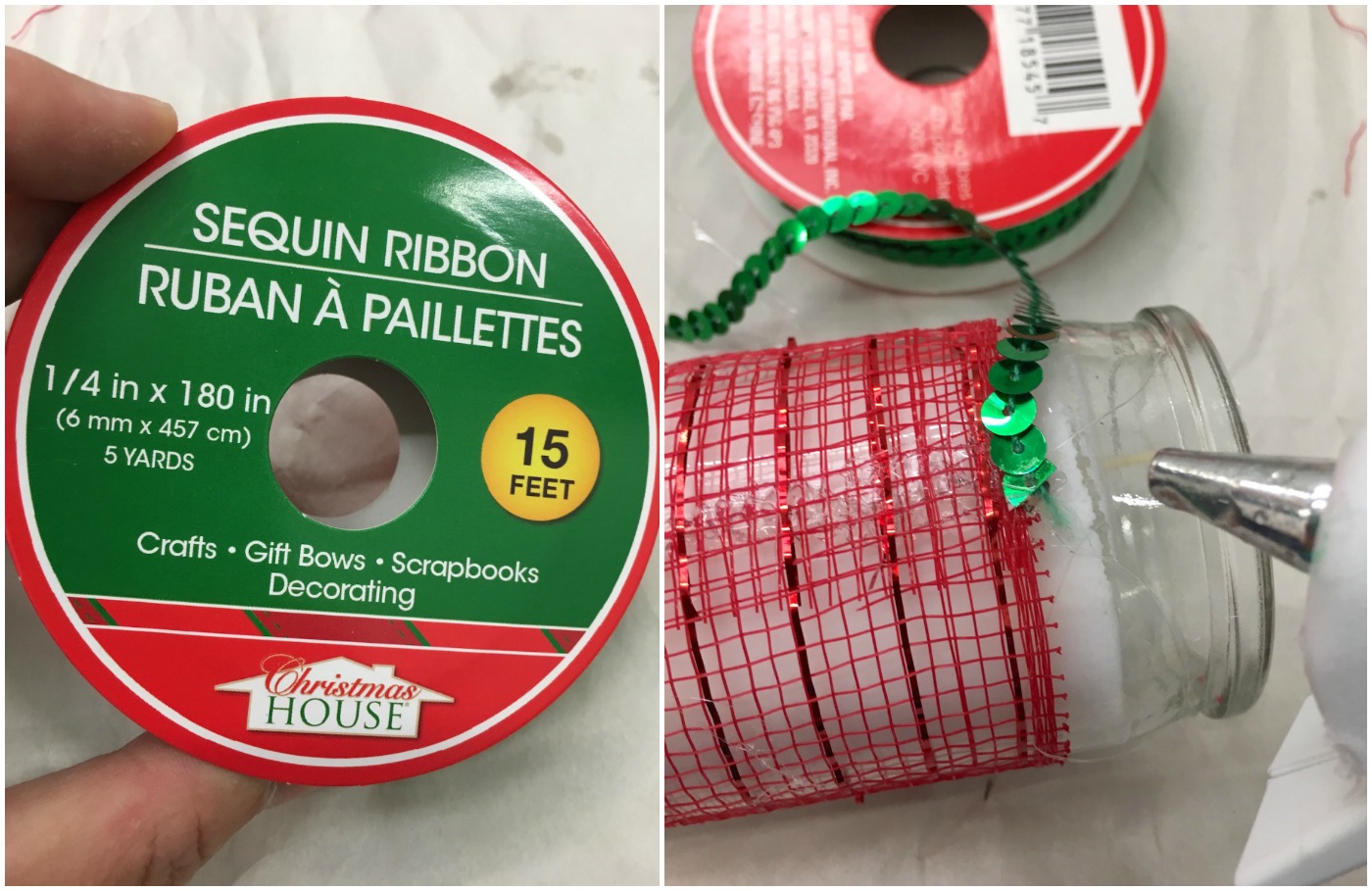 Trim the sequin ribbon with scissors. The reason I don't do this at the beginning is that sequins can fall off before the trim is secured with hot glue! So wait until the end, and cut right after the hot glue ends.
Repeat at the top and bottom.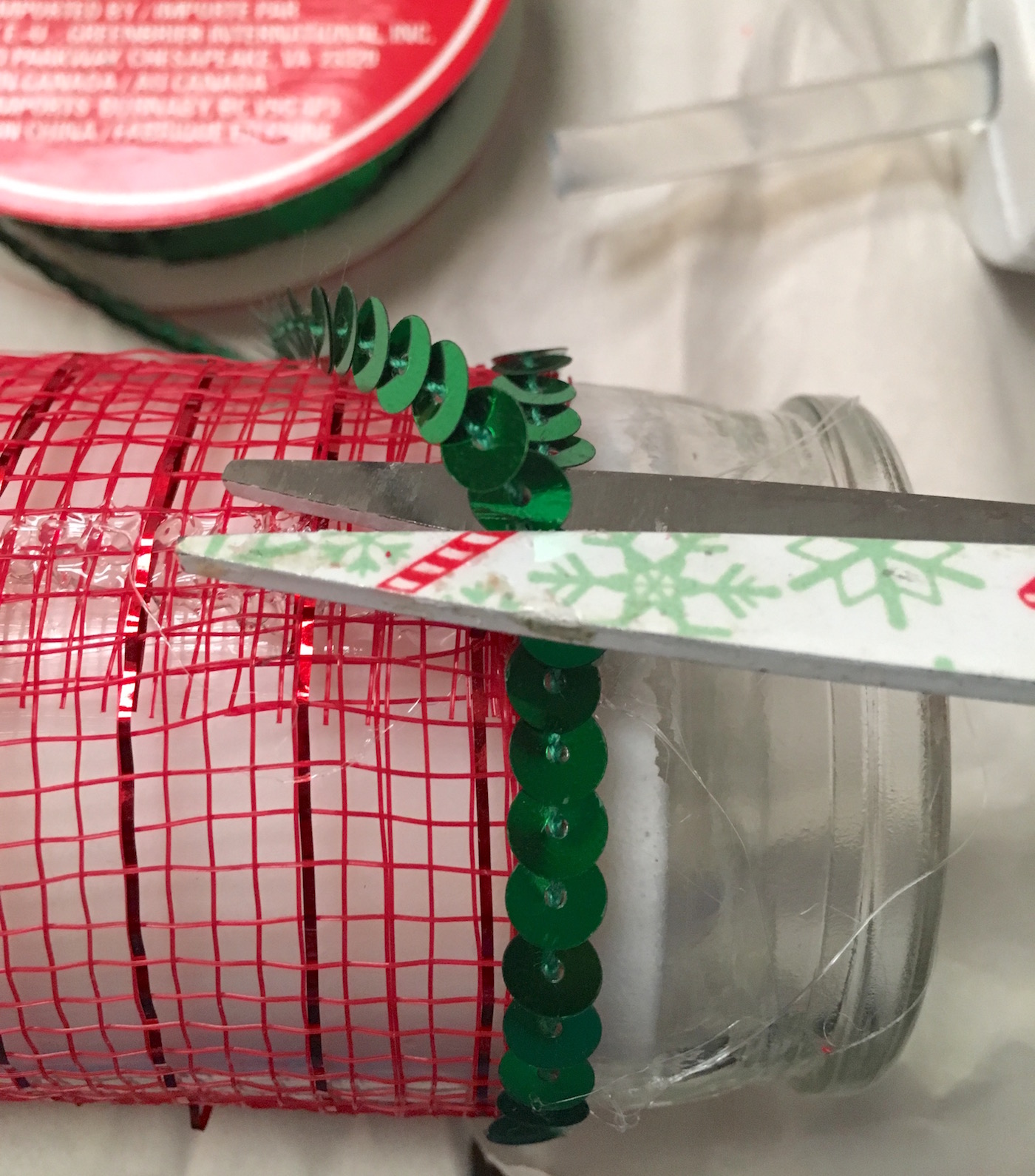 Add Your Embellishments
Dollar Tree has ALL sorts of small ornaments with glitter, etc. PIck your favorites . . .I picked bows. Cut the string off of an ornament ribbon and hot glue to the front of your candle. You're done!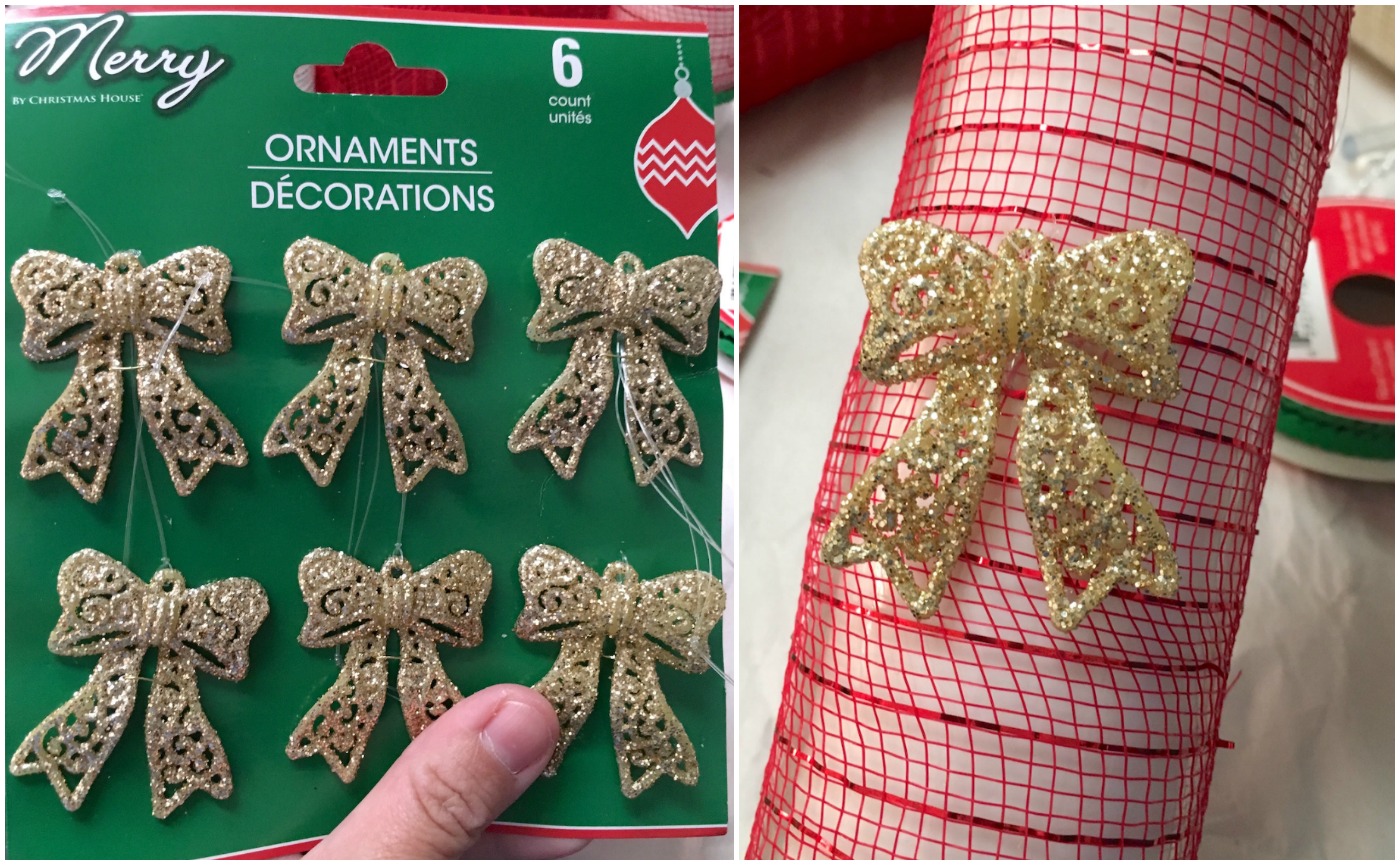 Once you get the hang of this easy dollar store Christmas decor craft, you can make several in a matter of minutes! See this craft in action in the video in this post.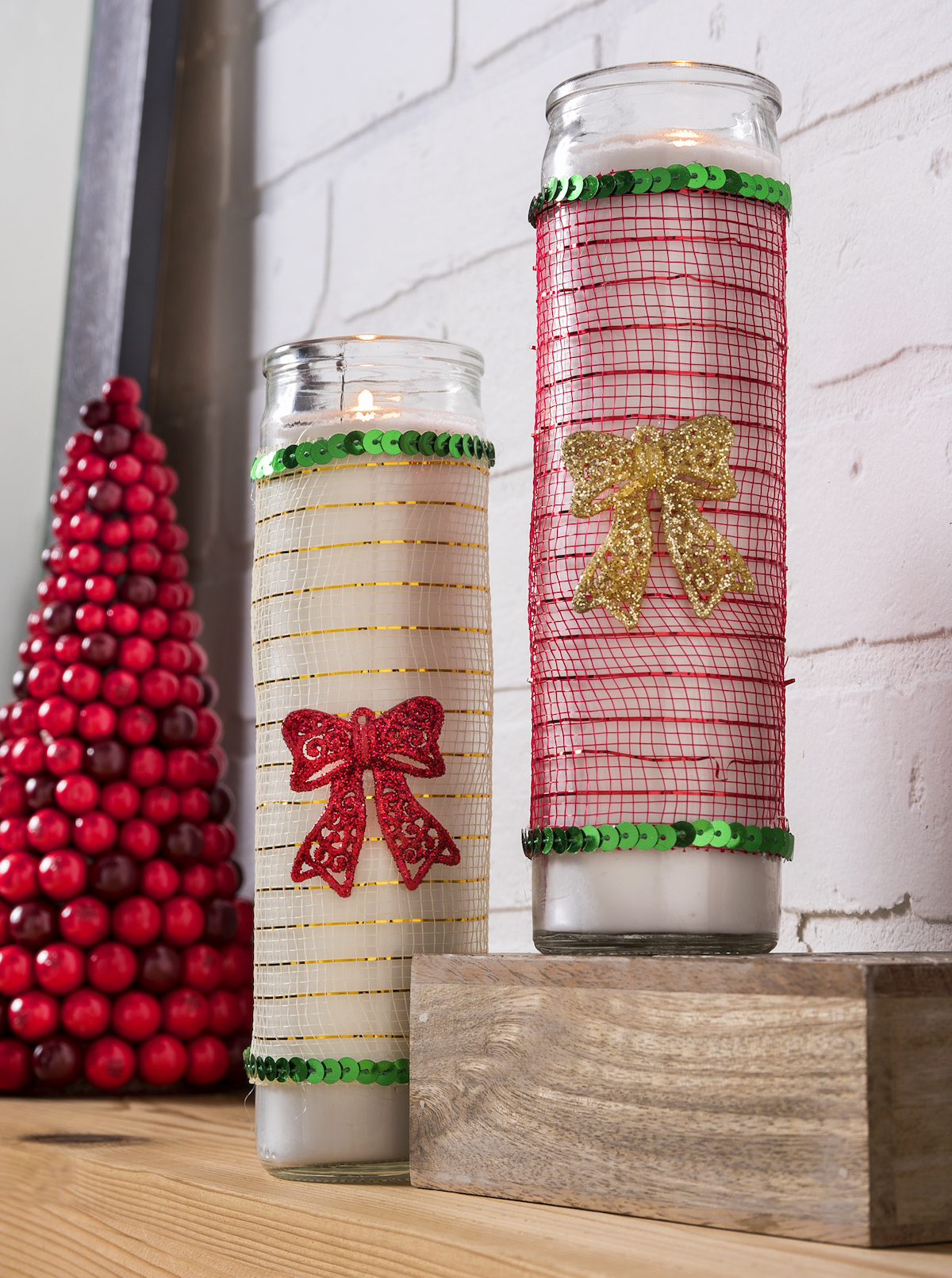 While a DIY Christmas candle like this is very simple, it's got enough bling to make a big impact. Plus you can't beat the price!
Yield: 1 candle
DIY Christmas Candle
You can make a DIY Christmas candle using supplies from the dollar store! It's really easy, even if you're a beginning crafter.
Materials
Votive candle
Mesh ribbon
Sequin trim
Ribbon ornaments
Tools
Scissors
Hot glue gun and glue sticks
Silicone finger covers or tool
Instructions
wrap the mesh around the votive candle and trim to fit (with a little overlap).
Hot glue the mesh down at one end, onto the candle, using the hot glue gun.
Overlap and glue down to cover the candle.
Glue the sequin ribbon down with hot glue. Once glued down, trim with scissors. Repeat at the bottom.
Add a ribbon ornament or other embellishment with hot glue to finish.
---
If you like this idea, you'll also love the follow Christmas crafts: