Learn how to make this easy Halloween slime for kids! No borax and you probably have the supplies already. Fun zombie theme!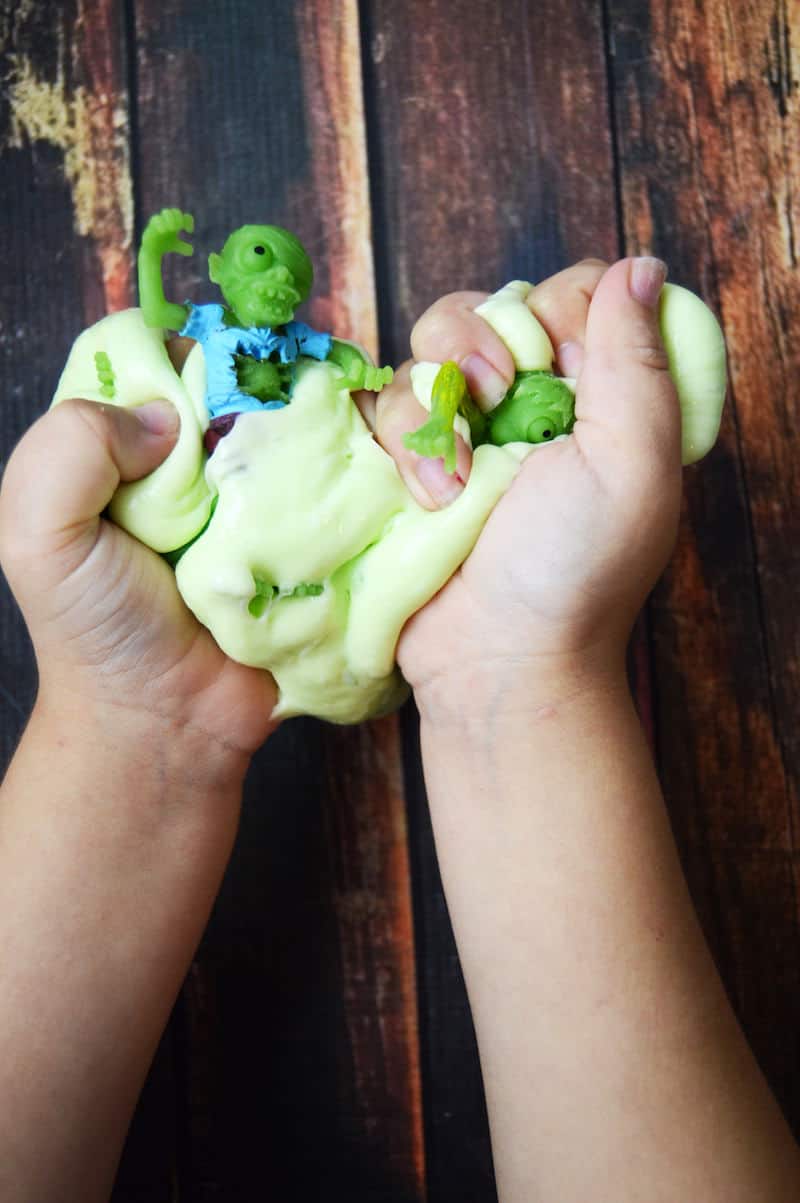 Is your family a big fan of "The Walking Dead?" I'm guessing a lot of you have children who have never seen the show (it's pretty graphic).
But that's exactly what this zombie themed Halloween slime reminds me of! The zombies are infiltrating Atlanta as well as your kitchen with this fun slime recipe. If you need some good Halloween crafts for kids, this is a really fun idea to add to the repertoire.
Green slime is also a great Halloween craft for toddlers. You don't have to add zombies if the littles find them scary. You can add any Halloween shapes you like!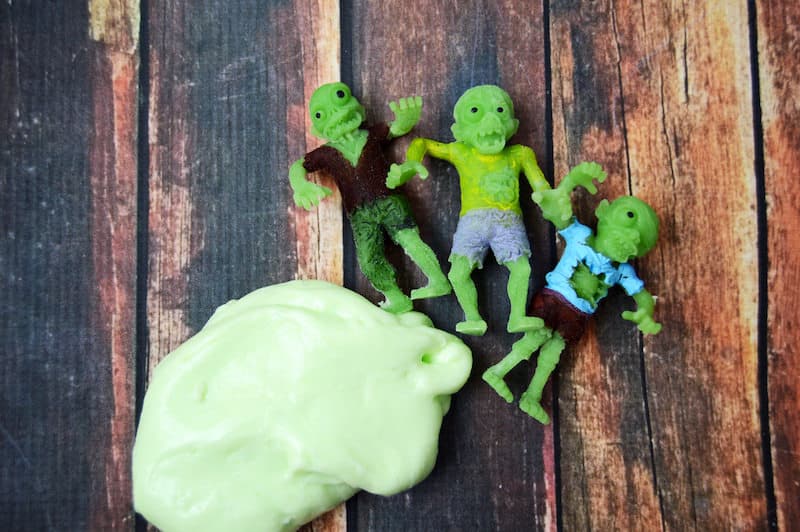 Of course you can also make this Halloween slime in any color, but I think the green is just perfect for the holiday. Plus it's very "matchy-matchy" with the zombies. They may be dead, but they still like to coordinate!
The base recipe for this slime is three ingredients, then you add the food coloring. I'm guessing you probably have most (all?) of these ingredients on hand already.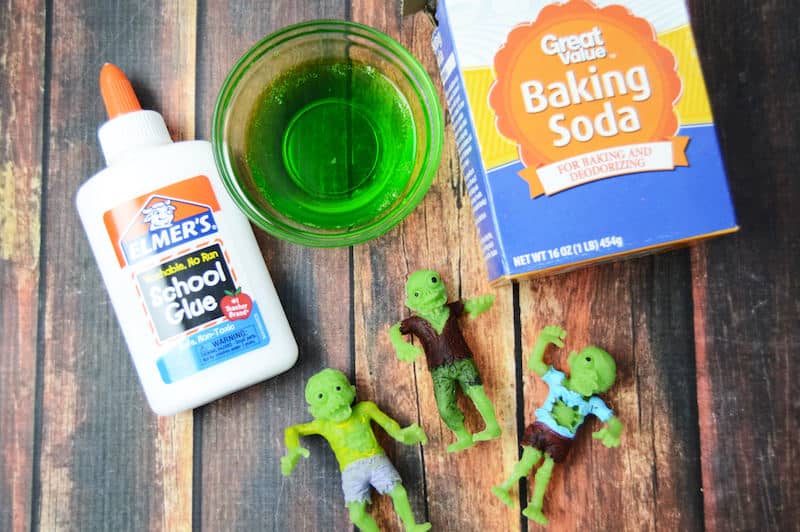 Zombie Halloween Slime Recipe
Gather These Supplies
1 4-oz bottle of Elmer's glue
Neon green gel food coloring
Clear laundry detergent
Baking Soda
Water
Rubber Zombie toys
In a small container, mix 6 tablespoons of clear laundry detergent with two to three drops of neon green gel food coloring. Set the mixture aside for later use.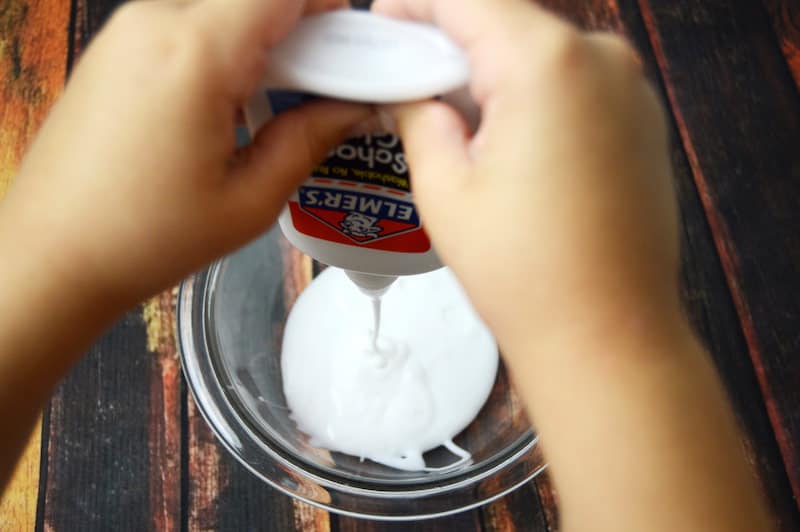 In a large glass bowl, empty the container of glue. Add in a teaspoon of laundry detergent to the glue at a time, mixing in between each teaspoon, until the mixture starts sticking to itself instead of the sides of the bowl. We had to add about 6 teaspoons until it reached the color and consistency we wanted to achieve.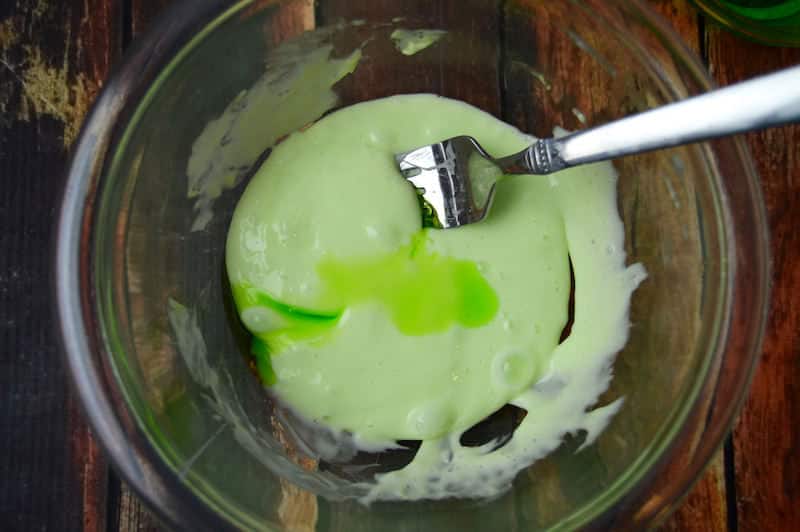 The mixture will still be sticky. To make the slime into a non-sticky slime, you will need to add in a mixture of baking soda and water. Mix one tablespoon of baking soda with six tablespoons of water.
Add a tablespoon of the baking soda and water mixture to the slime, and roll it around with your hands. Knead the mixture until it becomes a soft slime. Add in a teaspoon more of the baking soda mixture at a time, if needed.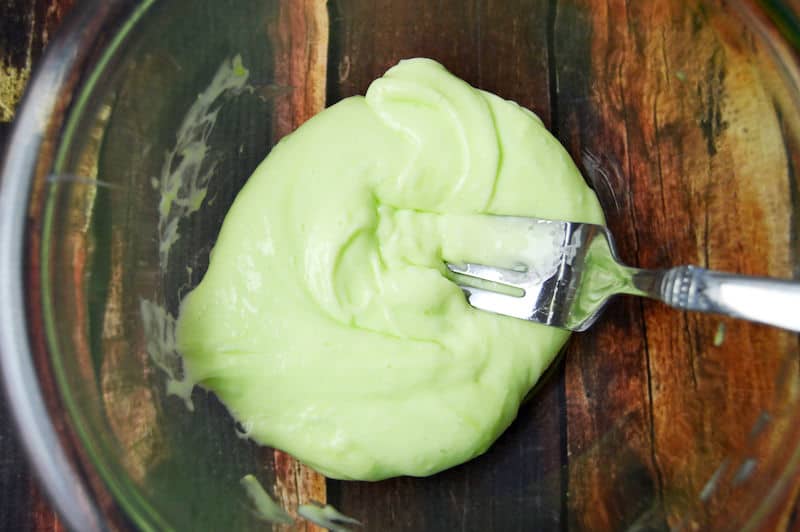 Once the slime is no longer sticky, you can add in your zombie toys. Press them into the slime and roll them around like they're been trapped in toxic waste! The toys we found were soft and rubbery and worked great for little hands to play with and squeeze.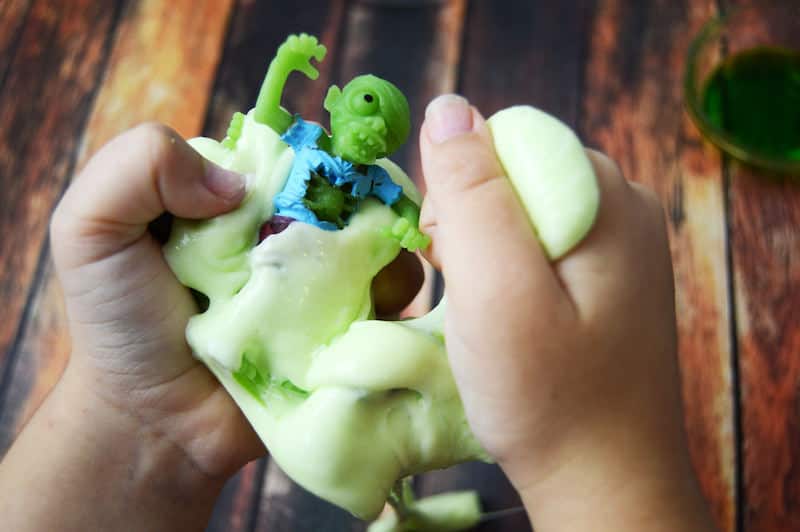 If you want to remove the zombies when you're done, just pull them out of the Halloween slime. The slime isn't sticky and will come off quite easily, making clean-up a breeze. Your slime can be stored in an airtight container for later play. Keep in a cool dry place for best results.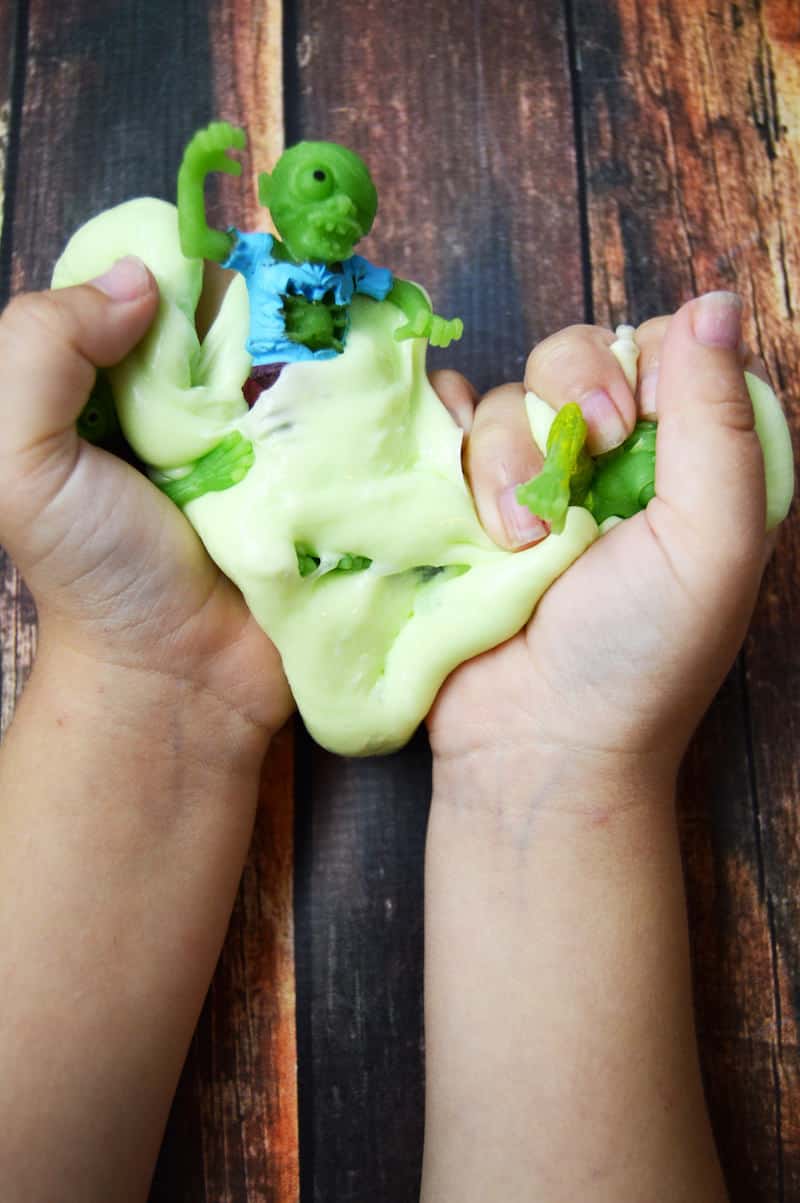 ---
Do you love this zombie slime recipe? Then check out these other posts I think you're going to love!