Scrabble tile crafts are some of the easiest DIY projects you'll ever do – here are 12 of the best ideas on the internet to get you inspired.
Recently I made some Scrabble coasters – not by any means an original project, but fun and easy. As I was making them I realized how fun it was to craft with the tiles, and that there are a ton of other things you can make with them.
Who doesn't love a surface with built in letters on top, right? If you are interested in Scrabble tile crafts, I've got a collection of 12 to get you started.
If you don't want to ruin your Scrabble game, never fear . . . just search Etsy or Ebay for bags of salvaged letters. But before you do that, scroll down to see these awesome Scrabble crafts.
Scrabble Tile Crafts
You can make the coasters spell four letter words of your choice, or just put the tiles at random.
Make coasters using Scrabble tiles at Mod Podge Rocks
These wine charms are perfect so you don't actually take a slurp out of the wrong glass.
Scrabble wine charms at Living Like the Kings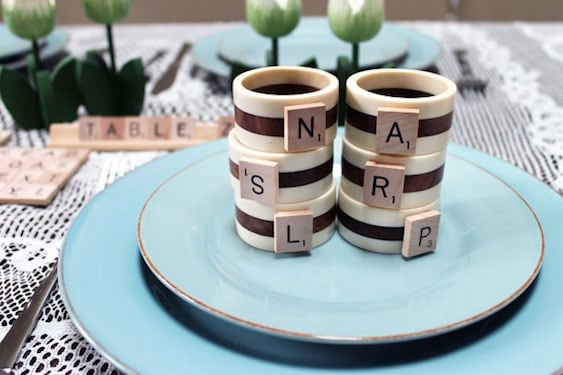 Use Scrabble tiles on napkin rings to personalize your party decor, and they are perfect for labeling place settings as well.
5 ways to reuse Scrabble tiles at Brit + Co
These garden markers are colorful, easy and downright cute-tastic. While the original tutorial is no longer available, you're going to paint craft sticks and let dry. Then you're going to use stamps to make the words, minus the first letter (which you'll use the Scrabble tile for).
Stamping the letters takes a little practice due to centering and spacing the letters. I would suggest painting a few extra craft sticks to be prepared. Or, if you do mess up, simply paint over the stamped letters, let the paint dry and try again.
Hot glue the tiles at the top when you're done stamping. Coat painted craft sticks and letter tiles with a clear sealer to protect them from water damage, if desired. Make extra garden markers to give as gifts with other gardening items like seeds, pots and gardening gloves.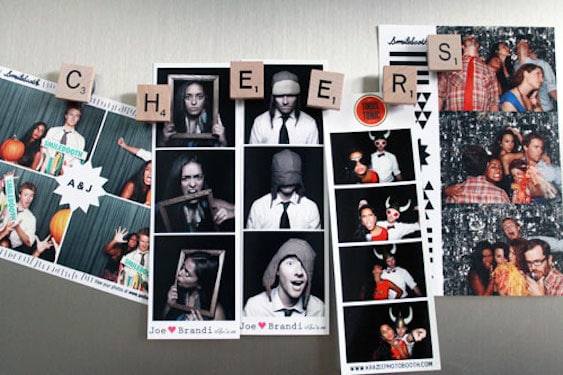 Alphabet magnets are pretty cool, but I love Scrabble tile magnets too.
5 ways to reuse Scrabble tiles at Brit + Co
Use the tiles to make these fun keychains that work as backpack charms as well. Spell anything you like!
Scrabble tile keychain or backpack charm at Kids Activities Blog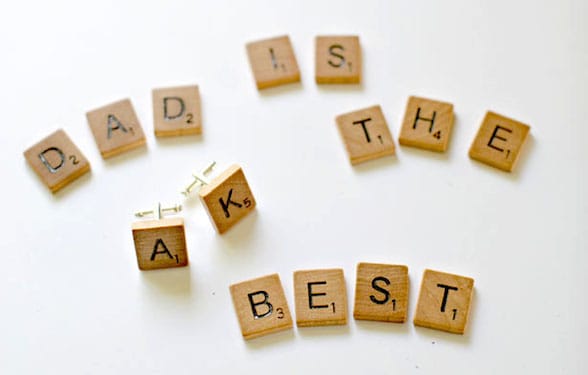 These DIY cufflinks would look great with initials, and make perfect Father's Day gifts.
DIY Scrabble cufflinks at hello, wonderful
How do you say welcome in several languages? Here's how – and it looks great displayed as art.
Welcome x 7 at Alvorada
Make a necklace with the saying of your choice – names work too.
Scrabble tile necklace tutorial at Jewels of Sayuri
Decorate any holiday wreath with the festive saying of your choice.
Make a burlap Scrabble wreath at Tatertots & Jello
Have you ever noticed how Scrabble tiles are sometimes different colors? Take advantage of that with this unique pixel art.
DIY Scrabble pixel art at Belrossa
How do you make faux snow? Why with texture paint, of course.
Scrabble tile ornament – let it snow at Spoonful