Learn how to make flower pens using a fun craft material – duct tape! These DIY flower pens are easy enough for kids or adults. SO fun!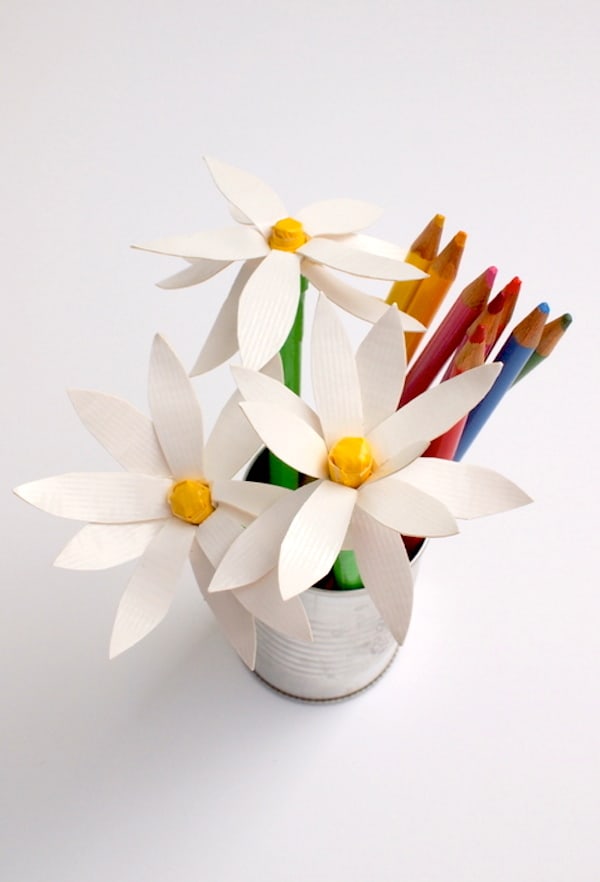 I love beautiful stationery and pens. If left to my own devices, I could spend hours walking through the stationary section in a store. Are you the same way? If so, then today's duct tape crafts tutorial is for you!
Here's an easy way to transform a plain old pen into a super cute and happy daisy pen. These flower pens are so easy to make, you'll soon find yourself with a whole bouquet to keep for yourself or give away!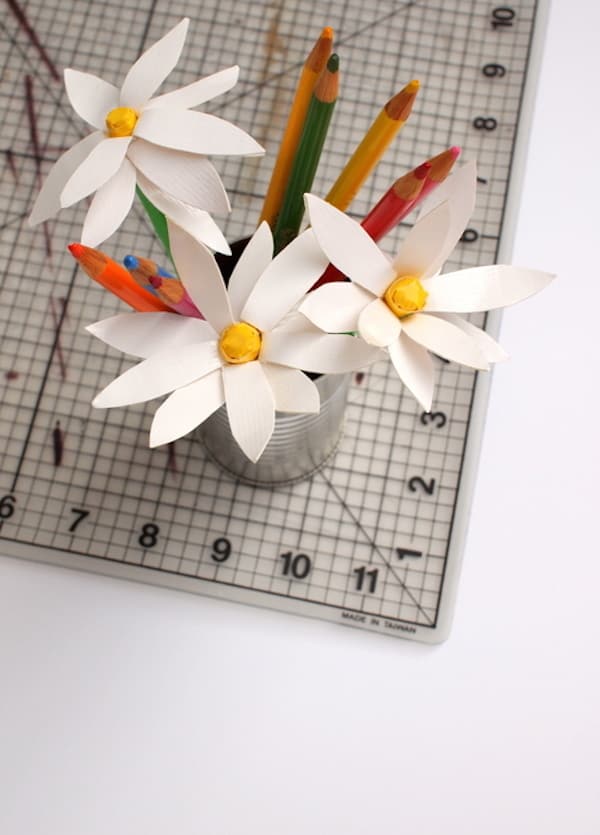 How to Make Flower Pens
Here are the materials you'll need: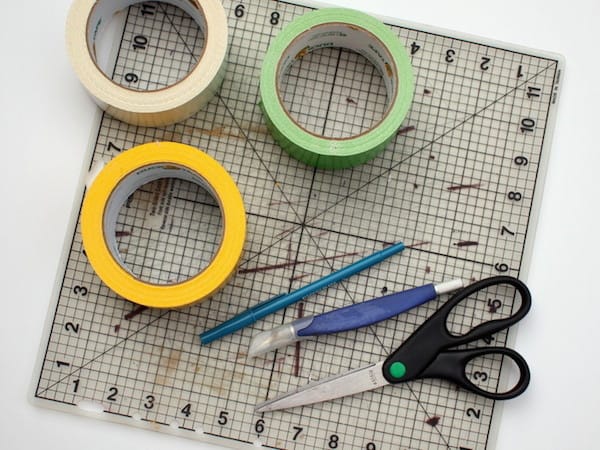 White, Yellow, and Green Duct Tape
Pen with caps
Self-Healing Cutting Mat
Scissors
Let's make some daisy pens!
First, we're going to make the yellow center of the daisy.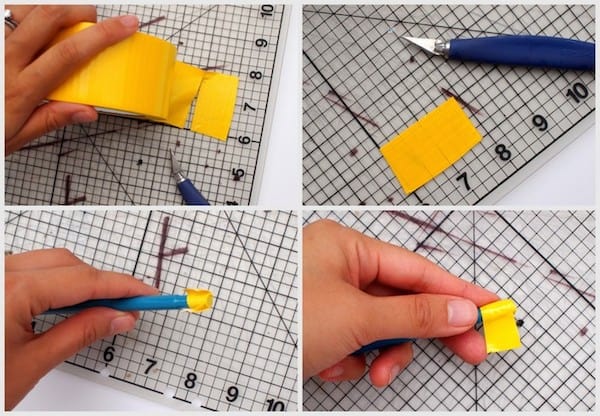 1. Cut a piece of 1 inch long yellow duct tape. (To cut duct tape, simply pull the tape and press it down onto your cutting mat. Then, use a craft knife to cut the tape.)
2. Use your craft knife and cut out a square and two rectangular pieces from your piece of yellow duct tape.
3. Wrap the square piece over the top of your pen to cover it.
4. Use your rectangular pieces to wrap around the edges of the square tape. This will ensure that it stays put and the ends looks neat.
Now we're going to transform the pen's barrel into a daisy stem!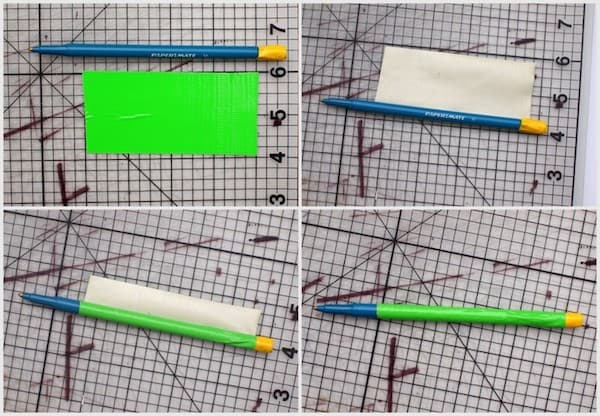 5. Cut out a piece of green duct tape (using the same method in step 1) that's about 4 inches long. (The piece of duct tape should be long enough to cover the barrel of the pen while leaving about a ½ inch of pen exposed for the cap to fit comfortably on.)
6. Flip your piece of duct tape over (sticky side up) and place your pen on the bottom of the duct tape.
7. Then, carefully roll the pen over the duct tape to create a stem.
Now we're going to make the petals!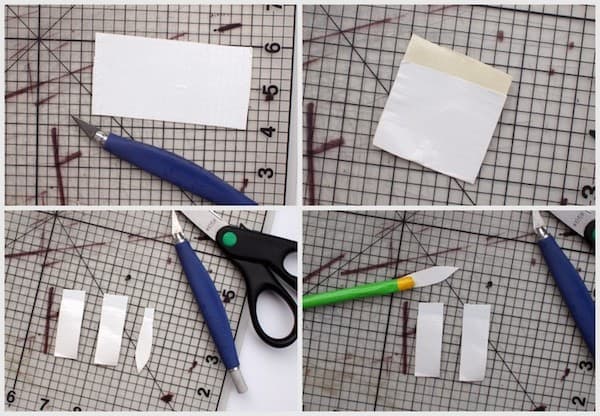 8. To make petals that are about 1 ½ inches long, cut out a 3 ½ inch piece of white duct tape (using the method from step 1).
9. Fold the tape over and press down, leaving a bit of sticky side exposed. (This sticky part will secure your petal to the pen.)
10. Use your craft knife to slice the duct tape into three approximately equal pieces.
11. Then, use a scissor to cut out the petal shapes and use the craft knife to trim the sticky end. Now stick your petals onto your pen.
12. Once your daisy has enough petals, it's time to cover up the bottoms of your petals. Cut out a piece of green duct tape (using the same method as in step 1) and wrap it around the base of your petals. This will hide any uneven ends and ensure that your petals stay put.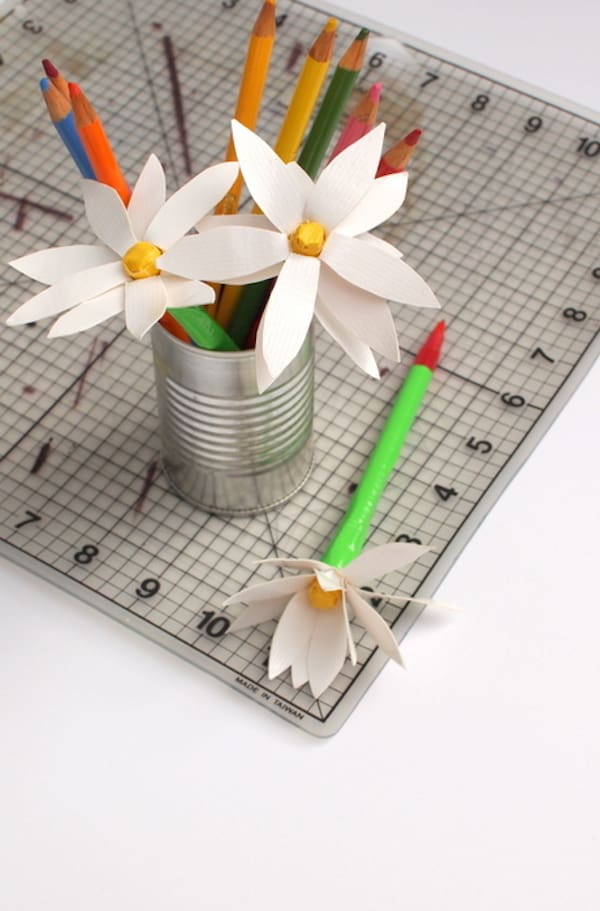 Easy-peasy, right? Now enjoy your lovely bunch of daisy flower pens. They're sure to brighten up your day every time you use them! And if you want to make other flowers, you can just follow the same tutorial and change the colors of the petals and center.
Happy crafting!
Hi! I'm Leslie. I'm a mom, cardboard hoarder, and kids craft enthusiast! You can check out my everyday crafting adventures at www.PinkStripeySocks.com. Or, you can find me on Facebook, Instagram, Pinterest, and Twitter.