If you've always wanted to do some reclaimed wood projects, then this collection is for you. I can't get enough of these cool repurposed barn wood projects – I want to try them all!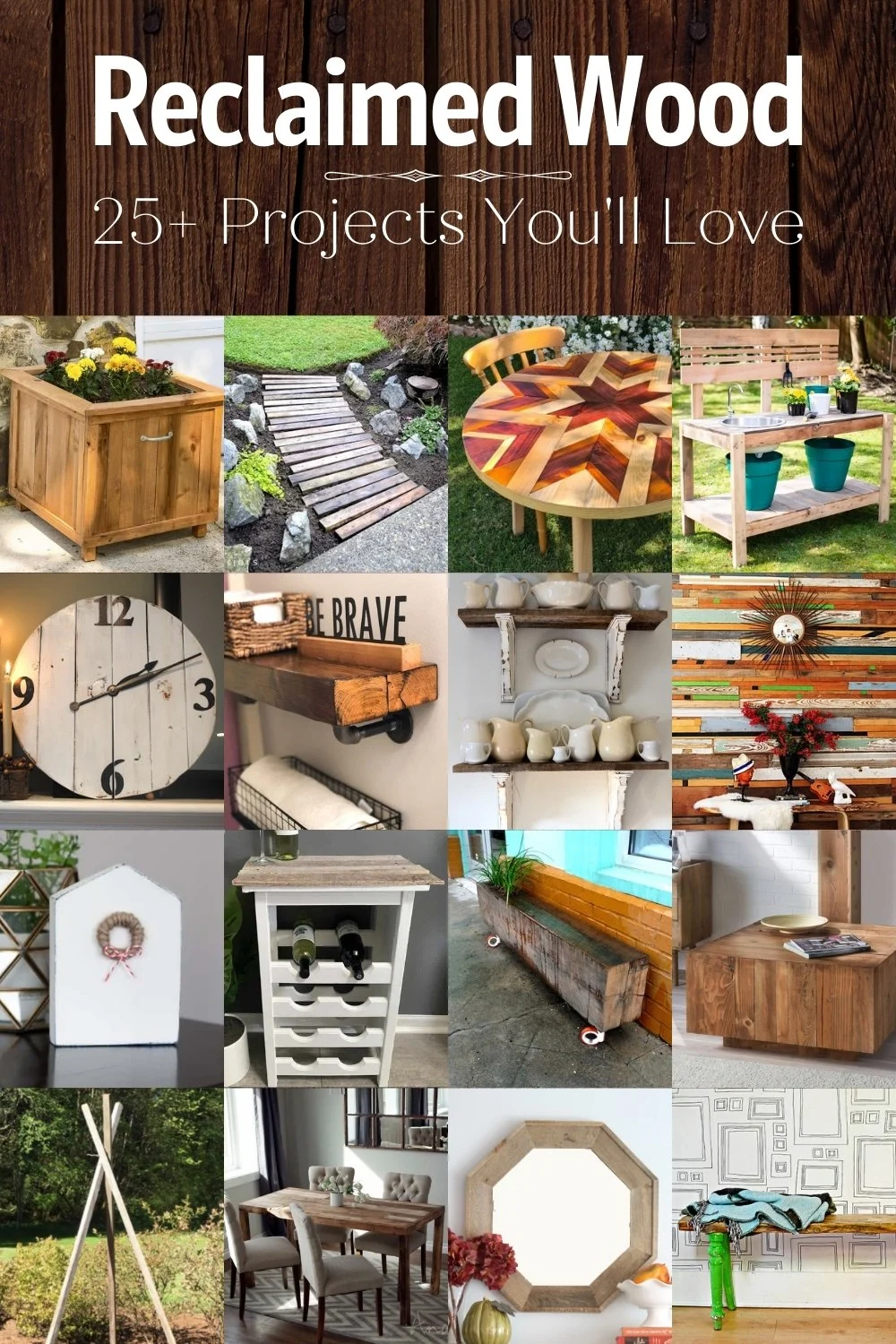 I never thought about making things with reclaimed wood before, but lately it's a trend I can't ignore. And then all of the sudden I am noticing pallets near the dumpster behind the coffee shop.
I think it's time for me to join in and make one of those cool reclaimed wood projects. You know, something cool out of repurposed pallet or barn wood!
Reclaimed Wood Ideas
My building skills are limited, but luckily there are quite a few tutorials out there that can help me figure it out. If you've always wanted to make something with reclaimed wood, this collection is for you.
Where to Get Reclaimed Wood
You can buy reclaimed wood, but I recommend trying to get it for free first. There's nothing like doing a repurposed wood DIY when you got all of your materials at no charge! Here are some ideas:
Place an ad in the local paper, on Craigslist, or on Freecycle. Sometimes communities even have their own Facebook pages or groups! Let people know you are looking for old wood or pallets to take off of their hands and how to get in touch with you.
Look behind grocery stores or furniture stores for old pallets. If you see they have some in the back, go to the manager of the store and ask if you can have them. Never just drive away with pallets . . . you could get caught on camera :0
Call local contractors, especially those who specialize in remodeling. They might have some projects coming up that involve wood removal, and will be happy to give you the extras that they won't have to pay to dispose of.
Contact an excavator. Sometimes excavators take down barns(especially when they build new subdivisions) and will have access to old lumber that you can use.
Are you ready to see some projects? Scroll down to see them.
Reclaimed Wood Projects
Tables, a walkway or even an entire wall! There are so many cool reclaimed wood projects DIY out there. Here is a collection of over 25 ideas.
---
If you've always wanted to do some DIY wood ideas, then you'll want to watch this video I made – I show you four places you can get reclaimed wood to use in your DIYs:
---
If you enjoyed these reclaimed wood projects, I think you're going to like these other posts: