If you want to decorate for Halloween without breaking the bank, get festive with one of these 15 recycled Halloween crafts!
I think everyone should decorate for Halloween! That's because it's my favorite holiday, so of course I go all out. I also realize that decorating for the holidays can be a little bit expensive . . . so what if you want to celebrate but don't want to spend the money?
That's where these recycled Halloween crafts come in! Use this collection of great ideas to add a festive touch to your decor without breaking the bank. All you need to do to get inspired is scroll down. Which of these Halloween crafts is your favorite?
Recycled Halloween Crafts
You can use any recycled glass jars along with tissue paper and decoupage medium to make these festive lanterns.
How to make upcycled Halloween luminaries at Creative Green Living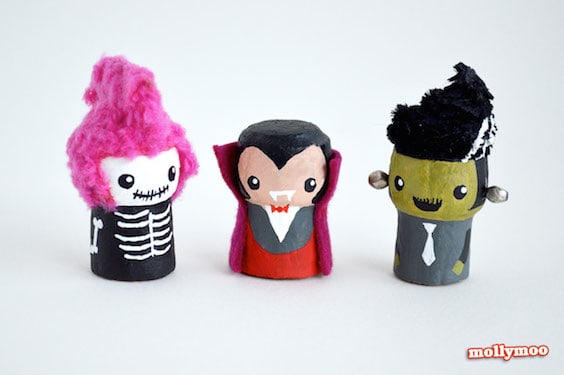 These could be the cutest Halloween monsters I've ever seen – and they are made from old corks.
Wine cork toys at Mollymoo
Don't throw those old wine bottles away – add paint to turn them into pumpkin creatures.
Wine bottle jack o' lanterns at Instructables
You can make an awesome Halloween centerpiece out of an old torn or damaged book.
Ghost book pop-ups at Better Homes & Gardens
These cute Halloween bowls are easy to make with paper bags and acrylic craft paint.
Paper bag bowls at The Long Thread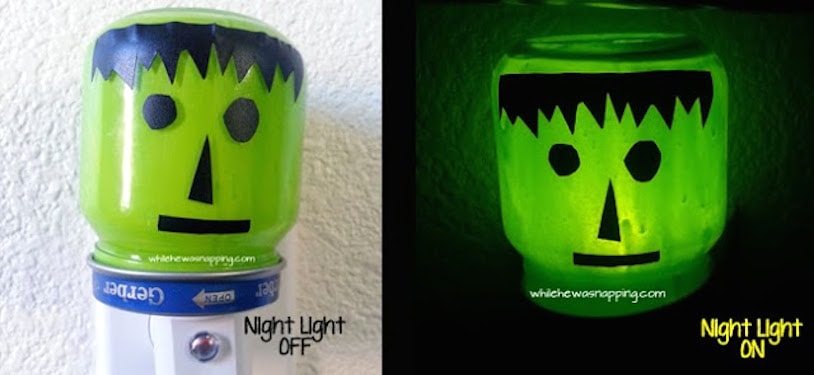 Turn old baby food jars into the most adorable night lights ever.
Halloween night light at While He Was Napping
Miya used boxes, a cardboard roll, and a soda bottle to make this recycled Halloween chandelier.
Cardboard chandelier at Jellyfishjelly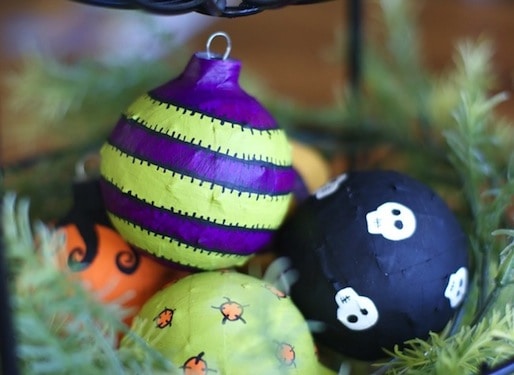 Use old Christmas ornaments and newspaper to create Halloween ornaments.
DIY Halloween ornaments at Mod Podge Rocks
Use old paper bags and Mod Podge Stiffy to create a gothic inspired candy bowl.
Recycled Gothic Halloween bowl at Plaid
Walter used an old box and plastic bottle caps to make a fun Halloween tic-tac-toe game.
Halloween tic-tac-toe at Mod Podge Rocks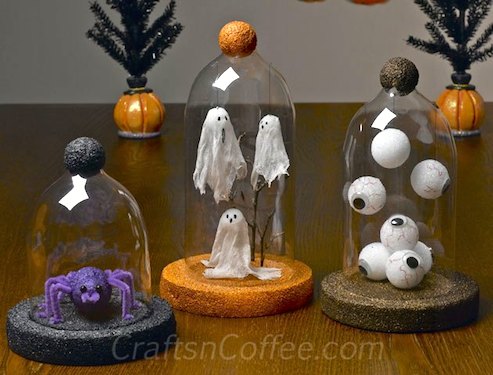 Make faux cloches using 2-liter bottles – and put any kind of Halloween knick knacks you want inside.
Ghosts in a cloche at Crafts n' Coffee
Use old plastic bottles and your favorite paint colors to make these candy holding monsters.
Monster mash at Craftberry Bush
Use an assortment of old bottles along with matte black paint to create these potion bottles.
Witches potion bottles at Instructables
Plenty of thrift stores have old keyboards – and you can use the keys to make a fun pumpkin!
Keyboard pumpkin at C.R.A.F.T.
Do you have a few extra milk cartons? Save them and turn them into a happy skeleton.
Milk jug skeleton at MAKE