If you are looking for a fun project to do while sitting on the sofa, this yarn art is it. Make yarn wall art out of any word using cardboard and simple wrapping!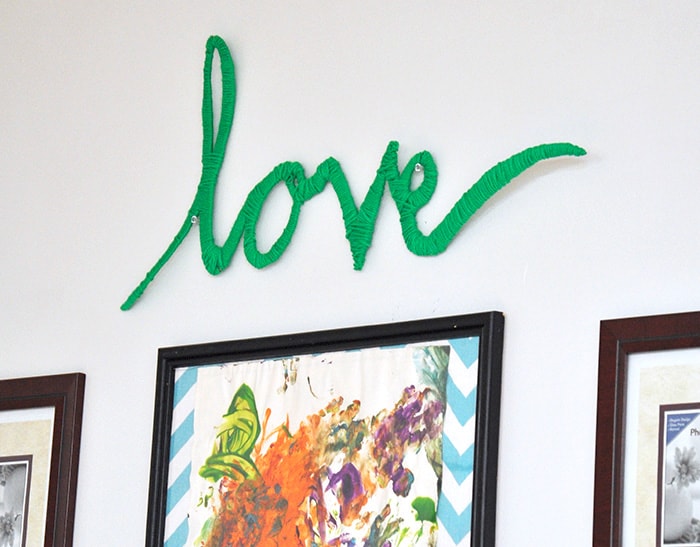 If you are looking for a fun project to do while sitting on the sofa – with the end result being something useful you can hang on your wall – this wrapped yarn wall art is it. You just need about an hour and a few simple supplies. Oh, and you don't need any craft skills. ANYONE can do this project.
There's a video tutorial at the end of this post showing you the process. Scroll down to see it!
Versatile & Inexpensive
Keep in mind that you can make any word (or quotes) that you like. This yarn art is just about as cheap as it gets, and if you've already got a skein of yarn and a piece of cardboard, it's free. The design works anywhere from the living room to the bedroom.
What Kind of Yarn Works Best?
You'll likely want to use a medium weight yarn at least for this project. Anything too bulky will look strange, and if it's too thin you'll be wrapping forever. The type of yarn (polyester, cotton, etc) doesn't matter. Any kind will do, as long as you like the color and design! You're only going to need one skein for something 8″ x 14″ like this.
Choosing Your Surface
A heavy duty moving box type cardboard is the thickness you are going for. You want the cardboard to be stuff so that when you are wrapping it with the yarn, it doesn't bend or rip off. The stiff cardboard also ensures that your yarn art will be stable on the wall.
Here's how this yarn wall art is done!
Wrapped Yarn Wall Art
Gather These Supplies
Piece of cardboard
Scissors/X-Acto knife
Marker
Tape
Yarn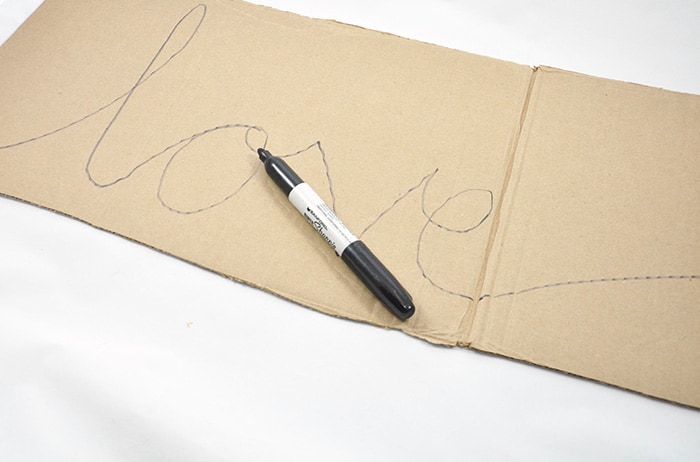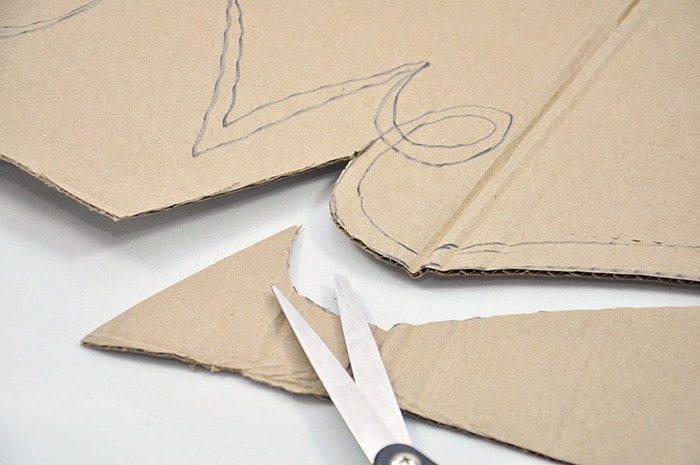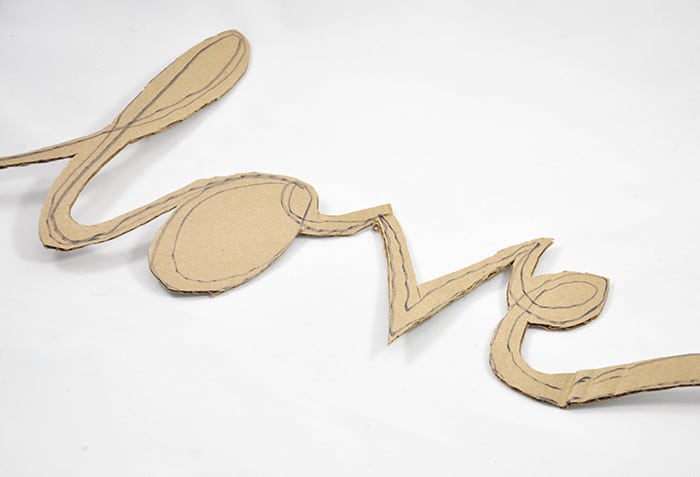 Take the cardboard piece and use a marker to draw out the word of your choice. Then go back and thicken the letters by making a second line. Cut out the word with scissors or a craft knife.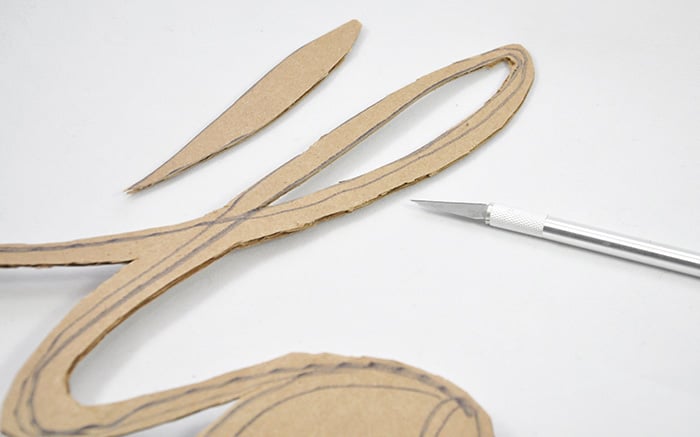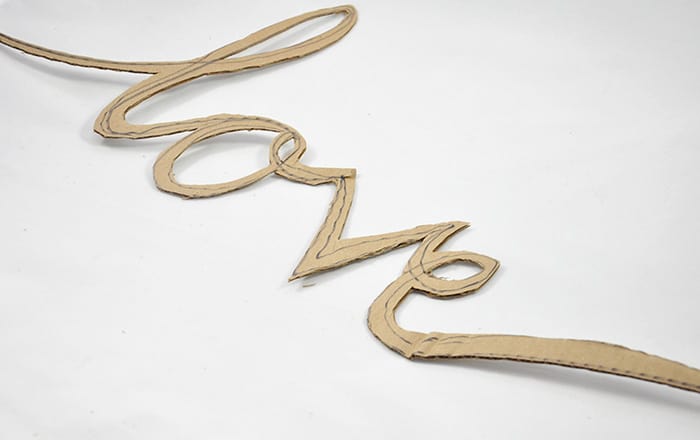 Use an X-Acto knife to cut out the middle spaces of any letters that have them. Note: when you're going around a curve with your craft knife, it's easier to move the surface below the knife than the knife itself. Trust me – try it!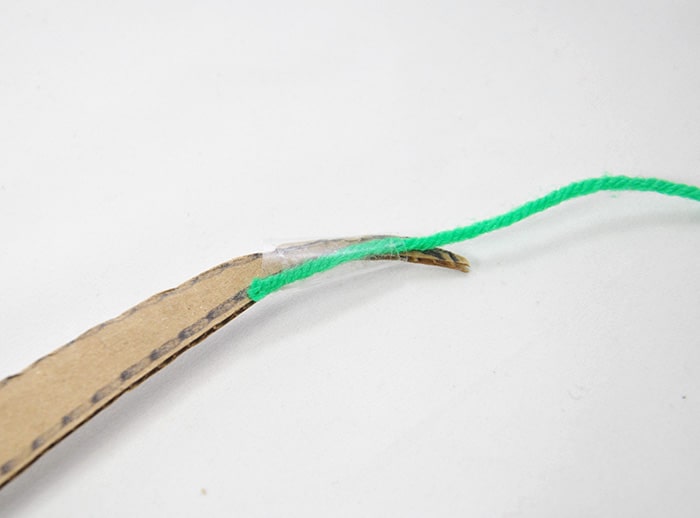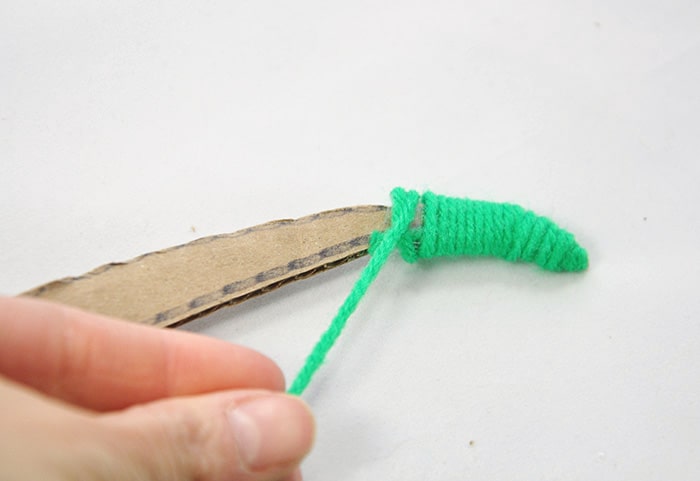 Take the end of the yarn and tape it to one end of the word. Start wrapping the yarn around the cardboard, covering the tape. This is when you can take your project over to a couch and sit for a bit. Wrap the yarn around the letters, covering the cardboard. Depending on the word, this step might take a few minutes to about an hour.
In areas where you have multiple parts to wrap, you can cut the yarn, tape on the back, and start wrapping again.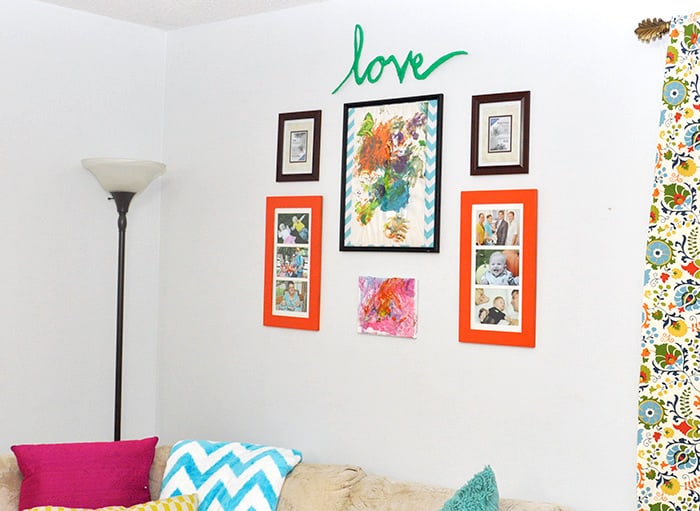 The end result of your yarn wall art project is totally worth the time spent, and it makes a great conversation piece when company comes over. Wouldn't this be great in a dorm room as well? I know so many college kids that would love this!
How to Hang Your Yarn Art
All you'll need are some thumbtacks or finishing nails. Just spread the yarn apart in one area and hammer into the wall! You'll only need 2 – 3, so there will only be a few small holes in the wall. Of course if you don't want holes in the wall, use Velcro Command strips. This art is so lightweight!
Want to see a video tutorial of how to make this project? Check it out:
And if you're ready to try some additional easy and budget friendly wall art, learn to make canvas wall art with glue! Just click the image below: