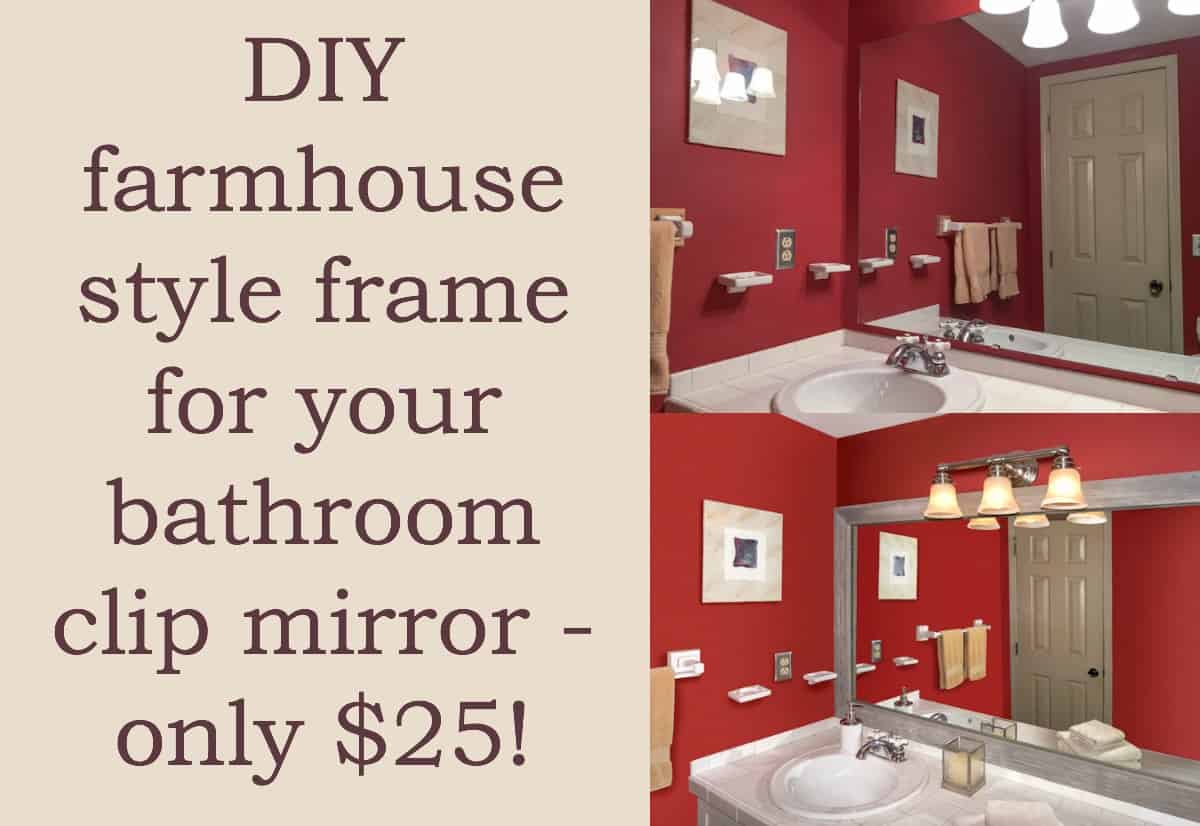 You know those clip mirrors in the bathroom? They can be kind of ugly. Or just feel unfinished. I'm going to show you how to make a DIY mirror frame for one of those clip mirrors – and HANG the frame so it's easy to remove – and do this for $25!! The one that we made was for a friend's bathroom and she wanted farmhouse style, so that's what we ended up doing. This DIY mirror frame is awesome because it adds some barn wood flair to the bathroom, and it turns something boring into something a bit more spectacular. It's a small touch makes a BIG difference!
Now, our situation is a bit different in that the bathroom mirror had fallen and broken, so our friend had to purchase one to start the project. A 3′ x 5′ frameless mirror is about $50. I wanted to point this out because you might be thinking "why not just buy a mirror with a frame since you needed a mirror anyway?" I'm glad you asked. A 3′ x 5′ mirror with a frame was over $300, not to mention it wasn't exactly the style we wanted. This DIY mirror frame only adds $25 in price to the $50 mirror!
DIY Mirror Frame for the Bathroom
Gather These Supplies
3 1" x 4"x8" pieces of faux barnwood from Home Depot
1′ x 2′ cut to a 4 ½' length
(3) 3" wood screws
(3) ½" wood screws
(4) Kreg Jig screws
Wood glue
3 frame hanger loops
4 – 6 spring loaded mirror clips (optional)
Tools
Miter saw
1 hole Kreg Jig
Drill with bits and a Philips head screw bit
Level
Stud finder (optional)
Before you build the frame: If you don't have your mirror hung, you'll need the spring loaded mirror clips, the six 2 1/2″ wood screws, and the stud finder. You'll use the stud finder to locate the studs so you can attach the clips to them with the wood screws. We ended up using 3 clips on the bottom and three clips on the top. If you use a tape measure you can do this step fine by yourself – but it also helps to have another person around!
This is the 1"x4"x8' barnwood we bought from Home Depot. It was less than $8 a piece! We needed three pieces to make the frame.
From the three pieces of barnwood we cut (using the miter saw):
(2) 3' 7 ½" pieces to go down the sides
(2) 5' 7 ½ " pieces to go across the top and bottom
Again using the miter saw, we cut 45° angles at each end of all four pieces.
Now this is where we did something a little different than the other DIY mirror frame projects you'll see online. We used a piece of 1′ x 2′ cut down to 4 1/2′ as a frame hanger. We had a scrap of 1′ x 2′ laying around. But if you don't, they are only about $1 – 2 at Home Depot depending on availability. Sometimes the lumber cutters give you a scrap if you ask nicely!
You'll center this 4 1/2′ piece about the mirror and anchor it into the wall using the 3″ wood screws. You might need the stud finder again because you'll want to make sure you go into the wood studs.
After your 1′ x 2′ is mounted, you'll put three evenly spaced 1/2″ wood screws into that piece. Don't screw them all the way in; leave them backed out about ⅛ " leaving room for the frame hanging loops.
Now start assembling the frame. Using a Kreg Jig, drill a pilot hole for the attachment screw in the center of one of the pieces at each join (it doesn't matter which one).
Then glue, clamp, and screw to create the frame. You'll do this four times and the frame will be formed.
After the frame is assembled, mount the three  frame hanger loops to the back of the frame at the top to align with the screws that you placed on your 4 1/2′ wood piece. Use a tape measure to make sure you locate the frame hanger loops in the same place as the screws.
Your DIY mirror frame is ready to hang.
It adds a bit of farmhouse charm to the bathroom, don't you think? And it was SO easy! And inexpensive. Our favorite kind of project . . .