Halloween was my favorite holiday when I was little! This collection of 20 DIY kids Halloween costumes are so cute, you'll just have to make one.
I think the whole reason to have a child is to dress him or her up for Halloween. KIDDING! But seriously, mini costumes are way cuter than those for adults, don't you think?
I particularly love the costumes that incorporate felt or hoodies because those materials are inexpensive and easy to find.
But I'll let you decide your favorite. I've put together a collection of 20 DIY kids Halloween costumes for you to enjoy. What are your children going to be this Halloween?
Kids Halloween Costumes
Strawberry Baby
Sew a simple children's balloon dress to make this precious berry costume.
Tattooed Popeye
The ingredients for this costume come from the thrift store and craft store – and all of it on a budget.
Get the tutorial at Being Frugal and Making It Work
Teenie Olaf
Whether your little loves the movie "Frozen" or not, this snowman costume is super cute.
Learn more about how it was made at Craftiness is Not Optional
Sock Monkey
The most awesome part of this costume is that it was made from a men's thrift store sweater.
See how it was done at Homemade Ginger

Cotton Candy
Can you believe this cotton candy is pillow fill? How fun!
Find out how to make it at Costume Works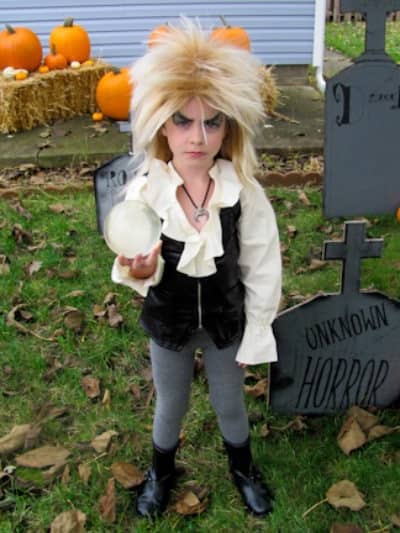 David Bowie in Labyrinth
It's all about getting the right outfit and then adding a crazy hair wig to make your child the Goblin King. This is one of my favorite kids Halloween costumes of all time!
Get more info at My Disguises
Garden Gnome
A plaid shirt, pants and overalls are a good base for this constume – then you just have to make the hat and beard.
Gumball Machine
This ingenious costume uses bowls to hold the gumballs.
Find the instructions at Inchmark

Colorful Piñata
It takes awhile to make this costume with pajamas and felt, but the awesome results are worth it.
Learn how to make it at Costume Works

Sushi and Soy Sauce
These baby sushi costumes are perfect for twins. Now which one is going to be soy sauce?
See more pictures at Etsy shop The Costume Cafe

Felt Owl
You'll need several colors of felt for this costume, but making the cape is easy.
Read how it was made at Martin Family Times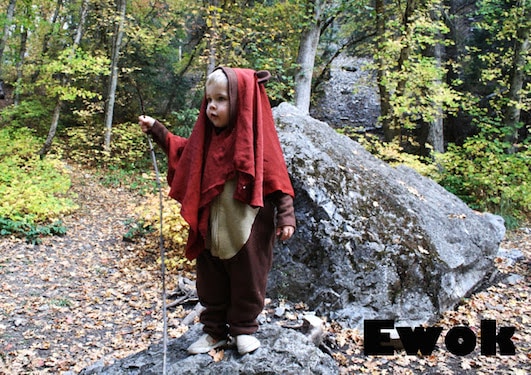 Little Ewok
If you love Star Wars and forest creatures, this costume is perfect for you.
Find the instructions at Running with Scissors
Rainbow Dash
This My Little Pony costume is darling, and can be worn any time of year just for fun..
Get the instructions at Craftiness is Not Optional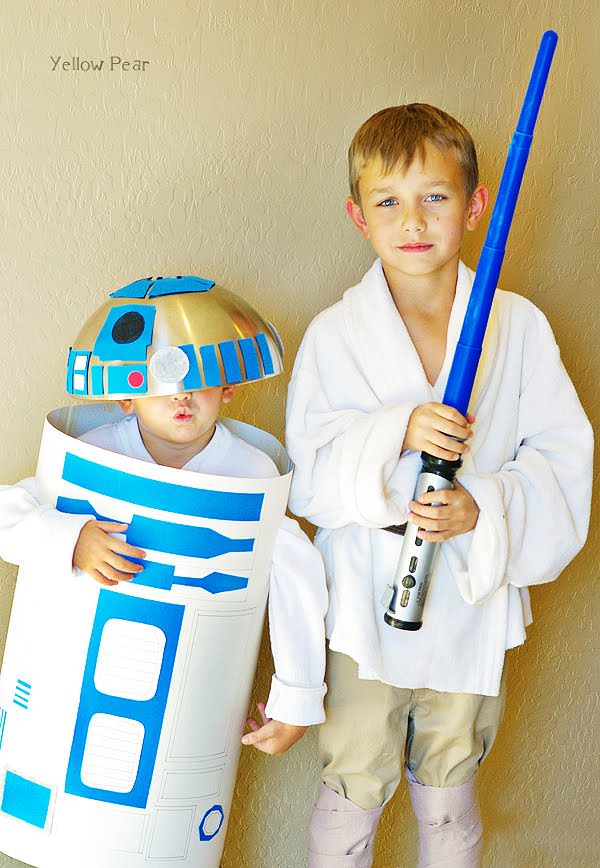 Star Wars
This blog post has an entire collection of Star Wars costumes you'll love. I think my favorite part is R2D2's hat, made from a silver bowl.
See more pictures at Yellow Pear Photography

Red Lego
Turn a plain box into a Lego for an easy and budget friendly costume.
Find the instructions at Country Living

Cute Minion
You'll have to do some sewing to make this Despicable Me character, but I've never seen a cuter minion.
Get the how-to at Running With Scissors

Pumpkin Spice Latte
All hail my favorite Starbucks drink. Though there are no instructions for this costume, it was too amazing not to share!
See more images at Starbucks

Sweet Troll
I think the best part of the costume, besides the nude leotard, is the hair. If your child doesn't have hair that you can mold like this, use a wig.
See more pictures at Jamilia Jean

Army Man
This costume is amazingly easy to put together – with thrift store materials and spray paint.
Learn how to do it at Wild Ink

Where's Waldo
If you loved Where's Waldo? when you were younger like I did, now you can recreate the look with a crocheted hat.