If you love Halloween projects, then these 20 spooky skeleton crafts will be right up your alley. All of these are very creative!
By now you know that I love Halloween; and you should also know that I really, really love skeletons. I affectionately call them "skulligans." There are so many things you can do with skeletons, and the great thing about them is that the projects can be as fun or as spooky as you like.
Sometimes even a spooky looking skulligan has a smile on its face, which ends up putting a smile on mine, too. If you love skeleton crafts as much as I do, check out these 20 ideas ranging from party to home decor.
Skeleton Crafts
Felt Pillow
Have you ever been inspired by something a store and made it for yourself? That is what Rebecca does with her fun skull pillow.
Learn how she did it at The Crafted Sparrow
Bold Wreath
You'll use a ton of felt, a skeleton printable and a bright lime bow to make this cool wreath.
Learn how it was made at Better Homes & Gardens
Potato Stamps
Create using real potatoes – they are perfect for decorating Halloween party favor bags.
Find out how it was done at Martha Stewart
Pumpkin Diorama
Use a fake pumpkin and other accoutrements to make this fun diorama that glows at night.
See how it was done at The Art of Doing Stuff
Spooky Chargers
Use skull artwork and acrylic paint to make cool chargers for a holiday party or display.
Sewn Doll
This little guy has a lot of heart – and you can sew him with the downloadable pattern.
Get the pattern at Totally Stitchin'
Decorative Candles
Add graphics to the sides of plain white pillars using tissue paper and a hair dryer.
Find out how it was done at Wine & Glue
Recycled Materials
These skull lights were created using empty milk bottles – what a perfect Halloween recycled craft idea!
Find out how to make them at Dollar Store Crafts
Glowing Dowels
Make a skeleton head out of dowel rods, then make it glow with Mod Podge Glow-in-the-Dark.
Find the step-by-step at Mod Podge Rocks
Halloween Invite
Want to make a unique Halloween invitation or card? Here's a great idea.
Find the step-by-step at Minieco
Votive Holder
This votive is easy to make with Mod Podge and a female skull cabachon.
Get the step-by-step from Cathie Filian
Glowing Votives
Susan made these impressive candle holders with several fun craft store ingredients including skull coasters.
Get the instructions at Oh My! Creative
Knock Off Vases
Danielle is brilliant; she DIY'd her own Pottery Barn knock off skeleton vases for a fraction of the price.
Get the instructions at My EnRoute Life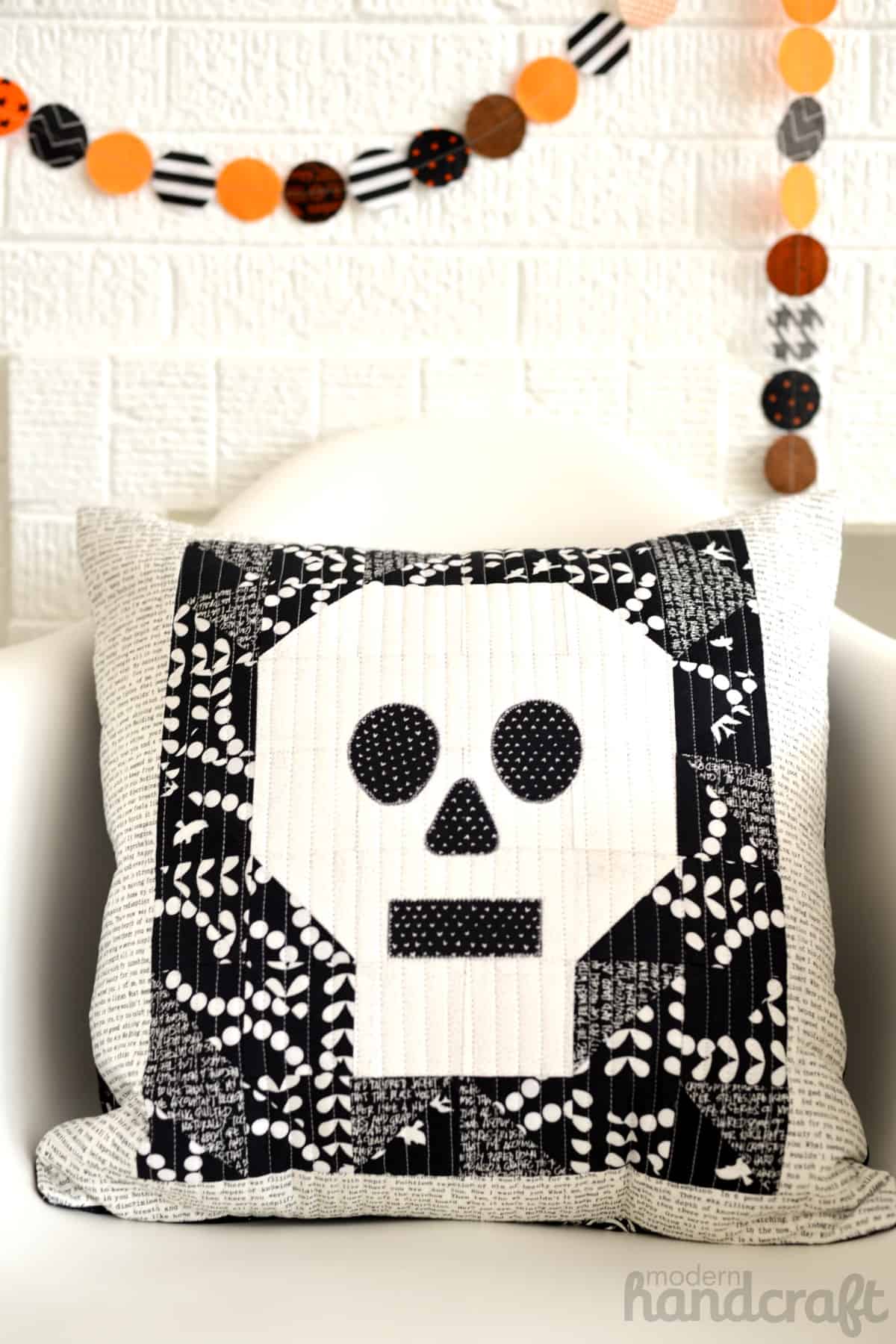 Modern Quilt
I love the modern feel of this awesome skully pillow – and the cool fabric choices!
Learn how to do-it-yourself at Me Sew Crazy
Skeleton Dish
A dollar store skeleton, some glassware and spray paint are all you need to make this spooky dish.
Find out how it was made at Four Front Doors
Glowing Gloves
These glowing skull hands are easy to make with regular surgical gloves and Sharpies.
Get the tutorial at Formal Fringe
Printable Banner
Print out these skull heads and googly eyes to make a fun and festive banner.
Download the printable at The Graphics Fairy
Cookie Pops
Turn a regular circle cookie cutter into a skull shape – then create these delicious pops!
Find the step-by-step at Hello!Lucky
Skull Frames
The best part of these skeleton frames is not how cool they look, but how you can change out the image when you want to.
Find out how they were made at Tried & True
Sock People
This tutorial takes a standard sock monkey and puts a new twist on it.
Find the pattern at Craft Passion
Let me know what you think about these skeleton crafts, and tell me which is your favorite in the comments!