Make these easy DIY concrete candle holders using plastic bottles – the results are kind of amazing . . . I love my new modern decor!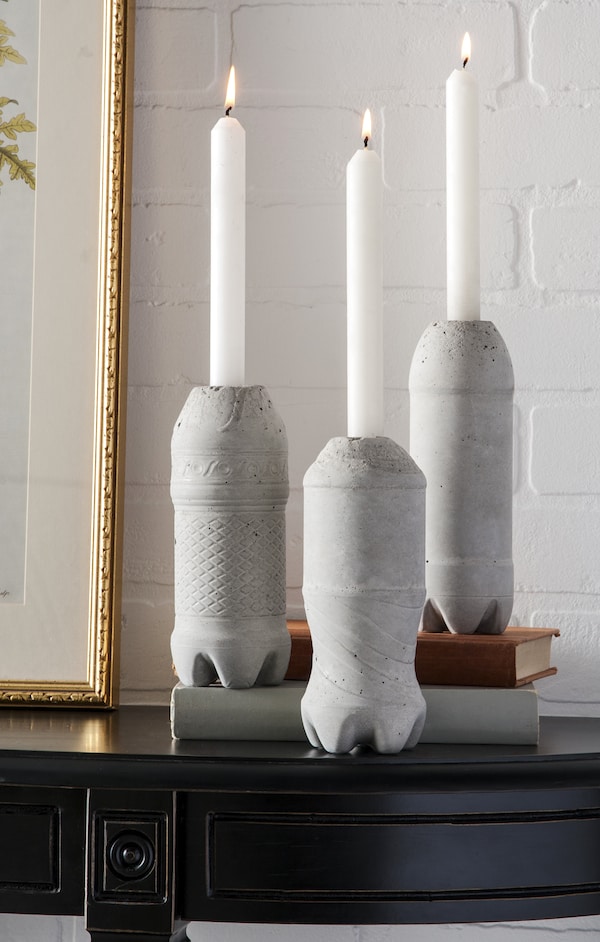 In my DIY concrete project roundup, I told you that my boyfriend wanted to do a home decor project with the stuff, and he finally completed his project. I present to you these cement candle holders made with Quikrete and plastic bottles (among a few other supplies).
He had a great time with them, and I'm having an even more fun time sharing his first project. If you're interested in crafting with concrete, these candle holders are a great place to start.
They look so unique and we've gotten so many comments on them . . . plus they are made using recycled bottles, which is awesome. Here's how they were made.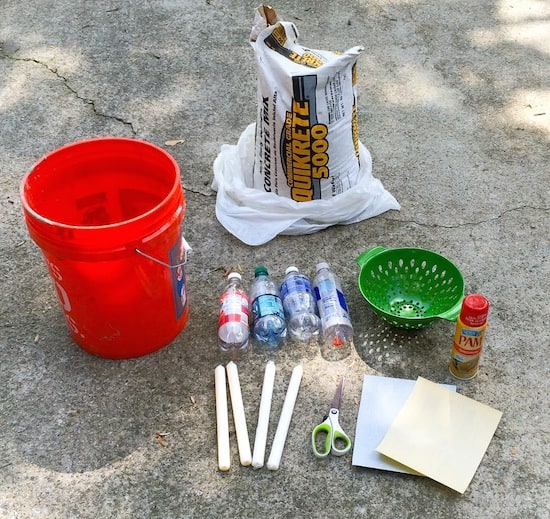 Concrete Candle Holders
Gather These Supplies
Quikrete
Recycled bottles – any size and shape as long as the mouth is wide enough to fit a candle
Bucket
Sifter
Candles
Scissors
Small saw
Razor blade
Cooking spray
Small plastic container
Wood shims (optional)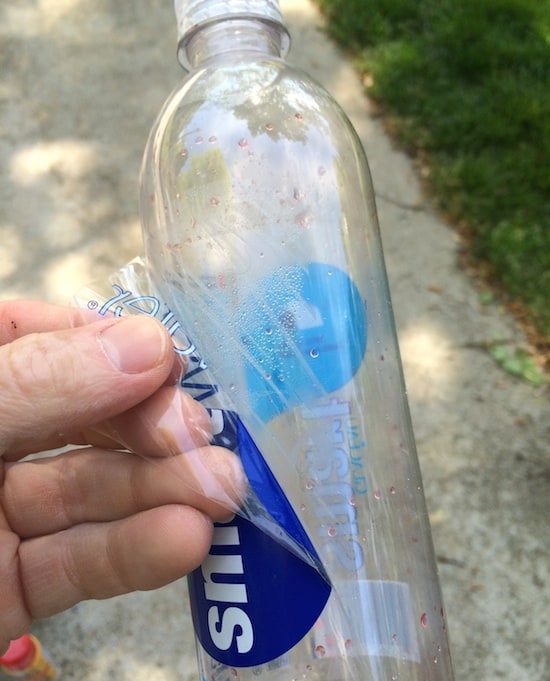 Remove the labels from the bottles if they are thick, and rinse out the insides and let air dry. Just clean them up a little bit.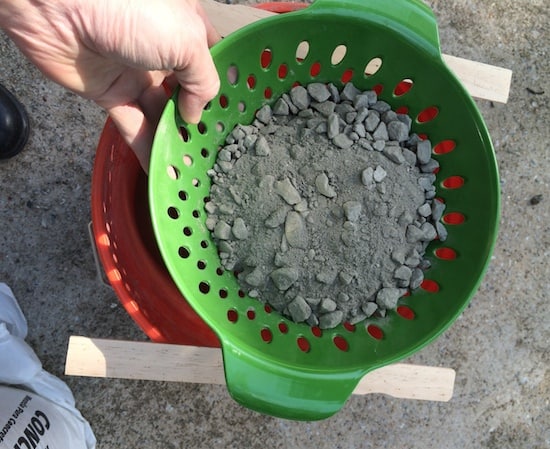 You'll want to sort the bigger stones out of the concrete, so do that using the sifter (aka, the colander). Steve used wood shims to support the sifter over the bucket, but you might not need those depending on the size of your bucket and sifter.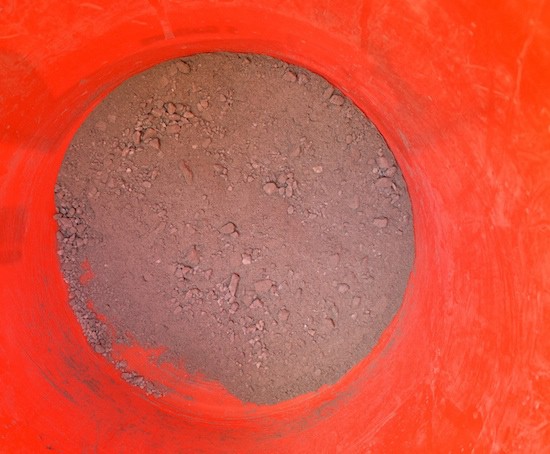 You'll be left with the more fine particles of concrete in the bucket, and you can put the rocks back in the bag or throw them into your garden.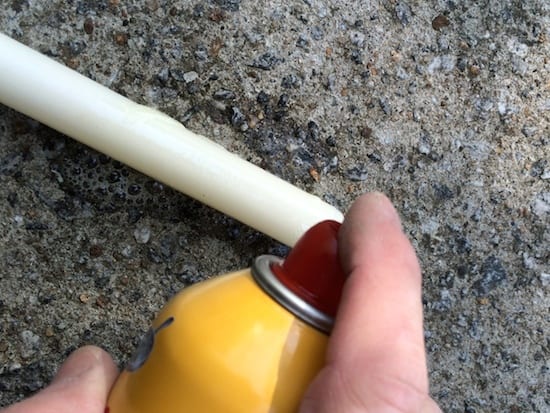 Spray the candles with cooking spray at the ends to get them ready – you'll see why in a minute.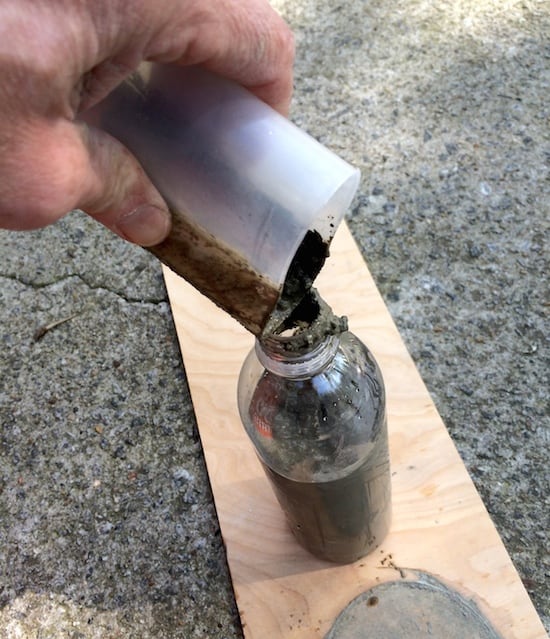 Mix the concrete according to package instructions (you might need to add a little more water) in a small plastic container (Steve used an old Crystal Light container) and pour into the bottles.
Leave a little room at the top. Also when you are done filling the plastic bottles, watch out the Crystal Light container immediately with your hose to save it for another craft project!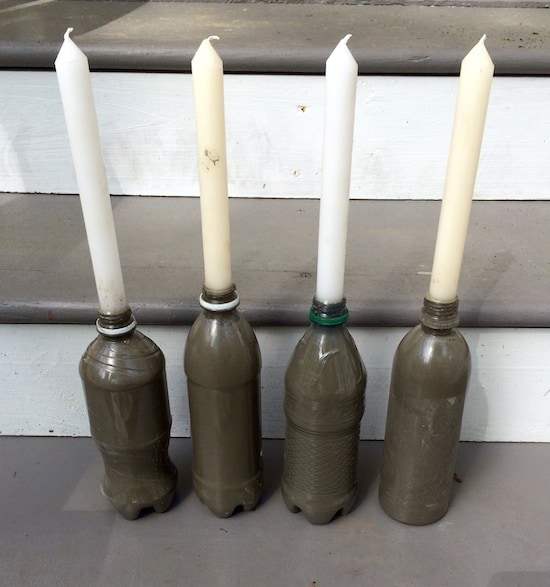 Stick the candles in the top and let the bottles dry overnight in a safe place.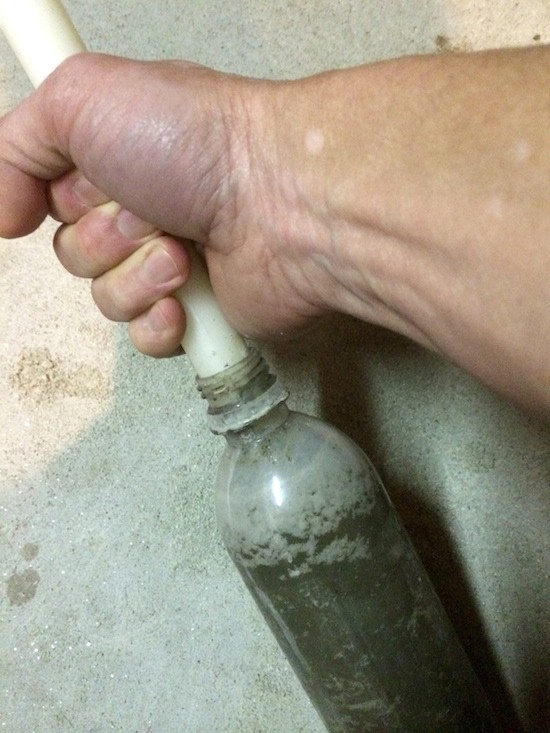 The next day the tops will look dry and the bottoms will still look wet, but it's just because the bottoms haven't been exposed to air and aren't FULLY dry . . . but they are dry enough.
Pull the candles out . . . and that's why you added the cooking spray! The candles should slip out pretty easily.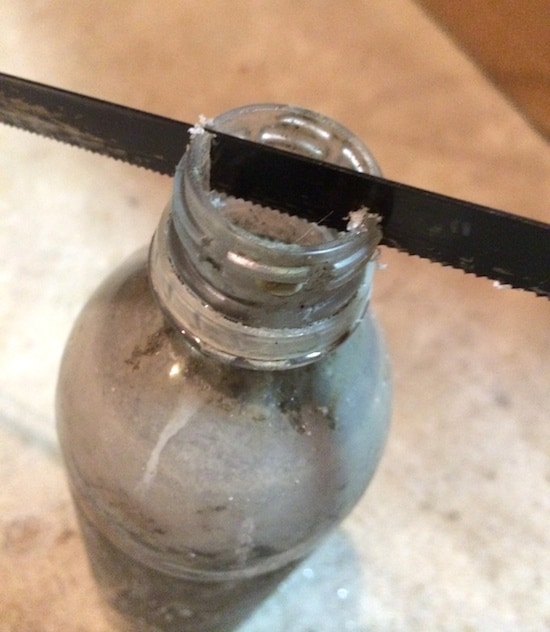 Saw the tops of the bottles to start releasing the candles.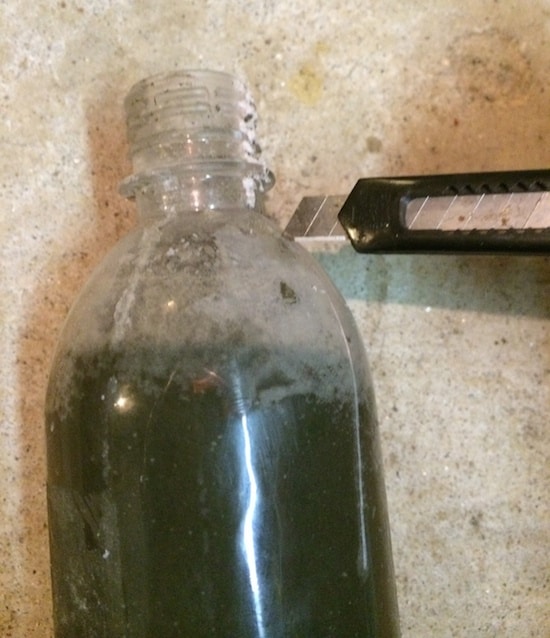 Carefully use a razor blade or box cutter down the side to further release the bottle – don't dig in TOO deeply or you'll mark the concrete.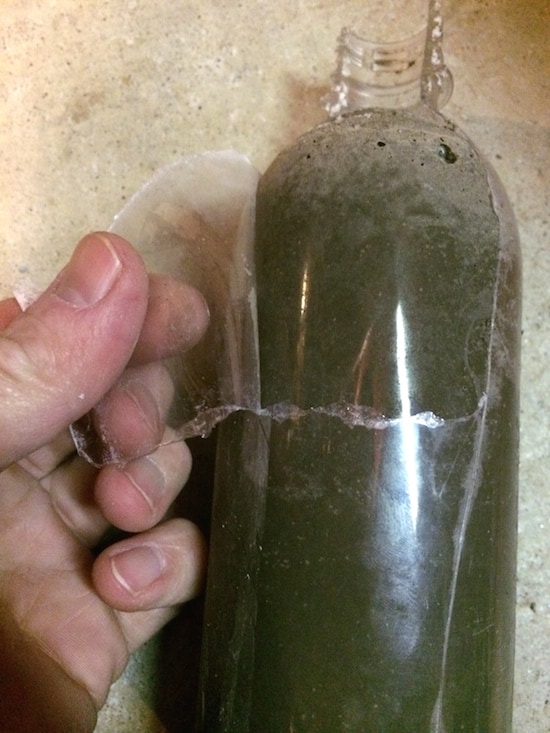 Peel away the plastic and let them dry again overnight. Optional: you can sand, but we didn't need to. They look amazing: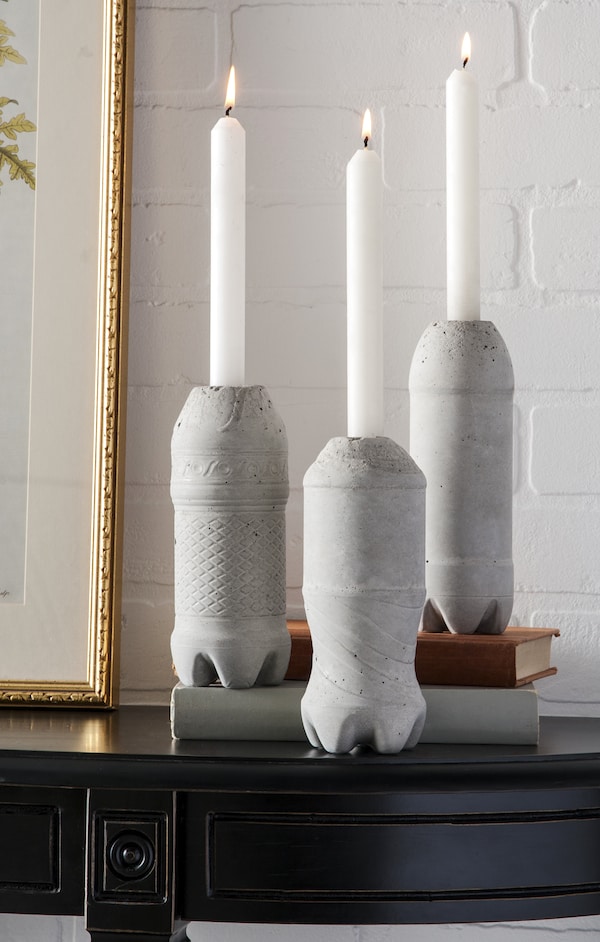 These concrete candle holders are one of our FAVORITE projects ever! But I'm not done . . . I did something fun with one of them.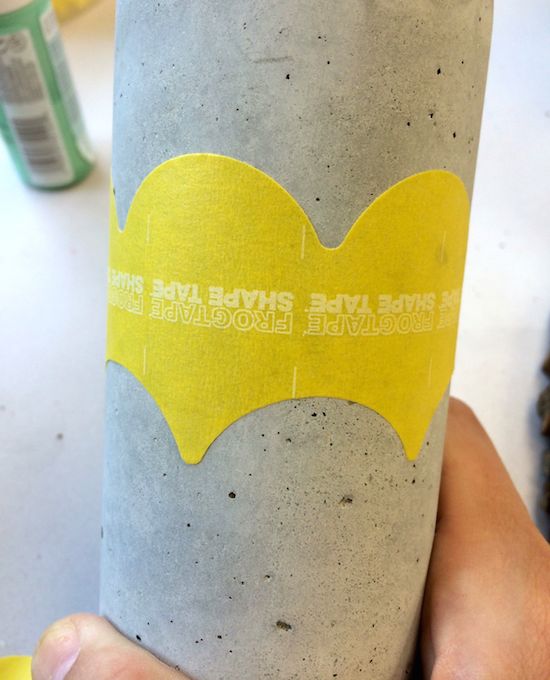 I added scalloped FrogTape.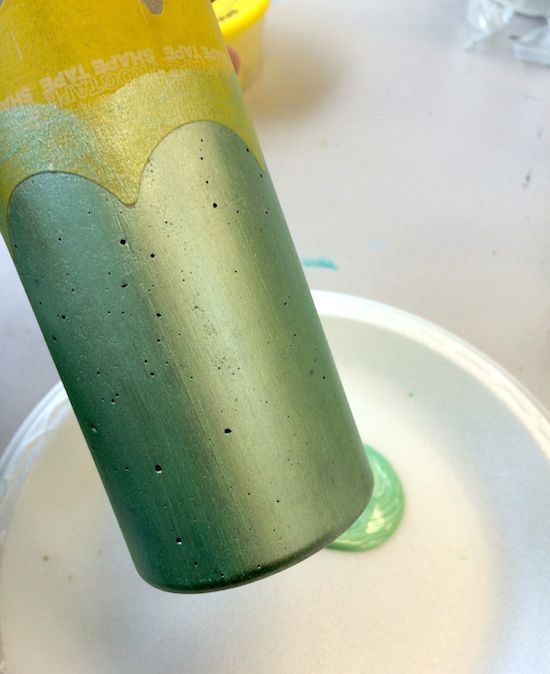 And slapped some Martha Stewart paint on it (a few layers) and then removed the tape and let dry.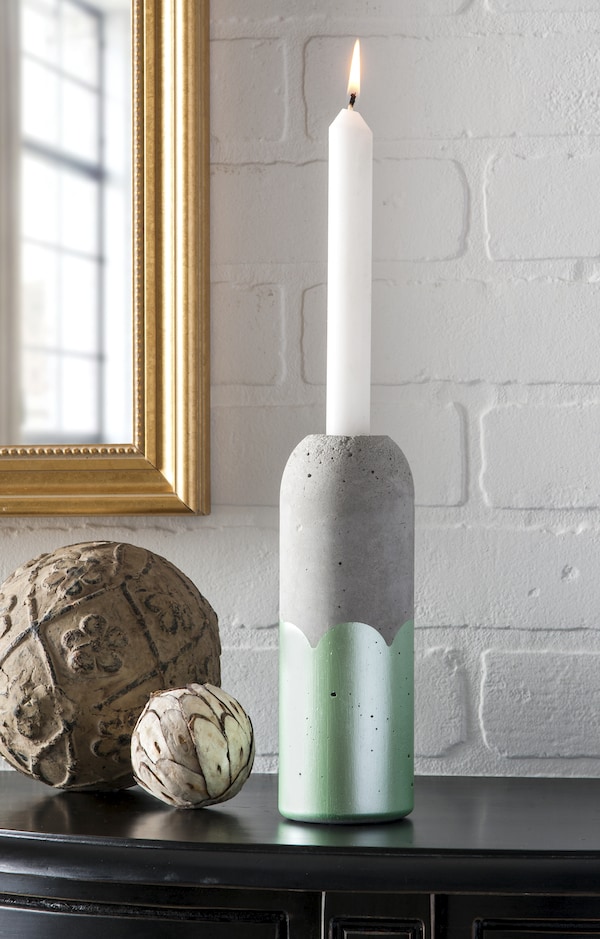 This gives you a bit of a different look – the metallic paint and concrete look so good together, don't you think? I love these DIY concrete candle holders so much!