Learn to make easy paper crafts that are perfect for kids or even adults. There is so much you can do with paper – get over 50 great ideas here. These projects are quick and you probably already have the supplies on hand!
Skills Required: None. Working with paper is perfect for beginners, even if you've never crafted before. All of these projects are easy enough for kids, and there are even options for toddlers and preschoolers.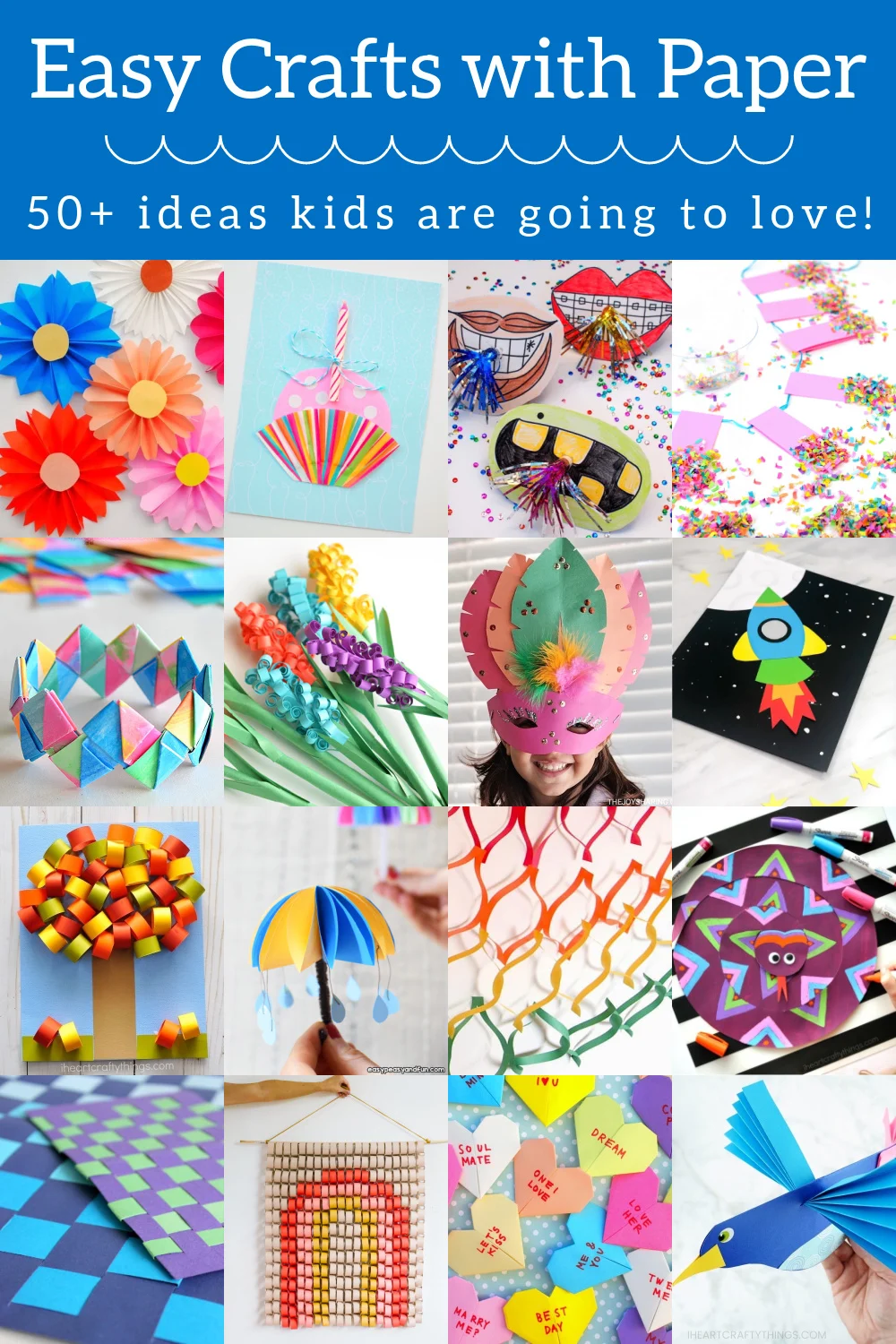 I think we all know that paper is one of the best crafting supplies out there. Or at least, if you don't know it yet, you will after looking at this list of craft ideas.
When I talk about "paper crafts" that could be any number of things – origami, card making, weaving, costumes, gifts, party decor, and even jewelry. There are so many projects you can make with paper, but sometimes it's hard to know where to start.
That's why I've put together a list of paper craft ideas for kids, to give you resources for fun projects to try with your children. No matter their skill level or age, you'll find something they can make. Adults might even like to try some of these!
Types of Paper for Crafts
I'm sure you're aware that different types of paper exist, and here's what I find is most commonly used in these projects:
Butcher paper or kraft paper
Scrapbook paper
Recycled packaging (including paper bags, magazines, scraps)
Of course you can use anything you can find to make these projects; it's really up to you. If you want to use notebook paper, no one is going to stop you!
My favorite place to buy paper for these kids' crafts? Dollar Tree. You can also find good stuff at Tuesday Morning and sometimes even the Goodwill. So keep your eyes out!
Are you ready to jump in some of the best craft ideas with paper ever? I'd love for you to check out the proejcts below!
Easy Crafts with Paper
Learn how to make paper projects for both kids and adults! You'll only need simple crafting supplies in addition to the paper.
---
Did you enjoy these simple paper crafts? What are your favorites? Let me know in the comments! I'd also love for you to check out the following posts: