Children love crafting for the holidays too. Here are 16 easy Halloween crafts for kids – they will have so much fun making them!
I didn't think there could be anything cuter than Halloween crafts – until I saw these Halloween crafts for kids. Oh, to be a child again and craft for the holidays! I think there's nothing cute than "mini" characters and googly eyes, both of which are a key component to proper Halloween kids' crafting.
Halloween Crafts for Kids
Some of these crafts are for younger children; some are for those that are a little bit older. You can always make substitutions depending on your child's age (regular glue instead of a hot glue gun), or you can do the craft with them!
Either way, you are going to have a blast. Scroll down to see my picks for 16 easy Halloween crafts for kids.
Jack O' Rocks
All you need to do is fine the perfect round rocks, then your child will have a blast painting them like cute pumpkins.
See how they were made at No Time For Flashcards
Googly Eyes
This is probably one of the most fun crafts ever – who doesn't love googly eyes on vintage cards?
Clip-On Companions
Use pipe cleaners and foam balls to make cute characters that kids can hang on their jackets or backpacks.
(the tutorial no longer exists so use the photo for inspiration!)
Eraser Stamps
Older children can use a craft knife to carve everyday stamps into Halloween characters.
Learn how to do it at Homemade Simple
Egg Carton Characters
Use egg cartons and paint to create fun little Halloween characters that hold treats.
Find the step-by-step at The Centsible Life
Play Dough
Kids will love making play dough and then helping decorate the cute character jars to put them in. This is one of those Halloween crafts for kids you can use all year!
See how it was made at The Idea Room
Ghoul Banner
Kids get to participate in this craft by tracing and cutting their handprints to make the monsters.
See how it was done at Crafts By Amanda
Handprint Spider Webs
Kids will have so much fun playing with paint, then lacing up the paper plates to create spider webs.
Learn how to do it at Mom Endeavors
Q-Tip Skeleton
I never realized how much q-tips look like bones! Kids will love making this fun art with them.
Learn more about the project at A Little Artsy & A Little Craftsy
Character Balls
These cute character balls can be made using craft foam and fabric scraps.
See how they were done at Vixen Made
Mummy Piñata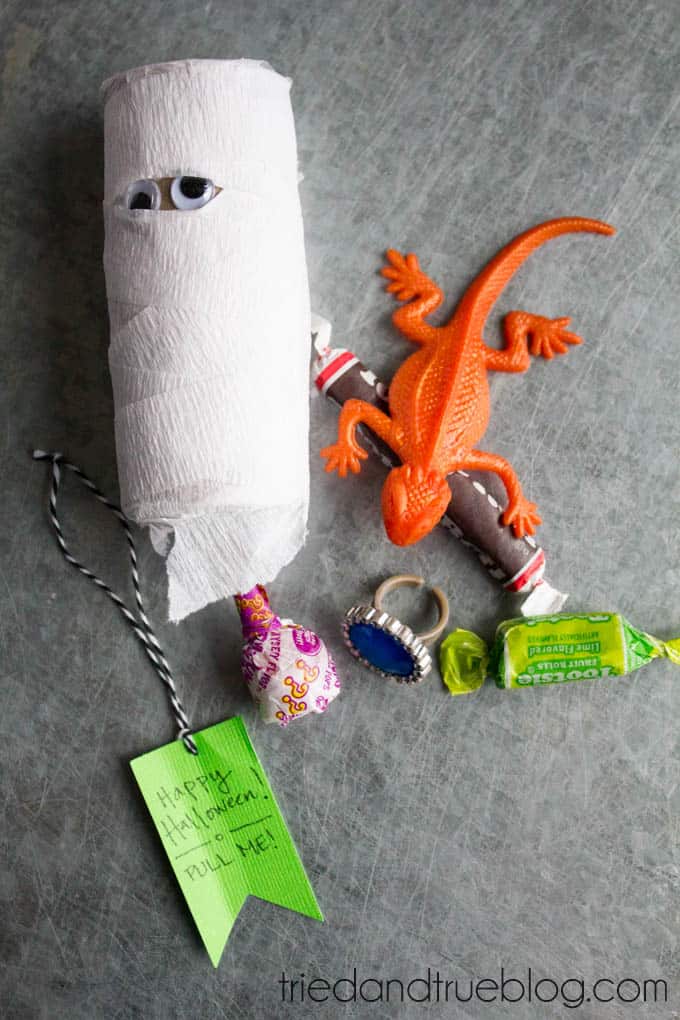 Any kid can do this craft, which requires a toilet paper roll and crepe paper.
Find out how to do it here at DIY Candy
Juice Box Monsters
Don't throw away old juice boxes – turn them into these cute monsters with felt.
See how it was done at Crafts By Amanda
Halloween Balls
You can get old Christmas ornaments from your supplies or the thrift store and then turn them into colorful Halloween balls!
Get the how-to at Mod Podge Rocks
Paper Plates
Turn colored paper plates into happy Halloween monsters using markers, felt and foam.
Find out how they were made at Simple as That
Monster Box
Turn a tissue paper box into a silly monster using paint and other fun supplies.
Get the instructions at Plaid Kids' Crafts
Mustache Pumpkins
Anything and everything deserves a mustache, especially cute pumpkins!